Sweden W. Stenhammar, Tirfing: Soloists, Chorus and Orchestra of Malmö Opera / Arnold Östman (conductor), Malmö Opera main stage, Malmö, 30.10.2011. (NS)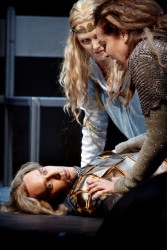 Cast:
Hervor/Hervardur – Martina Dike
Angantyr, her father – Bengt Krantz
A shepherd – Daniel Hällström
King Gudmundur – Bengt Krantz
Vidar, his son – Daniel Hällström
Gullväg, his daughter – Ulrika Mjörndal
A bard – Jakob Högström
Head servant – Nils Olsson
Gestur – Dardan Bakraqi
Svasur – Per Fernesten
Harald – Patrik Forsman
Production team:
Director – Per-Erik Öhrn
Set – Lars Österbergh
Costumes – Constance Hoffman
Lighting – Zerlina Hughes
Choreography – Patrik Sörling
Some music critics have a lot to answer for. Tirfing, Wilhelm Stenhammar's second (and last) opera was premiered in 1898 at a sold-out Royal Opera in Stockholm. Despite favourable reactions from the audience and most critics, the composer-cum-critic Wilhelm Petterson-Berger's review attacked the libretto and condemned one scene as 'irredeemably tasteless'. Despite the fact that he and all other reviewers had praised Stenhammar's music, Petterson-Berger's review helped to ensure that this opera has not been seen or heard in full since the end of the Royal Opera production in 1901.
The opera is set in the Viking era and inspired by a part of the Hervarar saga, where a fallen warrior's daughter retrieves his magical sword Tirfing from his grave. Anna Boberg, an artist, wrote the libretto as a commentary on the problem that if success is defined by men, women have to become men to be successful. (A pressure she no doubt felt herself in her career.) Hervor needs Tirfing to protect herself in the dog-eat-dog world of the Vikings but is forced by her father's ghost to deny her femininity in order to receive the sword as her inheritance. Hervor becomes the warrior Hervardur, and thanks to Tirfing proves successful in battle.
Inevitably, her disguise proves to be her undoing. A love triangle develops in which she falls in love with Vidar, a brother in arms who finds himself developing his own feelings towards 'Hervardur' (this was the 'irredeemably tasteless' aspect of the libretto, according to Petterson-Berger) while his sister Gullväg also falls in love with 'Hervardur'. When 'Hervardur' rejects Gullväg Vidar flies into a rage at the insult and is killed by 'Hervardur' in a duel. Broken-hearted, Hervor returns the sword to her father's grave and dies.
Malmö Opera secured a fine lead soloist in Martina Dike, a dramatic mezzo-soprano who has sung regularly at Bayreuth. (This reviewer was enormously impressed by her performance as Waltraute at the Wermland Opera.) Ms Dike is a perfect fit for the role of Hervor: her rich and dark voice matches the tragic character. In particular, her singing at the end of Act I (when she resolves not to reveal her love of Vidar) and at the end of the opera was heartbreakingly beautiful. Her acting was also convincing throughout, particularly in her scenes with Vidar (Daniel Hällström).
Mr Hällström was also an excellent choice, with a suitably heroic full baritone and a dashing figure. He communicated Vidar's desperate dilemma (his mixed feelings about his sister's love for 'Hervardur' and his own physical attraction to his friend) very effectively. Ulrika Mjörndal's Gullväg also acted and sang well, most of all in the great feast in Act II when her father has her challenge the men with her riddles (with her hand as the prize for the winner) and later when she saves 'Hervardur' from the vengeance of the other guests after Vidar is killed.
Bengt Krantz was an impressive stage presence and actor in both his roles (Angantyr and King Gudmundur) but his voice was slightly unevenly powered. Jakob Högström's Bard sang vividly in a song that is an excellent example of Stenhammar's singer-friendly music. Stenhammar's vocal lines soar expressively, but never tax the singers' breathing or range.
Stenhammar's music for Tirfing has a clearly Nordic sound. Wagnerian and romantic influences are present, but Nordic melancholy predominates. Stenhammar's orchestration is transparent yet colourful. The music is often beautiful but not generally with its heart on its sleeve; listeners will not leave the opera house whistling catchy tunes, but they will certainly feel swept away by a rich musical experience. This is particularly true at Malmö thanks to the high standard exhibited by the Malmö Opera Orchestra. Arnold Östman's conducting demonstrated his close knowledge of the score and proved that he is still at the peak of his powers after a long and illustrious career.
The set and costumes shifted somewhat uneasily between a post-industrial wasteland in the Prologue and Epilogue (Hervor's visits to her father's grave) and late nineteenth-century high society in the main body of the opera. Costume designer Constance Hoffman has the protagonists dressing up as Vikings for a lavish entertainment, in a manner fashionable at the time the opera was written. (A particularly nice touch was to have a painting by Anna Boberg hanging over the fireplace.) This interpretation is interesting and the costumes were beautiful, though Hervor's return to scruffy modern clothing for the Epilogue is understandably a bit jarring. That said, the music is so emotionally communicative that no updating is necessary for the audience to be gripped by the story.
That slight quibble aside, Malmö Opera's production does more than justice to Stenhammar's opera. Its story is compelling and still gives pause for thought today, and the music equals Stenhammar's best. Hopefully Malmö Opera's brave decision to revive this unjustly forgotten work will mark its return to the repertoire.
Niklas Smith