United Kingdom  Tchaikovsky, Eugene Onegin: Soloists, Orchestra, Chorus and Additional Chorus of the English National Opera / Edward Gardner (conductor). Coliseum, London, 12.11.2011. (MB)

Cast:
Madame Larina – Diana Montague
Tatiana – Amanda Echalaz
Olga – Claudia Huckle
Filipievna – Catherine Wyn-Rogers
Eugene Onegin – Audun Iversen
Lensky – Toby Spence
Monsieur Triquet – Adrian Thompson
Zaretsky – David Stout
Prince Gremin – Brindley Sherratt
Captain – Paul Napier-Burrows
Peasant Singer – David Newman
Deborah Warner (director)
Production:
Tom Pye (designs)
Chloe Obolensky (costumes)
Jean Kalman (lighting)
Kim Brandstrup (choreography)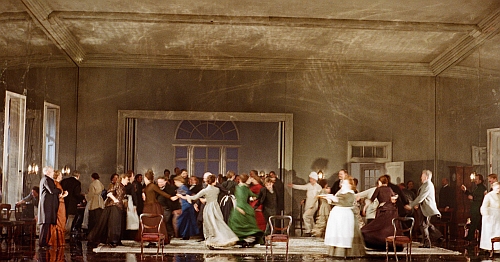 Was this ENO? Or had I nodded off and slipped into a living Met nightmare? Actually, 'nightmare' is too harsh, too interesting for Deborah Warner's production of Eugene Onegin (actually conceived, I discovered, as a co-production with the Metropolitan Opera) is just plain dull -a strange throwback to the 1970s or further back still, in which singers sing their lines against a pretty – to some – backdrop in 'period' dress that might well have come from a television serial. The 'period' in question seems to be slightly later than Pushkin, to no obvious end.
Now there is nothing necessarily wrong with 'traditional' productions, but this one offered no discernible view upon the work, no discernible insight (save perhaps for a tired, slightly misandrist suggestion that the work might be better off entitled 'Tatiana Larina') into the characters and their development, and no discernible provocation or even invitation to think. It is, I think, the first time I have witnessed members of the audience (and I assure you, I am not making this up) applaud a Coliseum set, in this case as the curtain rose for the third act, thereby obscuring Tchaikovsky's Polonaise. (They indulged in plenty of disruption elsewhere too, a selfish couple seated behind me a particular menace, speaking throughout the performance, unresponsive to the iciest of glares.)
Even from a literalist perspective, there are problems beyond the slight 'updating'. Once one engages upon such a path, fetishising costumes, scenery, and the like, any deviation tends to stand out like a sore thumb. Thus, whilst a more neutral or suggestive space would doubtless double up without too much trouble for the first three scenes of the first act, we are left wondering in literalist mode why Tatiana appears to sleep in a capacious barn. (It will doubtless be more capacious still in New York.) Child 'extras' running around for no particular reason are an irritant; they seem to be a favoured device of the director, her ENO Messiah being a case in point. Are not the costumes for the celebration of Tatiana's name day a little on the dour side for such an occasion? Why does the final scene not appear quite where it 'should'?
More serious is the problem alluded to above, whereby Warner's sympathies seemed only to be elicited by the female characters. It used often to be a critical plaint that the opera should not have been entitled Eugene Onegin; this production, whether by design or by default, comes across as an attempt to revive that view. Everything is centred upon Tatiana. The subtext – at times it is barely 'sub-' – of Romantic friendship or more between Onegin and Lensky is ignored. Surely it does not take even a leap of the imagination to appreciate how Tchaikovsky would have understood Onegin's rejection of Tatiana, herself of course in many respects a projection of male homosexuality. To take at face value without any further probing the description of Onegin as an 'outsider' seems in this context merely bizarre: would one not at least ask what is meant by 'outsider', just as one would in Peter Grimes? The following words surely speak for themselves:
If I had wished to pass my life
within the confines of the family circle,
and benevolent fate had decreed for me
the role of husband and father,
then I should most likely not choose
any bride other than you.
Krzysztof Warlikowski's Munich production (reviewed here by Jens Laurson) made explicit what might, though need not, remain implicit. One can remain relatively reticent, though, and still address this central issue of the opera: take Steven Pimlott's woefully underrated production for Covent Garden, 'traditional' in look, but so much more dramatically alert than Warner's production. Had the action been centred upon Tatiana in especially dramatic, more revisionist, fashion, I am sure that would have been a valid approach, but Warner's focus seemed more a default setting than anything else.
There was considerable compensation, however, to be heard from Edward Gardner's conducting: undoubtedly the best I have heard from him at the Coliseum. If I have been spoilt by my most recent two hearings of the work in the theatre, both conducted by Daniel Barenboim, Gardner nevertheless impressed, Shape and sweep almost unfailingly present. There was a fine swagger to the choral numbers and the dances (in which the dancers made a good impression), which the more intimate moments – insofar as the production permitted them to exist – were executed with tenderness and genuine sympathy. If Gardner's reading did not quite scintillate in the way that some can, there is plenty of scope for intensification as the run of performances proceeds. He certainly has the ENO Orchestra on fine form, though a few more strings would have been welcome. The chorus, trained by Martin Merry, returned to form too, though all suffered from Martin Pickard's clunky English translation: if we must do without the Russian text and its inimitable sonorities, then we need a superior substitute.
Toby Spence shone out from the cast. (Lenskys often do.) Though his ardent sincerity was somewhat robbed of context by the production, it nevertheless left its mark. Audun Iversen was likewise hamstrung in the title role, though earlier on, fine English diction notwithstanding, he rarely seemed truly to get inside the part even in musical terms. His performance in the third act heated up nicely, however, so maybe first night nerves were a factor. Amanda Echalaz merely seemed miscast as Tatiana; her high soprano often seemed thin and disengaged and attempts to compensate skirted dangerously close to Puccini-caricature. Claudia Huckle's often blowsy Olga struck a discordant note in more than one sense. Adrian Thompson, however, made a fine impression with a sensitive rendition of Monsieur Triquet's couplets, and, one dry patch apart, Brindley Sherratt shaped Prince Gremin's aria well. Catherine Wyn-Rogers and Diana Montague contributed a focus to the roles of Filipievna and Mme Larina that was not always present elsewhere. I could not help wishing that they might be offered a little more to do.
For those weary, then, of Konzept-heavy productions, this Onegin might offer some balm; it is certainly worth hearing for Gardner and Spence. Yet there remains ample room for a more 'traditional' production that does not forego interpretation, of whatever variety.
Mark Berry
The performance on 23 November will be recorded by BBC Radio 3 for subsequent broadcast.