United Kingdom  Puccini, La bohème: Soloists, Chorus and Orchestra of The Royal Opera House / Semyon Bychkov (conductor). Royal Opera House, Covent Garden, London, 30.4.2012.  (JPr)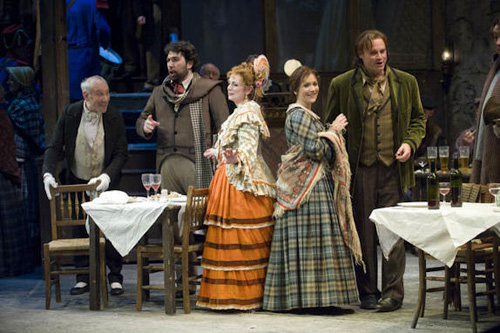 After the ovations for the umpteenth performance of a 38-year-old production having its 25th revival performance had died down, John Copley, its 78-year-old director, was deservedly celebrated by cast and the management of the Royal Opera. Copley has worked on 15 new productions and a vast number of revivals in his 50 years as a director with them. He has done a great deal for opera, perhaps more so in the rest of the UK and internationally than at Covent Garden because the bulk of those repeat performances there has been this La bohème. This is fast becoming as famous for its longevity as for its cinema-style realism. That is only fitting that since it was the first Big Screen broadcast in 1987 and now has been chosen to celebrate 25 years of outdoor relays and will be screened live once again across the UK on Thursday 17 May.
Perhaps this La bohème production hasn't always been as revered as it is now because it is unashamedly romantic and old-fashioned. Dating from 1974 could it be anything else? But since things 'retro' are often now the 'new chic', the production has survived various fads for updating and directorial interference over the decades – and in the centenary of the Titanic disaster, it remains unsinkable. John Copley's return has livened up a strong cast of singing-actors meaning that we get a real slice of bohemian life in nineteenth-century Paris in the late Julia Trevelyan Oman's ultra-faithful sets. Perhaps the Latin Quarter attic does now seems a little too clean and tidy with John Charlton's stark lighting, and the Barrier d'Enfer a bit too picturesquely snowy but…..well,  this is opera after all.
What is very evident is that at the heart of this La bohème is an emotional truth missing in too many new opera productions these days. Typically, Copley seems to have refreshed some of the 'business' for his quartet of penniless – but aspiring – artists, the two women – Mimì and Musetta – and the Café Momus crowd (including here the notably lively children of the Royal Opera House Youth Opera Company). This reworking seems especially evident with all the fooling around in the final act and what was before an improvised cricket match (what do the French know about cricket?) with a baguette and a shovel seems to have turned into something more akin to a game of softball which earns Colline (Matthew Rose) a special round of applause for his slogging of bits of bread.
This opera was Puccini's fourth for the stage and its Turin première in in 1896 was not an instant success with the critics. The next year the Carl Rosa Company brought it to Manchester in English translation and a few months later to Covent Garden. On 30 June 1899 it was sung there in Italian and became a staple of the repertory, the same production basically survived two World Wars before it was replaced in 1974 by this current John Copley one.
Puccini's librettists' source material was Henry Murger's novel Scènes de la vie de bohème and they selected four of the characteristic episodes and imbued them with the spirit of the original and although set in Paris about 1830, the story is a timeless one. Far too many people believe that a composer's output evolves in isolation from their personal life and the world in which they live, but this certainly was not the case for Puccini. He is yet another composer whose masterpieces are often biographical in nature and here in La bohème there are reminiscence of Puccini's own student days when he shared a room in Milan with Mascagni. Indeed his graduation exercise from the Milan Conservatoire, Capriccio sinfonico, is the first music we hear as the curtain rises for La bohème.
Joseph Calleja is a likeable, suitably boyish, eager and infatuated Rodolfo, alongside Carmen Giannattasio's waif-like and believably consumptive Mimì. Calleja, the still young Maltese tenor, has a unique sound: I took time to get used to how important his rapid vibrato is for the sweet allure of his voice's  consistently pure quality throughout its range. Giannattasio clearly suffered from nerves in Act I – she was after all the replacement for a replacement for the originally cast Anja Harteros! However, she gained vocal strength as her character's demise drew closer and with Calleja, brought great tenderness to 'Addio, dolce svegliare' in Act III. I didn't warm to Nuccia Focile's worldly-wise Musetta but Fabio Capitanucci sang extravagantly as a charismatic Marcello. Like a few others in the cast,  Capitanucci was making his Royal Opera debut and he is quite a discovery with the strong baritone voice and outgoing personality  that Covent Garden has needed for some while. Another debutant, Thomas Oliemans, was an engaging Schaunard.
In a previous review, I commented how wonderful and imposing former Jette Parker Young Artist, Matthew Rose's Colline was. His performance has now gained the assurance of a veteran and 'Vecchia zimarra, senti' – his character's peculiar Act IV farewell to his coat – has even more heartfelt resonance than before. Completing the excellent cast of principals, Jeremy White and Donald Maxwell returned to have great fun with their comic vignettes as Benoit and Alcindoro.
Certain elements of Puccini's musical style help to confirm La bohème as the 'masterpiece' it undoubtedly is. He appears more open to the German masters' concept of symphonic development than other Italian opera composers (Verdi especially). Based on this idea, Act II has been considered the 'scherzo' and Act III the 'slow movement'. There is a greater sense of La bohème – and his other operas – being 'through-composed' just as one might hear in a movement from a symphony. We know only too well that certain Puccini arias and ensembles can be taken out of their original context and performed on their own, yet the operas in full usually have very little sense of having discrete 'numbers', as are found in Verdi's operas up to Otello and Falstaff. (I write 'usually' because Semyon Bychkov, the conductor here, led the interrupting applause for Rodolfo and Mimì's Act I arias!) Perhaps more importantly though, Puccini employs something called 'thematic reminiscence' which is not far removed from Wagner's leitmotifs. Here in La bohème, there are themes associated with the Bohemians and with Mimì, among others.
This music seemed tailor-made for one of the world's great symphonic – as well as operatic – conductors, Semyon Bychkov. The orchestra appear to love him so could  he please be the next Royal Opera music director? Although he seemed to be 'slumming it' with this Puccini revival, he showed he can conduct it every bit as well as Richard Strauss, Tchaikovsky, Wagner and Verdi, among others. There was some elegant playing from the entire orchestra with episodes of exceptional lustre from the string section, bright brass and sweet-toned woodwind. I did feel that the tempi were a little variable and Bychkov was rather over-indulgent at times to Mimì (understandably perhaps as it was her first time at Covent Garden) and also Musetta, whilst rushing onwards elsewhere. But as is to be expected from this conductor, many – usually opaque – musical details were revealed and there were a number of truly memorable moments –  particularly from when Rodolfo and Mimì are alone at last in Act IV through to the very sad end. All in all,  have become keen to banish any other lingering doubts from my mind.
Jim Pritchard