GermanySchoenberg, Stravinsky, Barber and Varèse: Sergei Leiferkus (speaker), Rundfunkchor Berlin, Royal Concertgebouw Orchestra/Mariss Jansons, Philharmonie, Berlin, 4.9.2012 (MC)
Schoenberg – A Survivor from Warsaw (1947)
Stravinsky – Symphony of Psalms (1930)
Barber – Adagio for Strings (1936)
Varèse – Amériques(1918/21)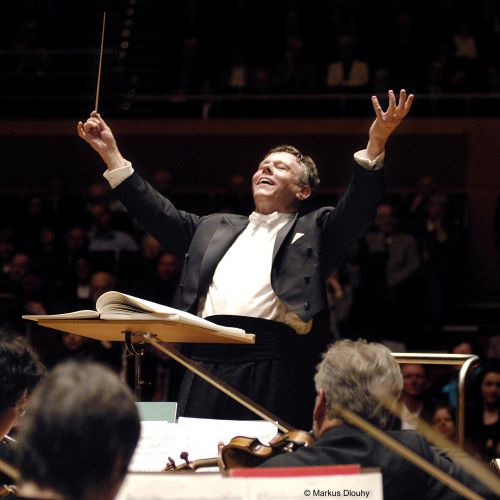 This concert at the Philharmonie by the visiting Royal Concertgebouw Orchestra, Amsterdam under their chief conductor Mariss Jansons was my first in this season's Musikfest Berlin 2012 which is Berlin's major festival for orchestral music. The Berlin festival committee has invited fourteen orchestras from various countries for their annual event which this year extends to nineteen days. Concentrating mainly on symphonic repertoire with some chamber and instrumental music the Musikfest Berlin provides opportunities for rarely heard, forgotten or unusual works while also giving weight to programming interesting contemporary pieces with a smattering of repertoire staples. This 2012 season the theme is 'American Music' with spotlight given to the works of Arnold Schoenberg, Charles Ives and John Cage.
Tonight's concert conformed to the American theme comprising music from the Pennsylvania born Samuel Barber as well as Arnold Schoenberg, Igor Stravinsky and Edgard Varèse who all emigrated to the United States of America and became naturalized citizens. For the visit of the popular Concertgebouw, regarded by many as the 'best orchestra in the world', the 2,450 seater Philharmonie auditorium seemed to be around 95% full for what was an unusual yet stimulating and fascinating programme of twentieth-century works.
Never a work that will achieve popularity in the concert hall Schoenberg's A Survivor from Warsaw for speaker, male chorus and orchestra from 1947 is an occasional work designed to shock and remind about the horrors of the Holocaust by the Nazis in World War Two. Schoenberg who was Jewish managed to avoid the Holocaust by moving to the USA in 1934 although he cannot have failed to be touched by such terrors. To do justice to a subject as massive as the Holocaust needs a lot longer than the seven or so minutes it takes to perform Schoenberg's score. Despite the best efforts of Jansons together with expressive speaker Sergei Leiferkus with his marked Russian accent the unsettling music ground forward dissonantly, achieving a thunderous climax. Schoenberg's music hopefully reminds, disconcerts at worst, but it doesn't really shock.
If one needed persuading, this splendid performance from the Concertgebouw and the Rundfunkchor Berlin under Maestro Jansons demonstrated that Stravinsky's Symphony of Psalms is one of the finest works of the twentieth-century. Here Stravinsky writing in his neo-classical style employs tonality and harmony progressively and uniquely. Composed in 1930 this multi-dimensional soundworld for orchestra and mixed choir, an authentic expression of Stravinsky's faith, sets Old Testament Latin text from psalms 38; 40 and 150. Jansons was certainly adept at maintaining sufficient forward momentum directing orchestra and choir in particularly impressive climaxes. I felt that the atmospheric effect from the combined orchestral and choral forces at the opening of the third movement Alleluia, Laudate Dominum was remarkable. The final pages again using the words Alleluia, Laudate Dominum had an understated magnificence with the timpani strokes at the closing measures sounding like a regular heartbeat that could easily represent the fragility of human life.
The Adagio for Strings Barber's re-scoring of the slow movement of his String Quartet in B minor from 1936 has rightly become one of the most popular of all twentieth-century works. Lasting around 7 minutes this moving work was played by the Concertgebouw strings with all the songlike expressiveness that Barber's marking requested assisted by the impressive unity and appealing timbre. After the extended pause following the climax the playing was so affecting at times one could almost imagine a sense of floating on air.
Undoubtedly the most memorable performance of the evening was the final work, Varèse's Amériques, a remarkable score from 1918/21. Varèse employs a massive orchestra that includes 8 horns, 5 trombones and 6 trumpets plus off-stage trombones and trumpets, together with 19 percussionists – if I counted them all correctly. Some of Varèse's earliest scores were destroyed or lost; only 14 have survived and Amériques is the earliest. In fact, it was the first written after he left Europe for America. The music of this pioneering and highly original composer may have an uncompromising reputation yet Amériques is perfectly accessible to any listener with an open mind together with a moderate degree of concentration.
In his stunning city soundscape Varèse is using traditional orchestral instruments together with a vast array of percussion instruments including what sounded like various chimes; rattles; bells, sirens, horns, bird caller, lion's roar, whistles and whips to suggest a wide variety of cacophonic street sounds such as police cars and emergency vehicles, river craft foghorns, traffic noise, construction work and stormy weather together with percussive rhythms such as the rumba and jazz. The combination of Varèse's innovative writing and the impeccable musicianship of the Concertgebouw made for 26 minutes of action and gripping entertainment painting vast canvases of orchestral colour. There was so much to hear and see that my imagination was almost stretched to capacity. I could picture a generous and dazzling panoply of sound, from a sleepy early morning awakening to brutally active late evening exhuberance. It is certainly not a work for the faint hearted, yet Amériques went down a storm. After all the noise and sheer excitement I'm sure some of the audience will have needed to reach for the Ibuprofen!
Michael Cookson