Germany Wagner, Die Walküre: Soloists, Rundfunk-Sinfonieorchester Berlin / Marek Janowski (conductor), Philharmonie, Berlin, 24.11.2012. (JPr)
Tomasz Konieczny (Wotan)
Petra Lang (Brünnhilde)
Iris Vermillion (Fricka)
Robert Dean Smith (Siegmund)
Melanie Diener (Sieglinde)
Timo Riihonen (Hunding)
Anja Fidelia Ulrich (Gerhilde)
Fionnuala McCarthy (Ortlinde)
Heike Wessels (Waltraute)
Kismara Pessatti (Schwertleite)
Carola Höhn (Helmwige)
Wilke te Brummelstroete (Siegrune)
Nicole Piccolomini (Grimgerde)
Renate Spingler (Rossweisse)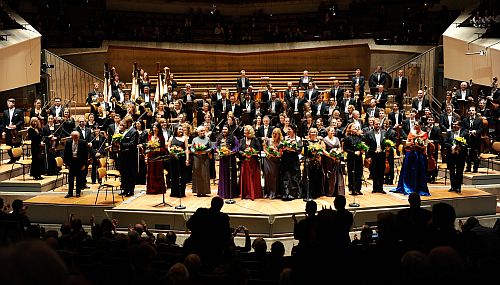 I did not review Das Rheingold two nights earlier, but this was the second of the four concert performances of the Ring this season that brings to a conclusion the Wagner concert series conducted by Marek Janowski that the Rundfunk-Sinfonieorchester Berlin has presented at the Berlin Philharmonie during the last three years. Siegfried and Götterdämmerung will be performed on 1st and 15th March 2013. All ten parts of this series – including this Ring – are being recorded by the PentaTone label and Deutschlandradio Kultur for subsequent broadcast and release on Super Audio CDs, one-by-one before the end of 2013.
The celebrated Wagner conductor, Marek Janowski, made the first digital recording of the complete Ring cycle between 1980 and 1983 for RCA, with the Staatskapelle Dresden and with this concert series his intention is to focus attention entirely on Wagner's music without any directorial distractions. Janowski wants to make it possible to hear some of the nuances in Wagner's works that can often be lost in the opera house. At the same time this concentration on the voices and the music, along with the excellent acoustics of Berlin's famous Philharmonie, gives the best possible conditions for a live recording.
To be honest, I had heard Die Walküre as part of a recent Ring Cycle at Covent Garden. Hearing the opera again only a few weeks later I feel there is a good case to be made that the best way to hear this entire work these days is in a concert performance. The singers at Covent Garden were often mindful of falling foul of the cluttered scenery, or not often being in the best position on stage to allow them to sing to their best ability. At the Philharmonie this was not an issue although there was some concession to spatial separation and the balance of the singers with the Valkyries singing in a line from the far left and Timo Riihonen's Hunding relegated to the back on the right of a crowded platform. The rest of the soloists sang from either side of the conductor at the front. All but one of the soloists used a score but although this was a concert performance performed in formal attire there was some attempt to dramatise their individual portrayals where appropriate. So not for a moment did I miss a set or a Konzept because the theatrical impact of the opera was never compromised.
It is difficult to ignore Covent Garden performance and nothing illustrates the difference between Wagner as it should be heard compared to how it mustn't sound than the opening Prelude. Under the Royal Opera's Sir Antonio Pappano, Siegmund limped in during some light rain; here Janowski whipped up a considerable storm and I almost experienced for myself the fleeing Siegmund's anxious heartbeats that Wagner embeds in this music. This was the most exciting opening to a performance of this opera I have heard in recent times. It has only been surpassed in my memory by a wonderful Die Walküre in Cardiff in 1984 under Reginald Goodall where he left behind his previous rather measured approach and let rip!
The whole evening continued like this with many memorable highlights. Superlatives cannot do justice to the wonderful Rundfunk-Sinfonieorchester Berlin and the soloists. The many people standing to applaud all concerned at the end of over five hours in the concert hall showed how much the audience had thoroughly enjoyed the evening. Marek Janowski, in absolute control of his massive virtuosic orchestra, maintained his richly-detailed, perfectly paced account over the three acts and sprang into passionate bloom for the young lovers, whipped along the Valkyries with the audible neighing of their mounts, and led the six harpists though the glorious Magic Fire Music conclusion.
Robert Dean Smith sang without a score and with the evident confidence of someone in full command of his role. His Ein Schwert verhiess mir der Vater and Winterstürme wichen dem Mond were the best I have heard since the halcyon days of Alberto Remedios. Dean Smith's 'Wälse! Wälse!' were both heartfelt and a triumph of excellent breath control and Winterstürme showed how possible it is to sing the big Wagner roles lyrically and with an Italianate timbre – and for it to sound perfectly fine. Melanie Diener is a favourite Sieglinde for Janowski but seemed to have her head in her score a little too much for my liking. She seemed to leave something in reserve in Act I but was at her most radiant in her Act III 'O hehrstes Wunder!'. Perhaps Timo Riihonen's relative youth betrayed him just a little as Hunding but as this young Finnish bass is not yet 30 he clearly has a wonderful Wagnerian future ahead of him.
If Dean Smith was a masterly and engrossing tale-teller in the first act, so was Tomasz Konieczny's Wotan in Act II as he recounts the Ring story so far. His is a less world-weary account than is sometimes heard – because of the relative youth of this fine Polish artist – and despite all the familiar anger and bravado as he rails against all his misfortune, it sounded fresher than I had ever heard it before. This Wotan clearly came off second-best in his encounter with a vengeful and bitter Fricka, Iris Vermillion in a similarly coloured evening gown, who berated her errant husband fearsomely right up to her last emphatic consonant. The Valkyries lined up on the side of the stage had been well-coached and enthusiastically tackled all that Wagner demands of them, though their laughter did sound a little more stilted in concert than in a fully staged opera.
This concert marked a very significant role debut with Petra Lang's first complete Brünnhilde. This world-famous mezzo has previously sung Valkyries, Fricka and Sieglinde in this opera and is now adding all the Brünnhildes of the Ring to her repertoire in coming years. Petra Lang's soprano has a wonderful full-bodied, dark quality and is totally secure throughout her range with stunning top notes – I am sure her 'Hojotohos' might possibly be equalled but rarely bettered. Dramatically she will make a very creditable pouty teenager on stage in this opera. Throughout her performance was most subtly characterised and moved from this devoted, barely postpubescent daughter to a defiant though broken figure at the end. She undertook this great journey employing all the tricks of her consummate vocal technique with a practised ease. Though this was only the first time Petra Lang has sung this role on stage, she is already a very good Brünnhilde and will only get better. Her contribution alone would make the forthcoming CD release an important addition to anyone's library but I would recommend it for the entire excellent ensemble performance.
Jim Pritchard