United Kingdom Verdi, Un ballo in maschera: Soloists, Chorus and Orchestra of the Metropolitan Opera, New York, conducted by Fabio Luisi. (Production by David Alden; directed for live cinema by Matthew Diamond; broadcast to the Barbican Cinema, London, 8.12.2012. (JPr)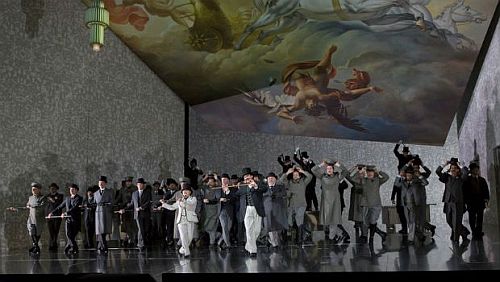 Memory can sometime be a wonderful thing – or a curse. I sat through this latest Met Live screening of David Alden's staging of Verdi's Un ballo in maschera thinking 'I've seen this before'. All the comments backstage on screen said it was a new production and similarly the reviews I read about the first night in November also suggested so. However, I referred to Susie Gilbert's wonderful book Opera for Everybody (Faber and Faber)about the history of English National Opera concerning David Alden's production of A Masked Ball in 1989 where his concept was 'a dance of death' and how the show was 'full of striking visual symbols: a tilting gilt picture frame in Act I; the love scene of Act II, scene i, dominated by a clock face with frantic hands; a ballroom dominated by Horseman of the Apocalypse. The characters were similarly delivered: Arthur Davies's Gustavus in high-street casuals and disguises; Lesley Garrett a chain-smoking Oscar with a goatee beard, red wig, glasses and wings; Linda Finnie's Mlle Arvidson in a silver lamé ball gown.' Commenting on the conductor Mark Elder's response, she writes 'At the opening of A Masked Ball, when the men's chorus advanced slowly in bowler hats and black suits, he found the scene "really sinister and yet apparently benign".'
So, in fact what was seen at the Met was no more than David Alden's second thoughts on this earlier production. I am surprised how few commentators have made the connection with his earlier attempt at this opera for ENO – perhaps most were still at school in 1989? 'Striking visual symbols' continue to dominate the proceedings that take place in a slanting box-like setting (by Alden's long-time collaborator Paul Steinberg) with more than a hint of the extravagance and surrealism of a black-and-white German Expressionist film. This was aided by Brigitte Reiffenstuel's elegant costumes.
For the final scene, when the king is killed at the grand ball, the walls are lined stage deep with mirrors that add to an hallucinatory feel to the audience's perception of the proceedings. Dominating most of what is seen throughout the opera is a tilted ceiling of the fall of Icarus. (From the limited view of the set that the live cinema screening provided it was difficult to determine the artist whose work was shown here but it looked very similar to a nineteenth-century painting of this subject by Merry-Joseph Blondel.) Clearly, what we were supposed to appreciate was that in this updating to the 1920s or 30s we see a carefree playboy king totally oblivious to the impending fatal consequences of his passion and therefore someone who will get his wings more than just clipped!
Enchantingly sung by Kathleen Kim, Oscar his willing page is an androgynous figure (almost exactly as at ENO) and often displays some angelic wings. With her hint of a goatee she leads a chorus line of courtiers and waiters brandishing champagne through some high kicks (choreographed by Maxine Braham) worthy – if that is the most appropriate word – of an Offenbach operetta. This is a nod to that the fact that Un ballo is an uneasy mix between opéra comique and grand opera. Verdi had great problems getting Antonio Somma's libretto through the censors as it was they who would decide what could appear on Italy's opera stages. Like most productions of Un ballo these days it restores the early Swedish setting of the libretto – and that itself was loosely based on their historical King Gustavo who actually was assassinated at a masked ball in Stockholm.
David Alden working at the Met for the first time establishes his distinctive visual style for this production very effectively in the opening scene. During the prelude we see a disconsolate Gustavo wearing a smoking jacket and sitting in the large leather chair that reappears in subsequent scenes. He is drinking a brandy and falls asleep. Is all that we see from then on just a nightmare? Alden's second interval recorded interview with Peter Gelb, the Met's general manager, suggested this was the case. The first lines we hear are sung by the courtiers (the always well-balanced and excellent Met chorus) who enter to wish his 'noble heart' pleasant dreams. Of course the conspirators are among them muttering and so , as Mark Elder remarked about the ENO version, it is indeed both benign and sinister. Alden differentiates well between Keith Miller's Count Ribbing as an old soldier seeking vengeance and David Crawford's Count Horn as someone rather psychotic who delights in defacing Gustavo's portrait at the end of the penultimate scene.
Gustavo seems rather gormless from the beginning and blithely ignores warnings from Anckarström about a plot against him. Alden's Madame Arvidsson is an obvious charlatan and the courtiers arrive in raincoats and sou'westers only giving themselves away with black umbrellas we had previously seen that add the odd Magritte moment! In the final scene most of the guests wear black, as well as death masks, and the conspirators have black angel wings; all this helps to pre-empt the end for Icarus/Gustavo.
David Alden is to be commended for the subtle characterisation he elicits from all concerned that was compellingly highlighted by Matthew Diamond's less-routine-than-usual direction for the live cinema relay. It was a very strong cast of the sort that seems to have disappeared from Covent Garden these days; Marcelo Álvarez was Gustavo, Sondra Radvanovsky, Amelia, and Dmitri Hvorostovsky, Anckarström. Perhaps the best scene was when Anckarström, having been humiliated by his wife's rendezvous with the king, tells her to prepare to be killed. Confronting his wife, one moment Hvorostovsky seems ready to strangle her but then brings his head close to her face and tenderly kisses her: he is heartbroken, suffering, but he still loves her. Hvorostovsky's burnished baritone and elegant phrasing was at his best here and the subsequent 'Eri tu'.
Álvarez is a fine tenor of the 'old school' kind and he looks s if he has been closely studying Plácido Domingo, as present in his performance were many of that great singer's physical and vocal mannerisms. Aided and abetted by Alden and a sympathetic conductor, Fabio Luisi, he gives a refined full-throated performance. By turns he has a wide-eyed boyish innocence or is suitably ardent or despairing of a forlorn love. His Amelia, Sondra Radvanovsky, was equally good with her intense, powerful sound that she used with some subtlety to reveal the emotional torment of a faithful wife. The camera does not do her full justice because it reveals too much the technique her big voice demands.
Madame Arvidsson was sung by Stephanie Blythe, histrionically, with broad strokes and a forthright mezzo. She knows soon enough that the 'fisherman' in front of her is really the king and I enjoyed how her 'conferring with Satan' involved taking a swig (shown in close-up) from a hip flask in her handbag – something that might have been missed in the theatre. Also found there was a skull she later drew out to terrify Amelia. Fabio Luisi's reliable and flexible Verdian tempi seemed to bring out the best in both his singers and his orchestra.
Deborah Voigt is the best of the Met Live hosts though too much time is spent with all concerned saying how good she looks. The backstage interviews were the usual mix of risible moments such as some singers or conductor trying to express themselves in a language foreign to them, as well as, the self-absorbed Dmitri Hvorostovsky's toothy grins to the camera, but otherwise there was an informative glimpse of a backstage rehearsal for the forthcoming Maria Stuarda with Joyce DiDonato and director, Sir David McVicar. Equally fascinating was a brief chat Voigt had with Keith Miller (Count Ribbing), a former American college footballer, who is on an upward career path at the Met and compared, with a rare intelligence, the similarities between the training he needed as an athlete and now as an opera singer.
Jim Pritchard
For Jim Pritchard's 2008 interview with Marcelo Álvarez on this site click here.