Switzerland Schuller, Mendelssohn and Brahms: Katya and Marielle Labèque (pianos), Munich Philharmonic Orchestra, Semyon Bychkov (conductor). Tonhalle, Zurich 14.3.2013. (JR)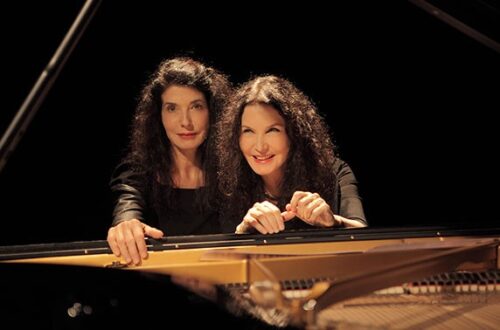 Schuller – "Symphonic images"
Mendelssohn – Concerto for two pianos in E Major
Brahms – Symphony No. 4
After the wind section's outing to the Hofbräuhaus  on to more serious stuff: retail giant Migros assisted financially in bringing the Munich Philharmonic on a mini-tour of Switzerland for concerts in Geneva, Zurich, Berne and Lucerne with Guest Conductor Semyon Bychkov.
"Scholar, composer, conductor, teacher, author, music publisher, indefatigable advocate -Gunther Schuller isn't merely a musician, he's a monopoly." This description by Alan Rich, published in New York Magazine, summarises the multi-faceted career of this Pulitzer Prize winner, who is now 88. Schuller apparently coined the term "third stream" to describe the union of jazz and classical music – and the work he brought to this series of concerts showed how he has straddled and combined the two genres.
'Symphonic Images', Gunther Schuller's "Brahms-Hommage", refers to Brahms' Fourth though I could detect no musical reference to it. It takes its "rhythmic polyphony"(to quote Schuller) and highlights some of the more marginal instruments such as the lowly triangle – which also features prominently in the third movement of the Brahms. The work was not particularly modern, somewhat jazzy, three short movements, mostly quite tonal; Mahler (metal discs jangled like cowbells at one stage) and Wagner sprang to mind. 'Symphonic Images' is perhaps more theatre than music; Schuller's strengths are his fantasy of sound und instrumentation. The sounds of cats were followed by the sounds of sirens. All in all, I suspect the work will join the many similar works to be neglected in future.
Onto the stage then came the highly decorative Labèque sisters, resembling two high-heeled musketeers, Mareille all in black with a white blouse, Katia in a long white tunic and otherwise in black – two keyboards in motion.
Mendelssohn's E-major concerto for two pianos is the work of a child, a child prodigy; it was written in 1824 by Felix when he was only 14 for himself and his accomplished pianist sister Fanny, who was then 19. Five years later Felix played it in London, but then it became neglected until some one hundred and thirty years later when it was resurrected for performance in Leipzig, and only then published. Mendelssohn discovered tunes a little later in his musical career; this piece was designed to show off his and his sister's virtuosic skills at a disgustingly early age. It's more a series of studies than a piece, with hardly a discernible tune. The work is playful and jolly, nothing more. The Labèque sisters tossed their manes and delighted in alternating between Mozartian lightness and inappropriate tub-thumbing frenzy: it was quite an act but over the top. Needless to say, their co-ordinated timing was impeccable.
Bychkov's Brahms is beefy. His conducting style is muscular and flowing. From the mellow mellifluous opening onwards, the orchestra impressed, particularly the woodwind, though the horns did not have a good night. Bychkov favoured slow speeds at times, once I even thought he had stopped: this did enable him however to craft and caress each phrase and the orchestra responded with consummate skill. The final pages were very stirring indeed and we left the hall with memories of an enjoyable concert and a fine German orchestra.
John Rhodes