Argentina Müller, Mozart, Haydn, Rossini: Mozarteum Argentino. Vesselina Kasarova (mezzosoprano), Florian Donderer (violin), Camerata Bern at Teatro Colón, Buenos Aires. 8.4.2013. (JSJ)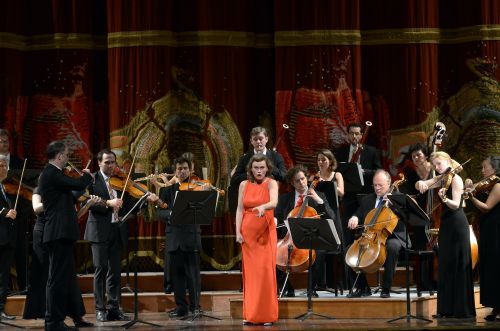 It is organizations such as the Mozarteum Argentino that are now bringing the leading singers to Buenos Aires. The latest is the debut visit of Bulgarian mezzo Vesselina Kasarova, who opened the organization's 2013 season with two concerts alongside the Camerata Bern.
Ms Kasarova founded her career primarily on works of Mozart and Rossini and it was from these – apparently also staples of her recital repertoire – that she chose here, starting with Cherubino's arias "Non so più cosa son, cosa faccio" and "Voi che sapete"  the Marriage of Figaro, and Sesto's "Parto, ma tu ben mio" and "Deh, per questo istante solo" from La Clemenza di Tito.
Then in the second half, these were contrasted – along with a change of dress from red to black, effectively mirroring the darker tones to come – with the recitative and cavatina "O patria" and  "Tu che accendi questo core" as well as "Perché turbar la calma di questo cor" from Tancredi and the recitative and cavatina "Eccomi alfine in Babilonia" and "Ah! Quel giorno ognor rammento" from Semiramide. And the encore – "Una voca poco fa" from Barber of Seville, of course.
A live concert enables one to appreciate an artist in a way impossible in recordings and here one could well appreciate the unique vocal timbres and dramaticism for which Ms Kasarova is known. In addition to the differences between the Mozart and Rossini alluded to, the former even and refined, the latter darker and more dramatic – "two Kasarovas" in the words of a colleague – one senses her every note is imbued with its own intensity.
Ms Kasarova was accompanied by a spirited Camerata Bern led by German violinist Florian Donderer. Interestingly – and out of context of the rest of the program – they began the concert with two listenable short pieces for strings, "Maden, Motten und das Moutathal" and "Ein Berner nameas…," stated to be based on Swiss folk music, by the young Swiss composer Fabian Müller.
Other contributions were the overture to L'isola disabitata by Haydn and an expressive and interesting, given the small forces, rendition of Mozart's Symphony No 40.
Jonathan Spencer Jones