John Daszak: Genesis of a New British Siegfried. An Interview with Jim Pritchard.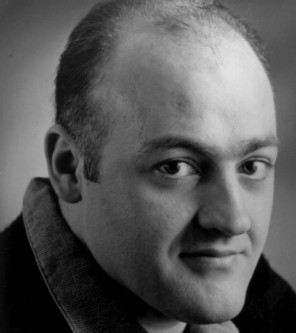 John Daszak's performance catches the eye during the current revival of Elektra at Covent Garden even though he is not on stage for very long. However during this season he will face a much bigger challenge when he sings both Siegfrieds in the new Dieter Dorn production of Der Ring des Nibelungen with the Grand Théâtre de Genève to be conducted by Ingo Metzmacher. He is widely considered one of Europe's most versatile tenors. Recent seasons have seen him make many important role debuts – notably as Captain Vere (Billy Budd) at the Metropolitan Opera, in the title role in Zemlinsky's Der Zwerg in Munich, as the Drum Major (Wozzeck) at the Berlin State Opera and his first Siegfried (Götterdämmerung) in São Paulo – and he is also a popular concert performer. The interview took place in his dressing room towards then end of the rehearsals for Elektra and John talked about his how he was brought up in a home full of music, his time at Chetham's, his training, his career to date and why it is now time to sing Wagner.
What is your background and how did you get interested in music?
My father was a Ukrainian who had ended up in Britain at the end of the Second World War. Thankfully for him he was taken prisoner by the Allies and later released into the community rather than sent back to Ukraine and be dispatched with. He ended up in Manchester where I was born after he married a British woman, she was half Welsh and half English – so technically I am only a quarter English [laughs]. So I was brought up here but never really felt I always fitted in. It was only when I started travelling around I realised why my father was so culturally very different to those around me. In fact, my interest in music comes from both my parents. My father sang with a famous male voice choir in Manchester called 'Homin' and my mother loved classical music whilst my father was more interested in folk music but there was always recordings of opera to listen to at home. Even though I was brought up in a working class family – we were certainly not middle class though we were aspiring to be, not that I knew much about that at the time – I was surrounded by music. My mother would sing with us a bit too and my older brothers also were interested in some form of music. On my mother's first trip abroad they went to Italy to Arena di Verona and brought back a large cartoon drawing that had been done of her as a diva on the Arena di Verona stage and that hung in our house when I was a child, I still have it somewhere.
At that time in the 1970s they trying children out with all sorts of different educational things and for me it was musical instruments and singing that I took to. I was playing the violin at five and nagging my parents about getting lessons for it. However when my mother approached a number of teachers about something for me she was told it was far too early and they usually start with a child who is seven or eight – so my mother replied 'Well, what about Mozart?' I thought that was a great answer even if I could never claim to have been a Mozart [laughs]! I eventually went to study the violin at Chetham's School of Music that was local and a great move for me, there had been the possibility of sending me to the Menuhin School but that was long way from home and my mother didn't want that because she thought I would suffer – and so would she. I had actually been accepted at six but that was still too early apparently, so I went to Chetham's when I turned seven. There you get a fantastic musical grounding, it's not all just in the theory of music but there are a number of things you can get involved in such as orchestra, or you could set up quartets. It was a fantastic time for me, I really enjoyed it, partly because I wasn't boarding there as I could live at home and there was none of the trauma about being ripped from my family. One of my greatest influences there was Michael Brewer who has now been found guilty of child molesting incidents and been imprisoned but I knew nothing of this at the time.
How long were you at Chetham's and what did you do there?
I was at Chetham's from 7 to 18 – others have done their whole time there, like me, though not many. At Chetham's they pride themselves on their music education obviously but that is not all they offer. In my time there was something like 350 students and 180 teachers and, of course, it was very expensive but they gave us a good, normal, academic education and that was necessary because a lot of those who left Chetham's never went into music and are now very successful in other fields – so it is not at all a wasted time. Everything happens in tandem: there is a very good academic education and a very high level – and large amount – of extra-curricular musical activities. The day was often very long, though I didn't mind it at the time as I enjoyed it so much. We would have our academic lessons with our music ones in between and we would start at 8am and might go on till 8 in the evening doing things after school. Because there were a lot of boarders there would often be orchestral and other music rehearsals in the evening.
I started on the violin and, if I say so myself, was brilliant when I was seven. However, to be a great violinist you have to practice your technique endlessly and I just hated locking myself away when some of my friends where out playing football. Whilst there I also did quite a bit of singing which was good for me as by the time I was 13 or 14 it was clear I wasn't going to be the world's greatest violinist. You usually go down in stages with the instrument first trying the viola but I went directly to double bass – mainly because they needed bass players and I was so big that I could easily carry the thing [laughs]! I played that until I was about 16, yet all the time I was also singing in various choirs or shows. It was when my voice had broken and eventually settled – and because of the influence of all the opera I encountered – that I began thinking I was Pavarotti and started to try and sing everything he sang! I was fortunate to see him once in recital in Manchester and that was quite amazing – I remember my mother paying an awful lot of money for me to see him. So I was playing the double bass and studying singing and learning the piano because if that wasn't your first instrument everyone studied it as their second one. It was a great musical grounding for me and has subsequently meant I can learn music quite quickly and sight-read as well.
How did the move into opera come about?
At 18 I started to audition for music colleges and got into a few but – being 18 – I thought now's my big chance and I would go down to London and hit the opera scene as a tenor [laughs]. I accepted a place at the Guildhall School of Music and Drama and studied with Rudolf Piernay but we didn't get on even though he is known as a great teacher. I changed to Johanna Peters in my second year but after a while I thought about giving it all up as I was very disillusioned. As a young student there I had little money and no possibility of getting any. I even tried driving a cab for a few nights but ended up so exhausted it was physically impossible for me to go into college and sing the next day. I thought many times about actually giving up but the college principal said why didn't I go and sing to Joe Ward back home at the Royal Northern College of Music and it was the greatest thing I could have done. He immediately told me I mustn't give up and to come there to give it another year – one year turned into five and I worked with Nicholas Powell. Compared to the Guildhall I found there was more space and a better social life, in London everyone lived so far away and you would rarely meet. I think things are much better now but back then you could never get a practice room and it wasn't really a nice area to mix with your friends – it was the exact opposite in Manchester.
During my time there I auditioned for the Glyndebourne Chorus and I also once auditioned for the Bayreuth Chorus and was so offended when I didn't get in because they had enough first tenors. I was very disappointed because I remember having the distinct feeling 'Everybody's in the Bayreuth Chorus' but I wasn't [laughs]! But I did get the chorus job at Glyndebourne which was great because there if they think you are good enough they'll give you covers and they will actually allow you to go on, unlike a lot of places. I started in Mozart in 1991 and did two summers there whilst studying. I covered Števa in Jenůfa and some other small roles and was in the Peter Grimes chorus – it was all a great experience. Peter Moores, who had helped me out financially during my last two years at the Royal Northern, then gave me a scholarship to go and study in Italy at what was basically a bel canto academy – the Accademia d'Arte Lirica in Osimo – that he knew about. At the time I was singing a lot of quite lyrical repertoire, a lot of Mozart and songs but lots of people had their own ideas about what repertoire I should do, especially because I am quite tall. I don't have a huge voice but I think it carries well and is big when it needs to be – I also have the ability to learn difficult music and sing it. In Italy we indeed worked on bel canto the whole time – and especially lots of Donizetti – but it was good both physically and vocally for me. It benefitted me in other ways because when I came back people said 'You've studied in Italy, you must be great' and so I began to be offered small parts and covers.
What opportunities did you get to show what you could do and how did things go for you at the start of your career?
I guess my biggest one at the time was to cover Števa in Jenůfa for English National Opera. Since I had already done that at Glyndebourne I had already learnt the role quite well and everyone told me because of the tenor I was covering I was bound to get a chance to get on stage and sing it. I was quite 'green' at the time and didn't think more about it until I did get the chance to sing a couple of shows which was great fun. I remember meeting the director on the set and she was a bit stressed because a cover was going on in her production but I was fine because I knew the piece and had been rehearsing very well. Mark Elder saw me in that and was impressed and he has been one of those people – in fact, there have been quite a number over the years – who told me I should be singing Wagner. Indeed very early on I went to audition for La bohème at ENO after doing a couple of things there and my agent said it was 'a great audition' and 'if they do not give it to you they are crazy' but all they talked about was me doing Siegfried in a new Ring cycle – and that was 20 years ago [laughs]! So this is the problem singers are up against in a lot of casting situation and they can have fixed opinions. It is easier if you can give them a package they can understand and my problem in a way was that I always had a very varied repertoire because vocally and physically I can do it – also dramatically I love to get involved with my characters and I won't just be standing there and singing. As a result people do not see me in anything specific which can be a bit of a problem sometimes; but can also be great because I get to do a wide variety of things even though I am a getting a little more specialised now as I get older as I am finding I am fitting into a more specific type of repertoire.
How was it for you at the ENO, did singing in English help or harm you career and what happened next?
I enjoyed my time there and, thankfully, I always got a fantastic response as people could hear what I was saying. Singing in English there was important for me because naturally I am keen on communicating when I am singing and performing; I strive for that regardless of the language the opera is in. To do this properly the work begins when I am learning the role. I also try and learn the history of the role and do as much background work as possible. My worst fear is to arrive unprepared, it's just the way I am, but I actually seem to arrive better prepared than many of the others because I want to make the most of communicating to an audience – and, if  necessary, move them – by delving into a character both musically and dramatically. As a singer the first thing you must do is make sure you get heard and that people can understand the language. There might be somebody listening who speaks German or Czech or Hungarian, so I am always striving to basically get my words right. I'll do as much work as I have to and make sure it is as realistic as possible and that is what I've tried to do at the two big places I've worked at, the ENO and in Munich – these have been my two 'staple diets' so far even though I worked at lots of other places, including here at Covent Garden a few times.
When I started in Munich I remember the first thing I did there was Alban Berg's Lulu. In that there is a significant scene between my character, Alwa, and The Athlete. Naturally it's in German but there were two English guys speaking it for what seemed like 10 minutes – even though it is just probably a minute and a half! There we were on a stage in Bavaria and it was very scary to start with. We worked hard on it and people seemed to enjoy it – in fact so much so, that they came up to me speaking in German immediately as they assumed I could speak the language because my pronunciation must have been good enough. The Athlete was a fine singer called Jacek Strauch and I saw his name before meeting him and assumed he was probably Polish-German but when he came up to me he said in a refined voice 'Hello John' and it turned out he was born in London and spoke better English than I did [laughs]!
From what you have said so far you seem to enjoy being a singer.
Like many people I'm very passionate about music and, of course, it is also in my blood. When I was working at the ENO I often made the mistake of saying to my wife 'I've got to go to school – oh, I mean, I've got to go to work' [laughs]. It is problem as we can sometimes undervalue what we do and allow people to walk all over us because intrinsically it is a vocational job – you have absolutely love it otherwise you will not survive in it. Nowadays it is not as ridiculously well paid as it was in even as recently as 20 years ago – and I have heard stories of what people were being paid then. When on contract in Stockholm early last century Jussi Björling was on film star money but is nothing like that for anyone now!
How are you enjoying singing Ägisth in Elektra?
I didn't know the piece at all when I was asked to do it though I'd heard how Ägisth is known within the tenor repertoire as being an important role. I opened the score and was fingering through it and trying to find where he was – it wasn't until the last few pages that I found when he appears. It didn't seem much but then I looked on YouTube and saw James King doing it and thought 'Wow'! It's short, high octane and quite important – even if it's only three minutes. He is the turning point for Elektra, she's after vengeance and seeing me brought to justice gives her what she needs – in a way something of a 'release' I suppose. It's not easy to sing, is difficult musically and goes quite high at the end. Ägisth is not like my normal roles when I am on stage the whole time and never get a break – then you have to learn to pace yourself. Here although it is very difficult you can throw yourself into it and in a couple of minutes it is over and you can relax. It is not that easy to cast as you cannot just have anybody doing it. Previously it used to be sung by heldentenors who were later in their careers but now it is often someone of my own age and in their prime who sings it. At the moment we are doing stage rehearsals and there is still blood in the bathroom from where I get killed when trapped in a revolving door by Iain Paterson as Orest [laughs].
I'm enjoying working with Andris Nelsons, his beat takes a little bit of getting used to, but he is clearly so passionate about the music and knows every note of Elektra. I've watched him on the monitor from backstage and he's really enjoying it which is fantastic and quite inspiring. We've just had a great stage and orchestra rehearsal this morning and he did a few musical notes afterwards. The great thing is that it is not such a long opera and in those rehearsals you can go through half the opera, then go back and work on it again and still have lots of time. Charles Edwards' production is updated and I think is set around the time Strauss wrote it. I have no idea how Ägisth is traditionally done but in this I am basically a pervy letch who has had all the women in the household but can't get Elektra who is winding him round her little finger. He comes in drunk and this can be great for a singer because if you mess up – though I hope not to – you can always say 'I was trying to be drunk and slur it a bit' [laughs]. The set is both old and new with something from Ancient Greece, as well as, some modern architecture – it's very decadent, very bloody … and, I think, very exciting. Its powerful stuff even if it can make you feel a little uneasy because the music has this undercurrent all the way through it and only relaxes and lets go of you when everyone is murdered at the end.
You have sung a number of important Britten roles what makes his music so special do you think?
I've sung most of the major Britten roles and he is just perfect for my voice. I never heard Peter Pears live but I have listened to a lot of things he did and his voice was efficient, ringing and carried because it was big. I don't particular like his sound because although he could sing beautifully it wasn't a naturally beautiful timbre; however the placing and phrasing is very similar to mine. I would not say that I find the Britten roles easy because they are always emotionally and physically intense – especially the way they must be performed – but they fit my voice like a glove. So long as I do nothing stupid [laughs] I can usually get through them without much trouble at all and, in fact, they are a joy to sing. I think Britten is one of the last great opera composers because he knew exactly what he was doing vocally and wrote for specific people. This was lucky for me as he loved music and loved singing, as well as, knew how to orchestrate.
Finally it seems you have decided the time is right to sing Wagner and tackle Siegfried?
Like I said before the jury's been out on what sort of repertoire I should do at this stage of my career. I avoided Wagner for many years even though I had been told many times 'You would be a great Siegfried' and similar encouraging things about him. Truthfully, I never really enjoyed Wagner and had always thought of myself as a heavy, high, lyric tenor that could do a lot of repertoire and I knew how once you start singing Wagner it is often quite difficult to turn the train back – you can jump off but can never really turn it around [laughs]. Then Zubin Mehta wanted me for Loge in Valencia – and although that character is nothing like Siegfried – it got me into Wagner in a quite low pressure way. I was able to hang out with Wagnerian singers and see what type of animal they are and what they have to sing. I have listened to rehearsals of both Siegfried and Götterdämmerung even though I was not in them.
My Rheingold was an interesting experience, I remember we were rehearsing on stage one day and Loge was supposed to be having an intimate conversation with Wotan and the director separated far apart. We couldn't understand this but next day there was this huge screen between us and we realised had we been together we would have just been in the way of his high definition projector [laughs]. I had the added advantage of being on a Segway with a ridiculous costume over it and I could manipulate myself into whatever position I needed to sing. It all looks glorious on the DVD and was great fun for me as my first taste of Wagner. As for Siegfried, I was approached by someone who used to direct here at the Royal Opera House, André Heller-Lopes, who was on the Jette Parker Young Artists programme and assisted on a lot of shows including Thomas Adès' The Tempest I sang in here. We had got quite friendly and he was also one of those people who said I could sing Siegfried. Now he is back in Brazil and doing a lot of productions there, he asked if I was free and interested to sing Götterdämmerung in São Paulo. I thought it would be good to try it out there with someone I trusted and a very experienced Brazilian conductor, Luiz Fernando Malheiro, and we had a great time. I'd been told it was a scary part but I thought what's so scary about this? Of course, there are a couple of notes that are awkward – but I love to get my teeth into that sort of music. The character is almost written for me, he is youthful, naïve, a bit childish, hates injustice and gets dumped on by everybody in the end – almost the story of my life [laughs]!
I've always been brave and willing to take things on and do them so it's going to be very interesting. My only other Wagner roles so far is Erik – that I recently sang for the first time in Sydney – and that was surprising for me as its really like Mozart. It is quite high and very lyrical and needs a certain resonance and sound but is beautifully written music – a bit like Lieder but heavier. I enjoyed Erik, he is a passionate lover who makes a good foil for the Dutchman. I worked on both Siegfried roles just to check them out and see if I could sing them and then I went to sing something from them to Ingo Metzmacher who will conduct the Ring in Geneva. After we worked on some things, he also asked me if I was scared of this role as it was one tenors are usually afraid of. Scared of what? I believe I have sung much more dramatic roles and much heavier ones. Time will tell but I think if you singing Siegfried in a classical style it is much lighter and much less harmful to the voice than a lot of the things I have sung. I remember Mark Elder – who was trying to persuade me to do some Wagner with him and the Hallé -saying 'You know Alberto Remedios sang it so lyrically and beautifully'. It'll be an interesting time because obviously once a singer starts singing Siegfried there is a focus on you and I'm sure people are waiting around to see how it all goes for me.
Jim Pritchard
Link to Jim Pritchard's Elektra review.
Brünnhilde in Geneva will be Petra Lang. Link to interview with Petra Lang