United Kingdom  Rosenblatt Recital, Angel Blue (soprano), Catherine Miller (piano): Wigmore Hall, London 21.10.2013. (JPr)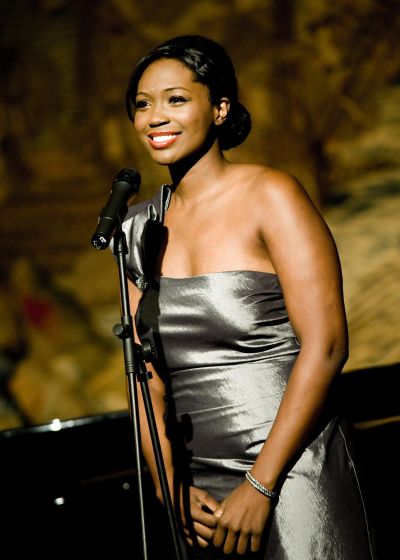 Mozart, Alleluia (Exsultate Jubilate)
Strauss, Heimliche Aufforderung
Die Nacht
Allerseelen
Wie sollten wir geheim sie halten
Befreit
Rachmaninov, Ne poj, krasavica, pri mne
Vocalise
Zdes' khorosho
Vesennije vody
Gershwin, Summertime (Porgy and Bess)
Chapí, Las carceleras (Las hijas del Zebedeo)
Puccini, Vissi d'arte (Tosca)
Wagner, Dich teure Halle (Tannhäuser)
Cilea, ,Io  son l'umile ancella (Adriana Lecouvreur)
Verdi, È strano … Ah, fors'è lui… Sempre libera (La traviata)
This is the fourteenth season of the series of Rosenblatt Recitals – and my first as far as I can remember. They have the admirable aim to bring 'the most sought-after singers from the international opera scene, as well as rising opera stars to the London stage.' Angel Blue, the young Californian soprano, is one of the latter but is familiar to UK audiences as Musetta in La bohème (for ENO) and the title role in American Lulu, Olga Neuwirth's reworking of the Berg opera for the Opera Group, Scottish Opera and the Young Vic. She was accompanied by young pianist Catherine Miller, another Californian, in a very entertaining programme – slightly atypical for Wigmore Hall – that opened with just the Alleluia from Mozart's Exsultate Jubilate, and had songs by Richard Strauss and Sergei Rachmaninov before the interval and then moved into more operatic repertoire with arias by Gershwin, Chapí, Puccini, Wagner, Cilea, and Verdi to conclude a very uplifting recital.
Angel was a finalist in Operalia 2009, receiving first place in the Zarzuela competition (that explained her song from Chapí's comic Las hijas del Zebedeo) and second place in the Opera competition and recent roles such as Mimì and Musetta, Lulu, Micaëla, Lucia, Violetta, Liù and much Mozart suggests a lightish lyric coloratura voice – but this does not do justice to the power, flexibility and excellent technique that she already has in her command. Of course, she is still not the finished article and could be a notable Verdi and Wagner dramatic soprano of the future if she is given sufficient opportunities throughout the rest of her career.
It became apparent that Angel holds deep religious convictions and perhaps it is not so surprising that she began her programme just with the final part of Mozart's Exsultate Jubilate when she sang the repeated single word Alleluia with splendid vocal radiance and joy – witnessed by the smile on her face that never faded unless any particular song or aria demanded another emotion during her concert.
The Richard Strauss songs she chose were about love in its different forms: in Heimliche Aufforderung (The lover's pledge) it is arranging a clandestine meeting; in Die Nacht the poet thinks the night might steal his love from him; Allerseelen (All soul's day) is tenderly nostalgic; and Wie sollten wir geheim sie halten (How should we keep it secret) is full of ecstatic joy. Although she began a little nervously she settled quickly and her voice found its true focus; every climax indicated she has great reserves of power at her disposal yet top notes could be delicately floated if the song demanded it. She dramatized each piece in a way I favour but is not always appreciated by Lieder purists who believe the words and the music are enough. Her final Strauss song, Befreit (Set free), was most movingly dedicated to her mother who was in the audience – but especially to the memory of her late father, the famous gospel singer, Sylvester Blue. This made this song about true love overcoming death more affecting than ever and her final 'O Glück' was poignantly bittersweet about someone's (her father's!) passing.
There followed a selection of romances by Sergei Rachmaninov. Ne poj, krasavica, pri mne (Oh, do not sing, by beauty, to me) evokes in piano and voice life and love in a far-off homeland. Zdes' khorosho (How peaceful it is here) revels in the happiness of an impending marriage and Angel Blue's evident deep understanding of any text she was singing was very evident here and the phrase that translated as 'I am alone with the Lord' was lovingly caressed. In Vesennije vody (Spring waters) the repeated phrases that meant that 'Spring is coming!' were sung with great rapture and here her accompanist, Catherine Miller, came into her own and we clearly heard all the running, awakening and glittering mentioned in the text clearly from her piano in a virtuosic performance worthy of one of the composer's famous piano concertos. In amongst these was Vocalise the famous song without words and Angel Blue had beautiful control of Rachmaninov's hauntingly melancholic bagatelle with all the trills and its stratospheric ending.
After the interval Angel Blue returned to the platform in a second showier dress –  even more sparkling than her first-half gown –that matched the 'show-off' operatic items in the second half of her programme that she obviously relished. She was clearly in her element from Summertime (from Gershwin's Porgy and Bess) to the second of her encores 'I could have danced all night' (from My Fair Lady). She is clearly a very charming, relaxed and confident solo performer who does not need costumes or props to 'sell' a song or aria. Summertime had bags of personality and so did Las carceleras (The prisoners' song) from Ruperto Chapí's zarzuela Las hijas del Zebedeo (The Daughters of Zebedee) when she had a chance to display a more passionate and sexy side to her character. Her potent dramatic potential came to the fore in plangent and heartfelt Vissi d'arte (from Puccini's Tosca) and hopefully she will sing this role when it is the right time for her.
Angel Blue's evident bliss in singing for us in the hallowed Wigmore Hall (on entering I heard a member of the audience exclaim their IQ seems to go up several points every time they walk in!) was never better expressed than with an exciting account of Dich teure Halle (You, dear hall of song) from Wagner's Tannhäuser. In solid German she probably already could be Fricka, Gutrune, Elsa or Sieglinde and has a significant Wagner future ahead of her if she wants it. Though entirely different, Io son l'umile ancella (I am but the humble maidservant) from Cilea's Adriana Lecouvreur was equally well sung and it was clear how much Angel Blue, like the actress of the opera, felt her own talents were also God-given. She ended the formal part of her programme with Violetta's È strano … Ah, fors'è lui … Sempre libera from Verdi's La traviata when she made the composer's fiendish coloratura sound surprisingly easy for someone so young. It was a glittering end to an evening of great vocal promise in which Catherine Miller played a pivotally important supportive role.
Angel's gospel background was fervently extolled by her first encore the spiritual 'He is King of Kings' that, I suspect, was one of her father's favourites – and after 'I could have danced all night' she still left her audience still wanting more. Angel Blue is recording a CD for Opus Arte soon and that should be worth adding to anyone's collection when it is released.
Jim Pritchard
For details of concerts at the Wigmore Hall go to http://www.wigmore-hall.org.uk/.