Spain R. Wagner: Die Walküre, Orchestra Comunitat Valenciana, Zubin Mehta (conductor), Valencia's Palau de Les Arts, 3.11.2013 (JMI)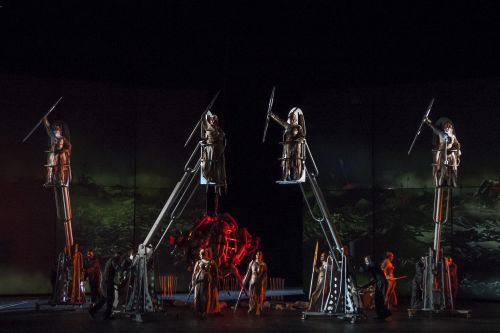 Production Valencia Palau de Les Arts in coproduction with Maggio Musicale Fiorentino.
Cast:
Brünnhilde: Jennifer Wilson
Wotan: Thomas Johannes Mayer
Sieglinde: Heidi Melton
Siegmund: Nikolai Schukoff
Fricka: Elisabeth Kulman
Stephen Milling
Gerhilde: Bernadette Flaitz
Helmwige: Eugenia Bethencourt
Waltraute: Pilar Vázquez
Siegrune: Julia Rutigliano
Grimgerde: Patricia Scivoletto
Schwertleite: Nadine Weissmann
Rossweisse: Gemma Coma-Alabert
Production:
Direction: Carlus Padrissa (original), Allex Aguilera (revival)
Sets: Roland Olbeter
Costumes: Chu Uroz
Lighting: Peter Van Praet
Videos: Franc Aleu
Yesterday, in my review of La Traviata, I said that any production at the Palau de Les Arts was a guarantee of the highest musical quality and so it was in this outstanding performance of Die Walküre. We are already familiar with the stage production so we can add to that a cast that worked better than expected. This was an exceptional musical performance, one of the best we have seen in Valencia and there have been more than a few outstanding musical performances here in the last few years.
Palau de Les Arts has again used the stage production by La Fura dels Baus which was premiered in June, 2007. I reviewed it two years after its premiere and I can add nothing new to it.
The huge success of this Walküre should be credited to Zubin Mehta, who has given us a superb reading of the score from beginning to end and who drew out from the orchestra an exceptional performance. There were truly magical moments, long passages, I should say. Perhaps the first 30 minutes of the opera was as good as any live performance that I have seen anywhere. As good as Mr. Mehta was, that first half hour will remain in my memory for a long time. I'll never forget his sublime reading of the magic fire scene and the scene in which Siegmund's death is announced.
Brünnhilde was interpreted by American soprano Jennifer Wilson who was rather disappointing as Isolde both in Bilbao and Valencia last year. Her Brünnhilde was a total surprise, powerful at the top and even more expressive than in the past. Her weakest point is at the bottom, as it has always been. There are not many great performers who take on the role of this Valkyrie. It is good to have her back.
German baritone Thomas Johannes Mayer was an admirable Wotan but lacked  power on more than one occasion.  Even so his interpretation was reliable and his performance was compelling. I would, though have wanted more emotion from him during Brïnnhilde's farewell. He's a good Wotan, but not great one.
Several times in recent years I have had the good fortune to hear the young (31) American soprano Heidi Melton and I thought then we were lucky to have her as Sieglinde. She has performed frequently in Bordeaux and I always thought she was a very promising soprano. Her Sieglinde was excellent, worthy of any major opera house in the world. There is a very interesting group of young American sopranos (Angela Meade, Tamara Wilson and Amber Wagner, among others) and I would now add Heidi Melton to this same distinctive group.
Another surprise was the performance of Austrian tenor Nikolai Schukoff who appears frequently both in Valencia and Madrid. He has never, though, taken on so important a role as that of Siegmund. From the very beginning I have been aware of his excellent vocal shape was very well suited to the character. His monologue with  the sword and the following duet with Sieglinde were more than convinving. Only in the death announcement did I find him too static.
Austrian mezzo soprano Elisabeth Kulman was a clear-voiced Fricka. Stephen Milling's Hunding also deserves mentioning.
The Valkyries were the weakest part of the entire cast. They suffered both in lack of qaulity and in coordination problems.
Palau de Les Arts was at about 80% full. The audience gave a triumphant reception to the    artists, especially to Zubin Mehta and his orchestra.
José Mª. Irurzun