United States Ravel, Penderecki, Musorgsky: Carter Brey, Alisa Weilerstein, Daniel Müller-Schott (cellos), New York Philharmonic, Charles Dutoit (conductor), Avery Fisher Hall, New York City. 26.10.2013 (DS)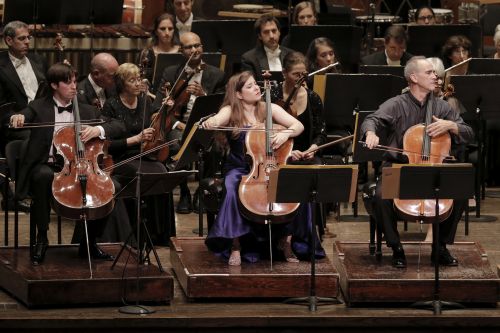 Ravel: Rapsodie Espagnole (1907)
Penderecki: Concerto Grosso (2000)
Musorgsky: Pictures at an Exhibition (1874, arr. Ravel 1922)
Having played—from a single-digit age—the standard repertoire in countless youth, festival, and community orchestras, I see the names Ravel and Musorgsky and pretty much want to go straight home (no disrespect intended, of course). So I was really excited to see Krzysztof Penderecki's name shelved right in between the others on last week's New York Philharmonic performance with Charles Dutoit conducting. Anyone who has heard his already canonic Threnody for the Victims of Hiroshima (1961) knows that they are possibly in for a noisy treat of passionate proportions when it comes to his compositions. Penderecki, like Shostakovich ahead of him, excels at stating the unspeakable, sometimes through irony and other times through unabashed explosions of expression, ingeniously combining the lamentable with the powerful.
Yet his Concerto Grosso for three cellos on the evening's program poignantly showed that Penderecki's noise comes from an astute maneuvering of orchestral possibilities that keep the listener engaged and curious. Solos pop in and out from all over the stage (one of the best was a booming marimba part that clanged in, around, and through the furiously playing ensemble). The solos function as sonar outposts to the main attraction: three celli sitting up front, looking determined and ready for take-off.
In this Baroque genre, the unusual instrumentation brought to the stage three artists with very different appeal: the seductively ravenous style of Alisa Weilerstein, the handsomely decisive expressivity of Daniel Müller-Schott, and the irresistibly reflective confidence of Carter Brey—no better choices to add to the excitement of the already fearless compositional material. Their varying approaches blended together beautifully with interweaving solo parts, nearly rondo-esque chasing of themes, and the occasional all-inclusive unison powerhouse (often lassoing in the orchestral cello section as well—in case you weren't sure there were enough cellos). The soloists not only complemented each other, but the piece and the orchestra, and yet kept their distinctive personalities separate and compelling.
After this gratifying performance that ended with cheers for Penderecki himself (who came out on stage and moved many an audience member to yelps and whoops), Musorgky's Pictures at an Exhibition actually sounded a lot more exciting than one might expect. Charles Dutoit drew out the substance and carried us along the musical story in his lithe, expertly relaxed manner. And, interestingly, I could hear exactly where Penderecki had followed in the greatness of earlier composers. While the tonalities and the subject were quite different from the Concerto Grosso (sorry, no hatching chick imagery in post-WWII Eastern European compositions), the solos punctuating Pictures and the quality of percussive timbres acted as memory triggers, allowing me to relive moments heard before intermission.
Dutoit opted to play Ravel's 1922 arrangement of Pictures, harking back to the opening piece, Ravel's Rapsodie espagnole. This work felt a bit out of place on the program, but if anything, primed us for an evening of Modernism, leading into Penderecki's 21st century. For what sounded new to French ears in 1907 (all things Spanish—even though from the country next door—were as fashionably exotic as those in the Far East) is merely a somewhat re-hashed appetizer compared to what shakes us up today.
Daniele Sahr