United Kingdom Eat, Pray, Laugh! Barry Humphries' Farewell Tour: Barry Humphries, Nick Len (music director) and company. London Palladium, London, 15.11.2013. (JPr)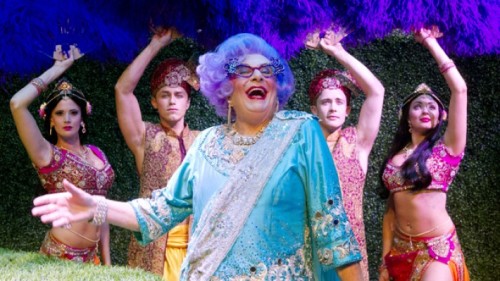 This was a typical gala opening evening when everyone who is there to turn up for these sort of things was there. I enjoyed star spotting for my wife who would not recognise her doppelgänger if she passed in front of her! We were sat in front so some old bore regaling his companions about his five years on Hollyoaks and that that he'd been everywhere and done everything! I think it was him who said he remembers being at the London Palladium in days gone by for legendary artists such as Jack Benny and Judy Garland. (Another old bore alert!) I do not go back that long but I am fortunate to have seen nearly all of the other great entertainers I have wanted to see live over the last 40 years from Bob Hope, Bing Crosby to Frank Sinatra and Barbra Streisand. Somehow this was the first time I had seen Barry Humphries in the theatre – even though he is in his sixth decade in front of audiences.
Barry Humphries will be 80 next February and is a wonderful advert for 80 being the new 70, 70 being the new 60 and so on … for those fortunate to be in good health. He is a little more stooped than I remember – and needs to check his dialogue on two small screens on the stage to keep him on track from time to time – but we all would for a show lasting about two and a half hours (excluding the interval). Throughout he reveals his trademark impish, quick ironic wit and great physical stamina. At the end of the show – once his most famous creation Dame Edna Everage had distributed her legendary gladioli through the audience for us all to wave and wiggle in the air – there was video footage showing us all of Mr Humphries' comic characters from the 1950s to present and to great acclaim he came out as himself for a final bow – an urbane, cultured figure in a velvet jacket and clutching a fedora. He remarked that this return to the West End after 15 years was 'bittersweet' because it is also his farewell. He thanked us for our support over the years for what he described was 'not a career … it was a way of avoiding the responsibilities of adult life.' He hope we would all be there for his next farewell performance – I doubt anyone misunderstood what he meant by this … and I hope that final journey will not be for many, many, years.
Back to the show – what do you get with Eat, Pray, Laugh! – well if you just want gladioli, affectionate laughs at the expense of us 'Possums', the occasional music moment and some gentle mocking of less wealthy or well-dressed members of the audience you should be aware that Dame Edna does not appear till after the interval and the first half is something entirely different. It starts with his most outrageous and politically incorrect creation Sir Les Patterson, the foul-mouthed former Australian cultural attaché to the Far East. He has now retired – or been kicked out of government service – and we are in his garden with four attractive backing dancers. The Condiments, and a pianist (Nick Len), ever present through most of the show, and who is picked upon from time to time. Now Sir Les has self-styled himself as 'Australia's answer to Nigella Lawson'
There is a song about cuisine and he is about to create the pilot for his new cooking show as the new #1 celebrity chef, Les Get Cooking. Unfortunately for the rissoles he cooks on the 'barbie' – there was a topical reference to Princess Anne and horsemeat – Sir Les' disgusting habits are all hilariously present … and he compounds this with a violent stomach upset (because of a dodgy taco) that involves trips to the 'dunny' or toilet for the uninitiated. I suspect those who have booked their seats in the front few rows of a Barry Humphries show know what they will be letting themselves in for; here they are either covered in spittle or a couple are brought up on stage and seem petrified that they will be fed some of his 'cooking' that by now contains much of his bodily fluids. Nevertheless with Humphries' funny repartee and anecdotes much fun is had by all of those of a less sensitive disposition – the punch line to the 'peanut in the ear' skit is pure comedy genius but it is not something that maiden aunts or younger children should hear! There are some I suspect who might find this all rather offensive but to do so would be to entirely miss the point of what this character has had to say about some Australians down the years.
Sir Les disappears to the toilet once again and is not seen again and with this the 'Eat' part over, soon Humphries' latest creation his brother, Father Gerard Patterson, makes a brief oleaginous appearance – to let us 'Pray'. He is a Catholic priest with an unfortunate predilection for young men and a tag on his leg to prove it. He 'preys' on the pianist supposedly from Bali and offers him a barley sugar and reveals how he has been told he has 'touched' everyone he has come across! He begins a séance and with lighting flashes and some acrobatics involving a stunt performer Fr Gerard is diabolically consigned to hell and then the show then takes a reflective turn with an appearance of Sandy Stone, someone Humphries first performed in 1958. It is an Alan Bennett-type soliloquy from a recently deceased elderly man looking back on his life, death and those he has left behind. Stone has an emotional story to tell that those just looking for an evening of belly laughs might not appreciate – he never felt the need to travel and lost a daughter at a young age. Gentle mockery of how people in care homes are looked after is also there aplenty but you will need experience of that to fully appreciate it – I have and I found myself totally engaged by this vignette that should touch the hearts of all but the most cold-hearted. With a touching rendition of 'By Blue Heaven' Stone is carried aloft on a cloud as the first half ends.
After the interval there is a short video sequence entitled 'True Hollywood Tales – Dame Edna Revealed' that looks back on her life with all the reality these type of programmes usually process: it showed how even as an infant she wore her familiar cat's-eyes glasses. Dame Edna has apparently returned from retreat at an ashram in India, no longer the 'housewife superstar' but after smoozing with the Dali Lama, as a divine tantric guru and spiritual healer of relationships. She – or rather a stunt person comes on stage in a blinged-up turquoise sari and falls from a large glittery elephant and when upright again announces herself back to bid 'the false world of celebrity goodbye'. Dame Edna will be dearly missed!
A little bit of music intrudes but she does what she does best by reminiscing and especially targeting members of her audience – 'I don't pick on people I empower them'. She wants it to be 'a conversation between two people – one of whom is more interesting.' She admits her long absence from the West End allows for some 'old material' and mentioning that allows her to chide what someone in the audience is wearing with 'What was that before it was a dress?'  Those in the seats at the top of the London Palladium are advised to applaud with one hand and hang on with the other and told 'I will glance up there in strict proportion to what you have paid … goodbye!' Dame Edna's hapless stooges this time are a May-December pairing of Tom and Maureen who will be 'solemnized' – this was another hilarious sequence. Tom was there on his own and so Dame Edna rang his wife, Sarah, at home to tell her he had remarried. Ok so it all went a bit too smoothly and the cynical voice in my head suggested it might have been a set-up – but it was good fun all the same … and 'Laugh' we all undoubtedly did!
Performer and alternative persona have merged sublimely over the years since I first saw Edna Everage on TV in the 1960s and it is a totally unique comic creation: the evening still has great topicality and freshness to it mostly because of the audience involvement. This 'Farewell Tour' began 'down under' earlier this year and is booking through to at least March next year. It was a privilege to see Barry Humphries so on top of his game at nearly 80 – in these days of TV talent shows when new stars come and go in a matter of months rather than years we will not see his like again. If I had stars to give it would be 5/5 – he is at the London Palladium until the New Year so do go if you can as it is a wonderfully adult pantomime!
Jim Pritchard
For more about the London Palladium performances and the following UK tour of Eat, Pray, Laugh! Barry Humphries' Farewell Tour visit http://www.dameednafarewell.com/.