United Kingdom  Chabrier: Lucky Star (L'Étoile): Soloists and Chorus of New Sussex Opera, St Paul's Sinfonia / Nicholas Jenkins (conductor), Cadogan Hall, London, 29.11.13. (JPr)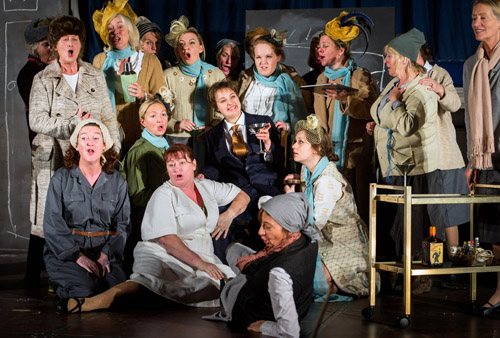 L'Étoile (Opéra-Bouffe in 3 Acts by Emmanuel Chabrier)
Libretto by Eugène Leterrier and Albert Vanloo (English translation by Jeremy Sams)
Cast
Katie Bray (Lazuli)
Neil Jenkins (King Ouf I)
Stephanie Corley (Laoula)
Geoffrey Moses (Siroco)
Paul Curievici (Hérisson de Porc-Épic)
Ted Schmitz (Tapioca)
Rachel Shouksmith (Alouès).
Conductor, Nicholas Jenkins
Director, Susannah Waters
Designer, Nicola Blackwell
New Sussex Opera's performances of Emmanuel Chabrier's Lucky Star, an opéra-bouffe in 3 Acts with a libretto by Eugène Leterrier and Albert Vanloo, began in Lewes and visited Eastbourne and East Grinstead for one-off performances before setting down at the Cadogan Hall to allow us to join in with the fun.
Chabrier seems to have been 'a strange cove' indeed both in life and music. One description of him tells us he was a 'thick set, sturdy, a true son of the Auvergne with a high powerful forehead, a lively expression and whose entire body was characterised by an appealing, jovial plumpness'. There are things here that I hope people would say of me! Add to that he was an avid Wagnerian who saw the operas wherever he could – including the Ring in London in 1882.  Chabrier was a talented musician and drew to him a wide circle of influential friends among them Renoir and Manet and he owned several of their paintings. At the piano he seems to have been an entertainment all of his own, Yvonne Tiénot wrote, 'There was something clown-like and extravagant in his manner and method of playing which was both exciting and disconcerting. He would pound the piano with his hands, his elbows, his forehead, his stomach and his feet, extract from it the most fantastic sounds, attacking it like a whirlwind forcing it to give out the most piercing clamour and only letting it go when the unfortunate instrument had no voice left and was staggering on its feet like a drunken man.' If I could play the piano better I hope it would be like that.
One suspects L'Étoile draws its satirical inspiration from the Parisian salons and soirées of Chabrier's day and if this performance was indicative of the wit and intelligence of the original libretto then it reminded me for long stretches of many of the Marx Brothers' comedies.  The  original was presented as translated by Jeremy Sams and every few words rhymed: a sample line from one of the choruses when the King believes he will die is  'It's all the same to us, but none the less it would be best if we expressed a little interest'. There are also some new jokes – the Chief of Police is dismissed with 'Half-wit! Idiot! …. Pleb!' L'Étoile was put on at the Bouffes-Parisiens in November 1877 but its successful run came to an end after 47 performances mainly it seems because after a fiftieth both composer and librettist would have been allowed a share of any profits. The work has never entirely disappeared from the world's opera stages and reappears from time-to-time.
At the time of its première Chabrier wrote 'Wagnerians call me reactionary and the bourgeois call me Wagnerian' – you cannot please everyone. As played with great panache by the 18-strong St Paul's Sinfonia and enthusiastically conducted by Nicholas Jenkins it is airy, lightweight, and fairly insubstantial score – typically fairy-tale Offenbachian operetta music, with any of the supposed parodies of Verdi, Bellini, Donizetti and Wagner(?) lost due to the reduced orchestration.
The NSO's production was by the very capable Susannah Waters whose staging of the community opera Imago I thought highly of earlier this year .
Obviously the budget was limited and its shoestrings were on show but it gelled marvellously as the evening went on. I mentioned the Marx Brothers earlier and her 'Oufland' was not that far from their 'Freedonia' in Duck Soup. There were downtrodden flag-waving peasants with several Russian-style fur hats to be seen. The ruling classes were, of course, much more finely attired but the only really outlandish costumes where King Ouf's garish plaid knickerbockers and his court astrologer, Siroco's elaborate robes.
I know this will not resonate in deepest Sussex but I was slightly disturbed by the look of the well-drilled 10 'Young Pioneers' who were there as the children's chorus. They orchestrated scene changes on three large pieces of blackboard by chalking things onto them like village dwellings, palace doors, trees or a clock, with words or pictures drawn on some smaller ones. For me there was too much of a hint of the Hitler Youth about them … sorry! That's not all because that small tin-foil 'lucky star' Lazuli wore on the lapel of her suit looked very much like the one less-enlightened countries have used to label Jews over the centuries. I doubt anyone would have taken offence by this but when such clearly recognised symbols are used – hopefully without intent. Surely someone must have mentioned this to the director at some stage?
The story doesn't really deserve much analysis, if you ever see L'Étoile just sit back and enjoy the ride … however here goes. King Ouf the First roams his city, in disguise behind an extravagant moustache. He need to find someone to execute to help celebrate his birthday. Hérisson de Porc-Épic, an ambassador on a diplomatic mission, and his wife, Alouès, arrive, with his secretary, Tapioca, and Laoula, the daughter of a neighbouring king. They are traveling incognito, initially as salespeople, and Princess Laoula – who is being passed off as Hérisson's wife – is unaware that she is there to be married off to Ouf (try saying that quickly). However Laoula and Lazuli (here a poor beautician!) fall in love at first sight. Later Lazuli insults the disguised king and thus becomes a suitable candidate for death by impalement. The astrologer, Siroco, reveals that the fate of King Ouf and Lazuli are inextricably linked; the stars predict that they will die within 24 hours of each other … and Siroco is in the King's will to die 15 minutes later!
Needless to say there then follow many trademark moments of a great farce, including mistaken identities and illicit lovers. To cut a long story short, Laoula and Lazuli are allowed to leave the King's palace but a duped Hérisson wants the 'beautician' to be shot. At 5pm gunfire is heard and Laoula is captured but there is no sign of her lover. The King fears his death is imminent and is desperate to marry Laoula and quickly sire 'a little Ouf'. When the clocks strike five and nothing actually happens, Ouf realises that the astrologer's predictions were wrong, he eventually relents allowing Lazuli, who is brought in under arrest, to marry Laoula as his heir. In the final chorus celebrating the happy ending everyone addresses the audience imploring us to stay in our seats and then applaud.
The valiant NSO chorus – some singing the smaller roles too – were a marvel considering many looked as though they have been with them for most of its 35 years. One of their finest moments was when they are supposed to pretend to care – as mentioned above – about the King's possible demise – their genuine feelings are revealed as they sing 'it's a dreadful shame!' and almost launch into an ebullient can-can!
New Sussex Opera fielded some good-looking and very talented young singers, they often had some tricky dialogue or patter songs and they tackled both supremely confidently.  Leading the cast in the trouser-role of Lazuli, Katie Bray was simply marvellously. She acted with a self-aware rapport with all around her and sang spiritedly … what a dead ringer he/she was for Declan Donnelly of TV's Ant & Dec and I suspect that was deliberate?  As Laoula, Stephanie Corley was convincing and conniving, singing appealingly. There were also fine performances from Rachel Shouksmith as Alouès, downtrodden at first but wonderful flirtatious later; Ted Schmitz as the object of her attentions, Tapioca; and Paul Curievici, a demonstrably venal Hérisson de Porc-Épic.
Two vastly experienced veteran singers inhabited the final two roles – the bass, Geoffrey Moses, showed he is still capable of some sepulchral tones as the anxious, yet benign, Siroco and Neil Jenkins, the flamboyantly outré King Ouf I, still has a refined tenor voice. Watching these two old-timers revel in their inebriated bonding over Green Chartreuse and Benedictine in Act III was an absolute joy … as was the entire evening!

Jim Pritchard
 For more about the New Sussex Opera's past, present and future visit www.newsussexopera.com.