Switzerland  Wagner, Die Walküre: Soloists, Orchestre de la Suisse Romande /Ingo Metzmacher (conductor), Grand Théâtre de Genève, Geneva, 7.11.2013. (JPr)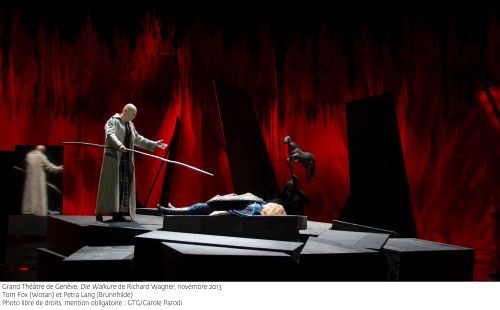 Cast:
Siegmund: Will Hartmann
Wotan: Tom Fox
Hunding: Günther Groissböck
Sieglinde: Michaela Kaune
Brünnhilde: Petra Lang
Fricka: Elena Zhidkova
Gerhilde: Katja Levin
Ortlinde: Marion Ammann
Waltraute: Lucie Roche
Schwertleite: Ahlima Mhamdi
Helmwige: Rena Harms
Siegrune: Stephanie Lauricella
Grimgerde: Suzanne Hendrix
Rossweisse: Laura Nykänen
Production:
Director: Dieter Dorn
Sets and Costumes: Jürgen Rose
Choreography: Heinz Wanitschek
Lighting: Tobias Löffler
Dramaturg: Hans-Joachim Ruckhäberle
Of course it would have been useful to have seen Das Rheingold last season but I now join Dieter Dorn and Jürgen Rose's new Der Ring des Nibelungen for Geneva on the first day for Die Walküre. Obviously I suspect the occasionally appearing Norns rolling their giant ball made up of the rope of fate, as well as, the two human 'ravens' with their prominent beaks might have made a first appearance then – but I can only ponder this. I suspect what undoubtedly would have been obvious then would have been that we are to be presented with some very straightforward story-telling eschewed of any head-scratching symbolism. It is as if the director, Dieter Dorn, and his equally veteran designer, Jürgen Rose (probably only having been given a modest budget) have decided that Wagner's Ring – as the first realisation of his Gesamtkunstwerk, an ideal mix of text, music and dance – needs little interpretation. Leave that to Bayreuth! In this opera we might hope for swords, spears, helmets, breastplates, shields and horses but rarely see them – here they are unashamedly present.
It is a resolutely bare and open stage that creates its own problems for the singers that I will discuss later. There is very little scenery of any note, and with all due respect to Dorn and Rose however compelling their narrative approach is, what we see rarely rises above the level of what I would describe as a semi-staging. There is no attempt to hide the artifice of the theatrical presentation and there is an element of a work-in-progress – as perhaps the opera was in Wagner's musical reforms from Das Rheingold through to Götterdämmerung and beyond to Parsifal. It is performed mostly on what looks like demountable rehearsal staging with a few extras like a tree with Nothung visible in it and a full moon for Siegmund's Winterstürme in Act I; five human 'rams' to accompany Fricka, Brünnhilde's horse, Grane, as a marionette with two visible puppeteers in Act II; another single tree trunk, extras employed as multi-legged 'horses' galumphing around for the 'Ride of the Valkyries' and a stage-deep curtain of fire in Act III. The most original element occurred in Act II during Wotan's long narration when about eight mirrored panels are made to surrounded him to 'reflect' that there is no escape from the hole he has dug for himself and this was reminiscent of the climactic shootout in the amusement park from Orson Welles' film The Lady from Shanghai.
Indeed Heinz Wanitschek's well-drilled black-clad supernumeraries (numbering over 30, it seems), as well as the puppetry, brought an element of Japanese Noh theatre to the proceedings. In that form of drama the emphasis is less on the action we see than on a simile or metaphor made visual. Because those who are watching know the story's plot very well, they can appreciate the symbols and subtle allusions to it brought out in the words and movements. Any Wagner audience should be similarly well educated I would hope! The first time I saw this approach was with Alan Privett's recent Ring for Longborough Festival Opera in the British Cotswolds – though that was a much smaller scale affair. As there, the sleeping Brünnhilde is laid on a catafalque and here her beaded breastplate was put on her. At this point I was thinking that there was an element of an Egyptian queen being laid to rest, especially as the mirrors appeared again to enhance the flickering flames effects, as well as create the appearance of a small pyramid over her. The skeletal look of the shaven-headed Tom Fox in his flowing robes and with a staff in his hand also made him look like a priest of Ancient Egypt; yet again the masks for all the Valkyries brought us back to Japan – and only time will tell what Dorn and Rose's major influences are.
In terms of Personenregie it was everything one would expect from someone as experienced as Dieter Dorn. Siegmund and Sieglinde were a credible pair of twins who become attracted to one another as a means of escape from their current travails; Hunding was a blatant bully; Fricka is totally insistent that she is right and her husband with one wandering eye is wrong. Wotan himself is given a certain nobility but is typically distraught by circumstances that spiral out of his control. Nevertheless, at the end he clearly displays his paternal feeling for his impetuous, wilful young daughter Brünnhilde – a free-sprit if ever there was one.
When I walked across the side of the stage after the performance I appreciated what a vast space it was; indeed the size of the auditorium reminded me of the London Coliseum and clearly many of the experienced singers were hampered by that open stage and a seemingly unforgiving acoustic. Musically nothing much happens unfortunately until Act II because however lyrically it seems the conductor Ingo Metzmacher wants his Ring to be sung, for the pivotal – and passionate – Act I encounter between Siegmund and Sieglinde, Will Hartman and Michaela Kaune were a great disappointment. He looked as if he wanted to be somewhere else and sang like the Tamino he is and she looked and sounded like the Ellen Orford which is another of her roles. Neither had the intensity to bring their characters to life and their lack of vocal heft meant that Metzmacher's musical accompaniment at this point had no excitement, was very low-key and, although nuanced, had a strange chamber-music quality to it.
Günther Groissböck is a fine singer – his Hermann in Tannhäuser at Bayreuth is quite outstanding – however he is not as forthright or commanding as most Hundings and perhaps his reticence was due to the level of the performances around him. Matters improved as soon as Act II began; Metzmacher unleashed his previous shackles and let his refined Orchestre de la Suisse Romande loose and the music sounded less like Weber and more like Wagner. Elena Zhidkova's nagging Fricka and Tom Fox's grizzled Wotan brought some authority to the singing that was previously lacking and even Hartman and Kaune improved when they reappeared. All had clearly worked out that if you come to the front of the stage and sing out there is an opportunity to create some volume and voices could carry over a now much more rampant orchestra. Zhidkova and Fox were very compelling in their great Act II confrontation and are clearly potent singing actors. Sadly there was a degree of gravel in Fox's voice by the time he got to bid his daughter farewell in Act III and I hope he survives the further three performances. Nevertheless he vocally regrouped using his considerable experience to summon, with suitably stentorian tones, the conflagration that brings the opera to its majestic conclusion. The eight Valkyries were a fine ensemble and rushed about enthusiastically.
This developing Ring features Petra Lang as Brünnhilde and she will be one of the best reasons why next May's complete cycles will be very special occasions indeed as they will be her first on stage. She has benefitted from the vocal security her distinguished career has already given her and brings a wonderful technique to singing the role of Brünnhilde. There is never a doubt that from her vibrant 'Hojotohos', the concerned Todesverkündigung (Announcement of Death) to her plaintive, quietly reflective 'War es so schmählich?' (Was it so shameful?) that this was a singer no longer trying out the part to see if it fits, but announcing herself as one of the leading Brünnhildes of her generation. Petra Lang's soprano retains a rich mezzo chest quality but now has the exciting laser bright top notes she is becoming – and very rightly – especially famous for, witness her stunning Ortrud at Bayreuth. Dramatically is a wonderfully recognisable, sullen and pouty headstrong teenager when she first enters and a defiant and a more mature, manipulative figure at the end – I for one cannot wait to see how her character particularly develops in Siegfried in January and Götterdämmerung in April in Geneva.
Jim Pritchard
For more about the Ring in Geneva visit http://www.geneveopera.ch/.