United States Rossini, The Barber of Seville: Soloists, orchestra and chorus of San Francisco Opera, Giuseppe Finzi (conductor), War Memorial Opera House, San Francisco. 14.11.2013 and 19.11.2013 (HS)
'A' Cast / 'B' Cast
Figaro: Lucas Meachem / Audun Iversen
Rosina: Isabel Leonard / Daniela Mack
Count Almaviva: Javier Camarena / Alek Shrader
Doctor Bartolo: Alessandro Corbelli / Maurizio Muraro:
Javier Camarena / Alek Shrader
Doctor Bartolo
Don Basilio: Andrea Silvestrelli
Berta: Catherine Cook
Ambrogio: A.J. Glueckert
Fiorello: Ao Li
An Officer: Hadleigh Adams
Notary: Andrew Truett
Production:
Director: Emlio Sagi
Set Designer: Llorenc Corbella
Costume Designer: Pepa Ojanguren
Lighting Designer: Gary Marder
Chorus Director: Ian Robertson
Choreographer: Nuria Castejón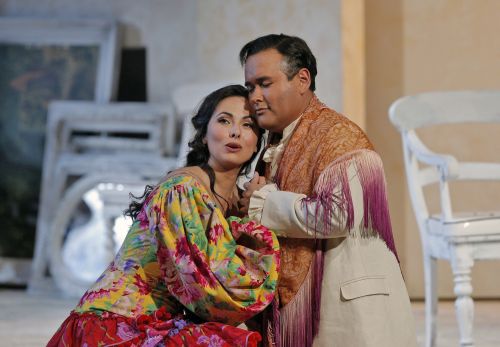 San Francisco Opera closed out 2013 with a cleverly staged and vitally conducted Barber of Seville. Differences in the two casts, alternating in the opera's four major roles, made for contrasting experiences, but in general they looked their parts, made a winning bunch visually and dramatically, showing a flair for the fizziness of Rossini's comedy.
Although the opera is set in Spain, few productions go to the lengths this one does to introduce Spanish flavor. Director Emilio Sagi injected something of his Spanish culture into the staging every time Rossini's music suggested it. Most obviously, a troupe of six dancers dressed in full Flamenco garb appear during the overture, dancing around a giant bust of Rossini and gesturing as a series of white building façades roll into place diagonally along a slightly raised and raked platform. The dancers reappear from time to time, rather like a mute Greek chorus, and pose as street people in outdoor scenes.
All the principals wear clothing that seems more realistic (and funnier) than the stagey, faux-Spanish costumes in most productions. Members of the cast inject the occasional "Ole" or mime a high Flamenco clap. In a particularly entertaining scene between two servants, Ambrogio (a randy, tousle-haired A.J. Glueckert) teases and dances provocatively, eventually winning over with his motley Iberian charm Berta (Catherine Cook) during her second act aria ("Il vecchiotto cerca moglie").
All this lends a sense of authenticity to a stylized production, but the set also draws smiles and full-out-laughs from sly uses. Chorus members slither out from the crawl space under the platform, bringing with them the string bass for the Act I band, and later, lighted props to create the suggestion of a nighttime scene. When Count Almaviva needs a guitar for his Act I serenade, one is thrust from under the platform. An enormous white sheet unfurls from there, billowing to illustrate the spreading of slander on the breeze in Don Basilio's comic aria, "La calunnia è un venticello."
The off-white sets, a co-production with Lithuanian National Opera, start off monochromatic, but flower pots and lighting and colorful costumes add color as the plot thickens. Eventually window lighting and chandeliers introduce a rainbow of color, and at the very end projected fireworks and a fire-engine red 1956 Jaguar convertible rolls the newlyweds offstage bring things to a happy climax. At times members of the cast pretend to make buildings roll into place, curtains rise, and at the point where Rosina practices a faux-operatic aria in her singing lesson, Berta lowers a group of chandeliers, a wink to the Metropolitan Opera House.
If these touches are redolent of artifice, they fit the plot, which is filled with people pretending to be something other than what they are, and actions intended to misdirect (or outright lie). The young Count Almaviva poses as a student named Lindoro, a drunken soldier and a prissy music teacher as he connives with Figaro, the town's prominent barber and accomplished gossip, to gain entrance to the home of Doctor Bartolo and woo his ward, Rosina. She, in turn, misleads Bartolo again and again, even laying out her I-am-docile-but-I-have-a-hundred tricks credo in the famous aria "Una voce poco fa." Don Basilio suggests to Bartolo that they slander Lindoro to discourage Rosina. Except for the two young lovers, everyone seems willing to do almost anything for money. So artifice works.
Everything about the first cast, heard Tuesday in its third performance, was superior to what I heard from the second cast, heard last Thursday in its first appearance. The singing was especially fine, most impressively Mexican tenor Javier Camarena in a thrilling company debut. A regular at Zurich Opera, he combined a plangent, ringing lyric tenor sound with pinpoint coloratura and astonishing stamina. He looked great and totally natural on stage. He even played guitar himself to accompany his Act I serenade, "Ecco, ridente in cielo."
In another company debut, American mezzo soprano Isabel Leonard (already a regular at the Met) used her natural beauty to advantage. It was hard to keep eyes off her, and the reward for paying attention was smooth, caramel-sweet tone and deft musicianship. The youthful bloom in her voice matched her beaming visage.
Lucas Meachem, most recently heard here in 2011 as Don Giovanni, created a solid center of gravity as Figaro, his acting as natural and flowing as his lyric baritone sound. Bass-baritone Alessandro Corbelli, last heard here as Dulcamara in l'Elisir d'Amore, nearly stole the show as a fussbudget and eternally frustrated Doctor Bartolo, scattershooting the rapid patter of "Un dottor della mia sorte," his Act I aria, with jolting accuracy.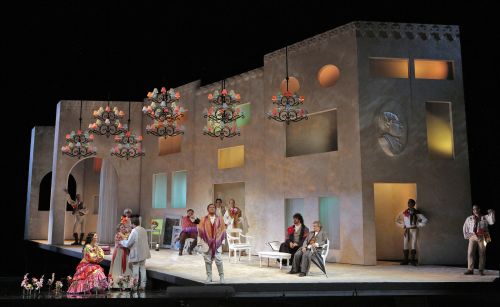 Mismatches in volume and a general paucity of precision coloratura dimmed the generally fine singing in the second cast. The standout was Italian bass Maurizio Muraro as Bartolo, making his company debut in a role he has sung at the Met, Berlin and Paris. Deploying a rare combination of vocal and comedy chops, he portrayed a character that was a money grubber after Rosina's dowry, rather than the lecherous old fool as usually done. His Act I aria was a gem of a character study, and although the aria was beautifully articulated musically, the rapid-fire patter of the cabaletta threatened to run aground.
As the title character, Norwegian baritone Audun Iverson (company debut), who has sung this role at Glyndbourne, brought panache and a sweet lyric sound to bear on Figaro's music. Apart from arresting physical allure, real-life husband and wife Alek Schrader and Daniela Mack (who were both in the company's Merola young artists program in 2007) brought deftness and delicacy to their music. Mack packed intensity and lovely phrasing into Rosina's music, her mezzo soprano missing only a sense of sly lightness to make the character complete. Schrader exploited his silky-sounding tenor to great effect in Almaviva's long melodic lines, although he constantly seemed to be about three or four decibels short of balancing with the other singers (and the orchestra). Also, of these four principals in the second cast, Muraro was the only one who got real coloratura instead of a general smear.
With his enormous bass voice and massive stage presence, Andrea Silvestrelli made an imposing Don Basilio in both casts, believably befuddled by everything going on around him and singing a "La calunnia" that started with sinuous mezza-voce and then thundered fearsomely. Mezzo-soprano Cook, who has sung Berta in the company's last three productions of this opera, delivered a fully fleshed-out character, even inserting a silent comedy routine to open the second act that drew lots of chuckles.
Finally, high marks to the orchestra and conductor Giuseppe Finzi, the company's resident conductor (second in command), who kept things moving smartly, evoking the lightness and finesse Rossini's ageless comedy requires.
Harvey Steiman