United Kingdom Handel: Rodelinda: Scottish Opera on Tour / Susannah Wapshott (conductor), Brunton Theatre, Musselburgh, 03.11.2013 (SRT)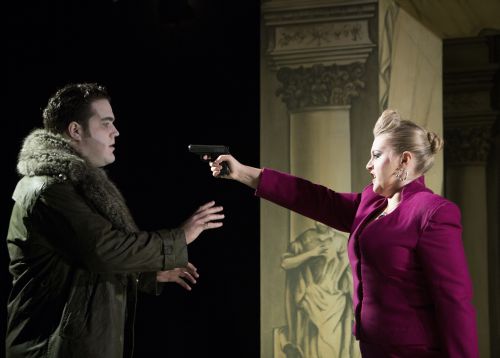 Cast:
Sarah Power – Rodelinda
Bertarido – Andrew Radley
Unulfo – Reno Troilus
Grimoaldo – Richard Rowe
Garibaldo – Andrew McTaggart
Eduige – Sioned Gwen Davies
Production:
Chris Rolls (director)
Oliver Townsend (designer)
Mark Howland (lighting designer)
Scottish Opera are sailing through somewhat troubled waters at present.  Having long since lost their full time orchestra and chorus, they are fielding only three full scale staged works this season, explained in part due to the temporary closure of Glasgow's Theatre Royal for refurbishment.  Worse, they have been left high and dry by the sudden, unexplained departure of Emmauel Joel-Hornak, who stepped down as their new music director before he had conducted a note in the post.  Questions have been asked elsewhere in the media about what the future may hold for Alex Reedijk, the company's General Director, but one thing Reedijk has done successfully is to expand the company's touring capability, and I caught this shoestring Rodelinda on the last night of its 16-venue run, an easy bus journey from the centre of Edinburgh.
To succeed in such a wide range of venues, from city suburbs to the Western Isles, the staging has to be minimalist and adaptable.  Director Chris Rolls and designer Oliver Townsend have created a miniature theatre set that can be taken apart and rotated to suggest a wide range of locations with a minimum of props.  It works well and fits neatly onto the small stage for a small venue.  More miniature still is the ensemble of musicians, though; just three players (violin, cello and continuo).  They play with great skill in the most exposed of circumstances, but anyone who has heard the opera played by a regular sized Handel ensemble is going to feel short-changed.  Still, singers and musicians are ably directed from the harpsichord by Susannah Wapshott.
To fit the opera into 2½ hours, including an interval, cuts had to be made, the most regrettable of which were Rodelinda's key Spietati aria and Bertarido's Vivi, Tiranno.  However, if the set-up was budget then the singing certainly was not.  The cast was led by a glowing, authoritative Rodelinda in Sarah Power, who had a bright, pearly texture to the top of her voice and sounded marvellous in the more reflective arias, such as Ritorna, oh caro.  Of the two counter-tenors Andrew Radley sung with great beauty but little stagecraft, whereas the situation was reversed with Reno Troilus.  Radley sung a beautiful Dove sei? but he wasn't given much to do and his clumsy bumblings around the stage got a little tiresome after a while.  The highlight, however, as it should be with every production of Rodelinda, was the great duet at the end of the second act, where both high voices intertwine in music of hypnotic beauty. Richard Rowe gave Grimoaldo plenty of human sympathy, and Sioned Gwen Davies oozed both acting and vocal character as Eduige; she also had the most intelligent and effective ornamentations in the da capo sections.  Andrew McTaggart filled the hall impressively in his early arias, but began to tire quickly and before very long began to sound a little frayed at the top of his voice.
There is definitely a place for work like this, and Scottish Opera do it as well as any.  I'm much more excited about their new Don Giovanni, though, which is doing the rounds in Scotland at the moment.  Watch this space for a review soon.
Simon Thompson