United Kingdom Verdi, Les Vêpres siciliennes (in a new production by Stefan Herheim): Soloists, Chorus and Orchestra of the Royal Opera House conducted by Antonio Pappano. Broadcast to the Odeon Cinema, Chelmsford, Essex. 4.11.2013. (JPr)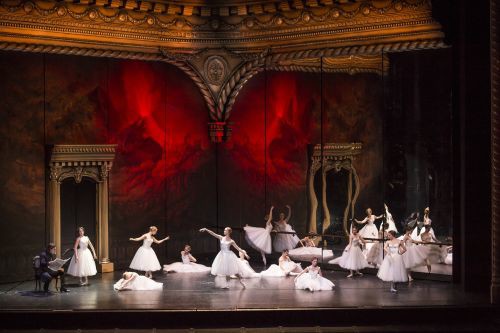 Cast:
Hélène: Lianna Haroutounian
Henri: Bryan Hymel
Procida: Erwin Schrott
Guy de Montfort: Michael Volle
Ninetta: Michelle Daly
Thibault Neal Cooper
Daniéli: Nicolas Darmanin
Mainfroid: Jung Soo Yun
Robert: Jihoon Kim
Le Sire de Béthune: Jean Teitgen
Le Comte de Vaudemont: Jeremy White
Production:
Director: Stefan Herheim
Dramaturg: Alexander Meier-Dörzenbach
Set designs: Philipp Fürhofer
Costume designs: Gesine Völlm
Lighting design: Anders Poll
Choreography: André de Jong
Directed for the screen by Rhodri Huw
With the Royal Opera's current revival of Les Vêpres siciliennes London audiences have their first chance to hear this rarely performed Verdi opera in its original French version. Although considered to be fairly musically mature this excessively long and flawed work has never been one of the composer's 'greatest hits' with commentators or the public – possibly due to a ludicrous (though in some ways typically Verdian story) and a libretto that isn't a lot better.
La traviata had not been the success that Verdi had hoped and he was looking to follow this up with something more successful. He received a commission from the Paris Opéra and though it came complete with a hackneyed libretto by Eugène Scribe and Charles Duveyrier, loosely based on a bloody revolt in 1282 by the people of Palermo against the French rulers of Sicily,  he could do nothing about it. (It is like a Hollywood director being given a finished script that has been 'doing the rounds' and indeed this libretto had already been offered to Halévy and Donizetti.) Verdi spent most of 1854, rather unhappily it seems, in Paris, composing the score. The back story – that we see staged here by Stefan Herheim during the overture – is that Procida, a leading Sicilian patriot, is wounded by French troops during their invasion of Sicily and forced into exile. Montfort, the leader of the French troops, rapes a Sicilian woman who later gives birth to a son, Henri. Montfort becomes governor of Sicily and the woman brings up her son to hate him, without revealing to Henri that Montfort is his father. Later we see Henri fall in love with Montfort's hostage Hélène who foolishly believes her betrothal to him will bring peace to Sicily but as the opera – after considerable longueurs – ends the Sicilians slaughter the French, taking about 10 seconds over it, and the final curtain falls.
With this opera Verdi initially had the success he craved and the first performance at the Paris Opéra on 13 June 1855 received great acclaim. Hector Berlioz wrote: 'In Les Vêpres the penetrating intensity of the melodic expressiveness, the sumptuous, wise variety of the instrumentation, the vastness and poetic sonority of the concerted pieces, the hot colour that shines throughout … communicate to this opera an imprint of grandeur, a species of sovereign majesty more distinguishable that in this composer's earlier products'. However the original version never entered the established repertory and Verdi attempted to aid its revival at the Paris Opéra in July 1863 by revising some of the roles for selected singers. Yet again after only a few performances, the opera was replaced by the French version of Il trovatore – Le trouvère. After this Les Vêpres siciliennes more or less disappeared from the repertory and was superseded by the opera in Italian translation that continues to receive occasional performances on the world's opera stages. Though performed earlier in Italy under another title it has been I vespri siciliani since 1861.
So what we have are five rather over-inflated acts – with or without a ballet – and fascinating as it is to hear it, I wonder why many lesser Verdi operas are constantly performed whilst the early Wagner operas are mostly still ignored – even in Verdi and Wagner's joint bicentenary year. Undoubtedly there is some fine music that gives wonderful opportunities to the orchestra and a cast of good singers. The highlights are: a familiar overture (a staple of many opera gala evenings); the anguished Act I love duet for Hélène and Henri, to the accompaniment of sighing woodwinds; the two lengthy confrontations between Montfort and Henri in Act I and during the first scene of Act III; the feverish massed choral scene in the following scene; Henri's Act IV aria 'O jour de peine' ('Day of weeping, of fierce sorrow!'); the Act V bolero sung by Hélène ('Merci, jeunes amies' 'Thank you, young friends') before the tragic ending for the French. Whether this is sufficient to justify all this time (watching) and effort (staging) for something that clearly is not a masterpiece I will not comment further. While I enjoyed hearing this French version for the first time – as something to tick off my opera list – it will leave no lasting memory.
In a welcome change from the previous Royal Opera Cinema broadcasts I have seen, the watching audience was welcomed genuinely live from the Paul Hamlyn Hall by the genial Kaspar Holten, the director of opera, who hosted the broadcast and began by saying how 'celebrating the 200th anniversary of Verdi's birth tonight we are bringing you the Royal Opera's first ever production of this epic work'. He went on to state it was 'a critically acclaimed production' that would be watched in 'over 500 cinemas from Cape Town to Canberra, Reykjavik to Philadelphia, Paris to Montevideo'. He described Stefan Herheim as 'one of opera's most exciting and, I may add, fearless young directors'.
In August, Herheim staged a version of Wagner's Die Meistersinger von Nürnberg at the Salzburg Festival. I have heard mixed opinions about it but I have not actually seen it. However I am a veteran of his intriguing Parsifal at Bayreuth that has recently ended. His Les Vêpres siciliennes pales in comparison to that but he clearly repeats some themes used there, such as, blurring the lines between the past and present – and, more importantly, between theatrical illusion and reality. His basic concept is 'old hat' as he employs a theatre 'within the theatre' and relocates it to the auditorium, offices and rehearsal rooms of the Paris Opéra at the time of the composition of Les Vêpres siciliennes. The Sicilians of the original thirteenth-century uprising are the unhappy artists and their French oppressors are the social elite – we often see a mural of Mount Etna on the walls to evoke Palermo, the original setting.
If anything new has been added to some rehashed ideas it is an element from the movie Black Swan. Later we heard from choreographer André de Jong how the ballet of Act III had been cut and they had put tiny bits through the rest of the opera. The curtain rises on a dozen ballerinas as if in a Degas painting. A man sits off to the side, smoking and reading a newspaper. He is the ballet master Procida (the Sicilian rebel leader in the opera). Montfort, the French Governor, makes the ballerinas dance until there is only one who has not dropped out through exhaustion and then he rapes her. She is shown in various stages of pregnancy and we see the young Henri. Then Philipp Fürhofer's wonderful set begins to move, the mirrored walls turn, come together and separate; later at times they are hidden by what I suspect it's a painting of Sicily or a curtain comes down. The scene shifts from the rehearsal room to the Opéra's auditorium, lined with boxes filled with French soldiers. Then that's about all there is for about 3½ hours of music apart from showing the Sicilian peasants as the 'opera chorus' and the ballerinas in various guises throughout the long evening. Once we understand that the 'theatre' mirrors the opera's plot in having personal and political, hidden and public, elements there is not much else we need to think about.
Well there were a couple things: apparently a country-wide issue deprived the cinema audience at Chelmsford of the subtitles and I was not initially certain whose mummified head Hélène (looking like Queen Victoria in mourning) was clutching at the start – I suspect it was her executed bother, Frédéric. Later 'he' reappears in Act V brandishing a French flag as Procida in drag as the ultimate 'Black Swan' to Helene in her white wedding dress. Throw in a small child as the executioner who turns into Eros and a muddled massacre ending that Holten described as the 'breakdown of theatrical illusions' with –  in seemingly Herheim's familiar fashion – bright lights being shone out in the real audience's faces as if we were implicated somehow in what we were seeing. These more confusing moments were crammed mostly into the last part of the evening and matters were not entirely resolved as the curtain fell leaving us musing on the opera director's often repeated dictum 'Well, what does it mean to you?'
Verdi's music sometimes fails to rise above the workmanlike but as I indicated above there are some glorious moments, though but really not enough to fill a few hours. The nadir is Act IV when Henri and Hélène circle a bloody executioner's block; it reminded me of a the comic Jackie Mason's skit that in part is about how characters in opera are always so happy to die – and take a long time singing about it! (And what about the music at the start of this act with its 'Dum-di-da-da-dum' rhythm that has been used as a motif on stage or on film ever since for anything threatening that might be approaching.).
As usual, the musical performance can only be judged from what is heard through loudspeakers and that may be due more to a sound engineer's art than what was actually experienced live. Antonio Pappano led in turns, a pulsating, refined, supple, and totally assured account of a score that he obviously reveres. The soprano Lianna Haroutounian cannot be criticised too much as she was replacing the previous advertised Marina Poplavskaya. Unfortunately, Gesine Völlm's costumes made her look less like Henri's love interest and more like his maiden aunt; she sang sensitively with a dark sound, secure coloratura and affecting sensitivity – but sounded and looked like Carmen at times. Bryan Hymel has a robust, bright tenor with laser-like top notes and acted with convincing vehemence or ardour as required. The bass-baritone Erwin Schrott's Procida mostly looked as though he wanted to be somewhere else – and perhaps with his Act V cross-dressing ahead of him it is no wonder, he sang with great dignity but zero charisma. The baritone Michael Volle (Hans Sachs for Herheim in Salzburg) delivered a compelling, nuanced, stylish account of the grizzled megalomaniac French Governor, Montfort, and he clearly expressed a caring paternal side that matched his theme in the cellos. There was wonderful support as always from the orchestra, smaller roles and the enhanced chorus.
Praise is due to the staff at the Odeon Chelmsford who apologised for some technical hitches with good humour and hospitality – and if this was reflected throughout the cinemas around the world then I can only continue to highly recommend these broadcasts for those who cannot get to Covent Garden to see their shows live.
Jim Pritchard
To view the full list of productions for the 2013/14 Season and find a cinema near you visit http://www.roh.org.uk/cinemas.
From a 2008 interview with Michael Volle see http://www.musicweb-international.com/SandH/2008/Jan-Jun08/volle.htm.