Switzerland Wagner: Der fliegende Holländer– Soloists, Geneva Wagner Festival Orchestra and Chorus of Geneva Grand Théâtre, Kirill Karabits (conductor), Batiment des Forces Motrices, 2.11.2013 (AL)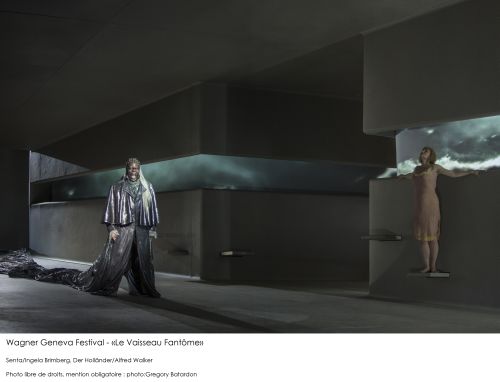 Cast:
Der Holländer: Alfred Walker
Senta: Ingela Brimberg
Donald: Dimitry Ivashchenko
Georg: Eric Cutler
Mary: Kismara Pessatti
Der Steuermann: Maximilian Schmitt
Production:
Alexander Schulin (director)
Bettina Meyer (set designs)
Bettina Walter (costumes)
Rainer Küng (lighting)
Bert Zander: Video
Suse Wächter : Puppet
With a population of 1 million, Geneva and its immediate surroundings is a modest place in many ways. It is not a city which has a classical music tradition rivalling  Milan, where taxi drivers will give you lectures on why today's tenors do not compare to Mario Del Monaco (true story …) or Vienna where yesterday's performance at the Staatsoper will be a subject of discussion when you buy your morning bread.
Yet Geneva has a rich and ambitious musical life. The venerable Swiss Romande Orchestra, founded by Ernest Ansermet, shares duties between the symphonic season and the Grand Théâtre. There are two chamber orchestras including the recently created Geneva Camerata to which one can add the ensemble Contrechamps, a group devoted to modern music. Two concert agencies, Caecilia and the Migros 100% Cultural represent some of the world's best ensembles and soloists, and as a result provide Geneva with  many musical series. Finally, the Haute Ecole de Musique has among its teachers some of Europe's finest musicians.
While these institutions receive some state funding, they also benefit from a vibrant private sector of which the most active donor is the Hans Wilsdorf foundation. No numbers have been released but this foundation has been the primary source of support for the Wagner-Geneva Festival.
This festival was started by the "Cercle Romand Richard Wagner" which had the good idea to call back Jean-Marie Blanchard, the former director of the Geneva Grand Théâtre, to run it. This has proved to be an inspired choice as he has devised a comprehensive set of events, theaters, recitals, exhibitions, centered on Wagner and has also been able to assemble a complete team for four performances of the Parisian version of the Flying Dutchman.
Blanchard called on artists with whom he had worked and with whom he had developed a strong relationship in the past. Two of the Grand Théâtre finest artists, the Swiss composer Michael Jarrell who wrote "Siegfried, Nocturne" with a libretto by Olivier Py casts a stern look at post-war Germany.  The Paris-based modernist Ensemble Intercontemporain came here to play Schoenberg's chamber symphony, Wagner's Siegfried Idyll and Salvatore Sciarrino's Lohengrin. These were intelligent choices resulting in events which made as much sense to us as they did for these composers' contemporaries. Wagner was in many artistic aspects clearly a  modernist who, by the way, wrote some of our greatest operas.
For the Flying Dutchman, Jean-Marie Blanchard made some very smart choices, as well. Productions of the original Paris Version are rarities. There are some subtle differences between it and the standard version: the action takes place in Scotland, Daland is Donald and Erik is Georg, the overture has a different ending … More importantly, Senta's vocal lines are often higher (or so it seems, not having seen the score) placing a greater demand on the soprano, but there is no mistaking that this is the work as we know it. In a way, it is like Mahler's Totenfeier: it allows us to step back to see what is going to be ahead with his second Symphony while standing alone as a worthwhile piece.
The orchestra was specially assembled for this event and included many young students of the Geneva, Lausanne and even Paris conservatories. As is the tradition in Bayreuth, the musicians had their curtain call on stage and it was heart-warming to see so many young beaming musicians.
Naturally there were some compromises. The venue used for the performance was the Batiment des Forces Motrices, a lovely building in the river Rhone (not to be confused with the Rhine), but is better suited for Baroque repertory. Its acoustics were not ideal. In the tuttis, brass and timpani tended to dominate more often than they should, but the Ukranian conductor, Kirill Karabits had previously worked with Blanchard on a performance of Janacek's rarity, The Excursions of Mr Broucek to the Moon, and proved to be a musician of authority capable of being sensitive to Wagner's long lines as well as his dramatic feeling.
Alexander Schulin's production had plenty of ideas. Senta is present right from the start carrying a Dutchman puppet that she will only leave at the end. Donald and the chorus seemed to come straight out of some old black and white Italian comic movie of the 50s. Settings were a simple yet effective, such as the grey claustrophobic set of walls with space for video inserts that provided a variety of effects. It enabled voices to project well and reminded us of an effect which was used in the 2004-2005 season for the second act of Tristan at the Grand Théâtre. Schulin also had the wisdom of knowing when to temper the action when the music called for it, such as in the case of the sublime Senta – Hollander duo. As a whole, however, the production failed to fully convince. There was not a dull moment on stage but the overall concept was unclear.
Casting this work is a definite challenge. In the title role, American bass-baritone, Alfred Walker, knew  the notes for this taxing part but was often overpowered.  He also suffered  from the fact that his   character in this production is passive unlike those of Senta and Donald. The latter was sung by the Russian bass Dimitry Ivashchenko who has the talent and the capability of becoming a sonorous Wagnerian bass. Maximilian Schmitt proved to be a musical Steuermann reminding us of what a superb part this is for Mozartians tenors. The taxing part of Georg was sung by Erik Cutler who has a genuine tenorial tone. As always, the contribution of the Grand Théâtre chorus was superb, the ghost scene providing genuine dramatic feeling.
Best was the Swedish soprano Ingela Brimberg as Senta. At a time when so many ex-mezzos or sopranos who have "nothing to lose," sing dramatic parts, it is a pleasure to hear a dramatic soprano with genuine ringing high notes. She is definitely a talent to watch. She should be a reminder to us of how often the Geneva Grand Théâtre has spotted  promising singers at the beginning of their careers, singers who use their local success as stepping-stones for their later work. She could definitely be  one of our next stars.
This was not like a Bayreuth or a Met production but Wagner has been well served with respect, imagination and talent. How often can we celebrate this ? At the end of the performance, everyone in the audience left happy, wondering and hoping that there would be many more sequels to this Wagner Festival.
Antoine Leboyer