Britten, The Turn of the Screw.  Soloists (prime parte) of the Orchestra of the Teatro Comunale of Bologna.  Conductor, Jonathan Webb  Teatro Comunale, Bologna.  19.11.2013 (JB)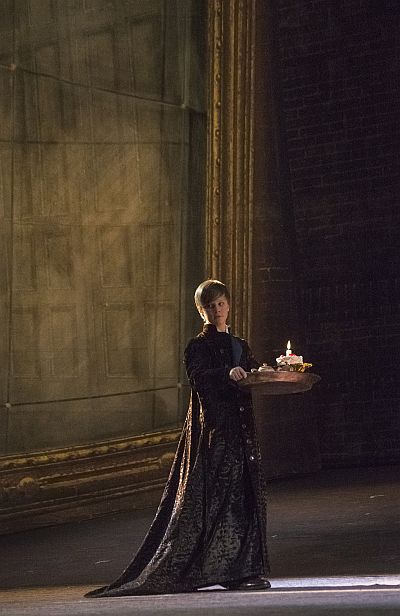 Cast:
The Prologue / Peter Quint     –Randall Bills
The Governess   -Anne Williams-King
Miles    -Sebastian Davies
Flora  -Erin Hughes
Mrs Grose –the housekeeper  -Laura Cherici
Miss Jessel  -Cristina Zavalloni
Production:
Staging by Giorgio Marini (a revival of his 1997 production in this house)
Sets by Edoardo Sanchi,
Costumes –Elena Cicorella,
Lighting –Guido Levi for this revival
Daniele Naldi, Assistant
Stage director –Elena Barbalich.
It was Anthony Burgess who first pointed out to me the severe restrictions of twelve- note composition: There's no way you can express joy or fun; it's all right if you want pain, uncertainty or doubt; in fact, you're trapped in something as neurotic as hell, he said.
Britten (in his wisdom, it seemed to me) avoided atonality.  Imagine Britten without joy or fun!  However, in The Turn of the Screw  he did something remarkably intelligent: he flirted  with atonality.  That brings the pain, doubt and uncertainty to the fore –all key elements in Henry James's story.  But this is Benjamin Britten.  The pain here, as everywhere else in his work is innocent  suffering.  For innocence and a little joy, C major has to stand up and be counted with its relatives.  And so it does.
Even as the first row (as it is called) is announced following the Prologue with no note tonally related to the next, the row is accompanied by a tremolo strings which grounds it in the best gotcha! tradition.  But as the screw tightens, on each variation of the row, the atonality takes an increasingly menacing charge of the proceedings.  The menace is strikingly broken when the children sing traditional songs.
As with all Britten's chamber operas, the twelve instrumentalists are all soloists and here a thirteenth is added as pianist, doubling as celesta.  All thirteen are equally as important, if not more so, than the singers.  I was the guest of the Sovrintendente for this opening night, in his box,  which occupies  part of downstage left.  That gave me a restricted view of the stage for which I was sorry, but a magnificent view of the conductor and players, for which I was grateful.  You could not possibly have a finer conductor than Jonathan Webb, ever skilled at unravelling the musical secrets of the score –of which there are many, with a perfect balance between drama and lyricism and immaculate attention to details of rhythm and timbre.
The wind parts in particular are well-written as well as demanding.  But the Bologna players are comfortable with Britten's demands.  Hearing Devis Mariotti play the bass flute makes one wish one could hear a lot more of this hauntingly beautiful instrument.  Equally, oboist, Paolo Grazia was at his most expressive in his cor anglais, movingly sad solos.  Enrico Celestino had exactly the right unsentimental sound in his viola solo variation.
There are three singers on stage vying for attention as the protagonist.  However, there is only one clear winner who could have given the others lessons in professionalism.  He is Sebastian Davies, who (after a brief trolling on the net, I find) is straight out of the famed  Trinity School, Croydon, South London, which specialises in the highly skilled training of treble voices for Britten's and other demanding treble roles.
I guess that Sebastian must be about thirteen: his voice still has perfect purity with exact intonation and focus, but in a year or less, his voice will be no more.  In the meantime, he has learned that on a stage, less means more.  His movements are minimal but every gesture is eloquent and meaningful and he never forgets for a second that his main asset is his voice, to which he gives undivided expressive delivery.  He has the right physique too: a flop of blond hair has been cut to fall over a too-large forehead, which would otherwise  impede . his innocence.  –And our unreserved empathy.  See photo.
It was Sebastian's name that was everyone's lips as I made my way though the crowds after the show.  He had moved them to tears.  But clearly, the audience's hushed, focused response had moved him.  There was audience / artist interplay.  And that is no mean achievement at the age of thirteen.
Readers of my dispatches will know that I have misgivings about the voice of Peter Pears.  But as Peter Quint he was unsurpassed.  Listen to the original Venice cast recording of 1954, if you don't believe me (re-issued by Naxos Classics).  The slight whining quality of Sir Peter's voice is perfect in this role.
Randal Bills, who I understand has sung the role previously, is always clear of diction and constantly in tune –no easy matter with instruments playing simultaneously in different keys.  He delivered the Prologue immaculately with only a piano accompaniment.  But the rest of his performance seemed understated in its very understatement.  But this comparison with Pears is perhaps unfair.  Bills pleased his audience even if he failed to engage with them as the boy had done.
The role of the Governess can easily steal the show.  And Anne Williams-King did everything to make it do just that.  She took every opportunity to deliver the drama.  And Britten hands her a lot of that.  The trouble is that she sacrificed drama to everything else, whereas Britten always has more of a tendency to lean more towards Verdi than Wagner.  The role was created by Jennifer Vyvian, who produced ravishingly beautiful sounds in the lyric passages, where Anne Williams-King remains agitated and even somewhat harsh.
The role of Flora, Miles's sister, is nicely written and was mostly nicely sung by Erin Hughes.  The only blot on her performance was her sounding as though she was all too aware that she was a second fiddle.
Laura Cherici has the right darker soprano voice for the housekeeper, Mrs Grose.  Joan Cross created the role but on balance I prefer the extra oompah which Cherici brought to the part.  Cristina Zavolini made the most of the strange, small part of Miss Jessel.
Jack Buckley