Ireland  Foroni, Rota: Wexford Festival Opera, Wexford, Ireland. (RD)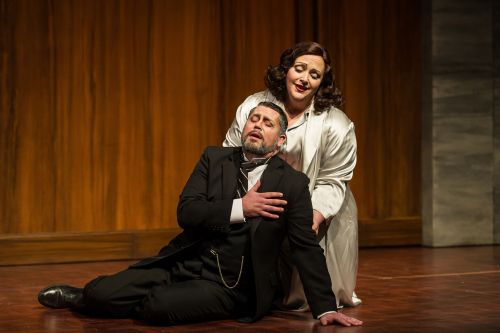 Jacopo Foroni: Cristina, reina di Svezia
Nino Rota: Il Cappello di Paglia di Firenze
It's easy to pick out what makes Wexford Festival Opera, which runs through late October to early November, one of the top opera events on either side of the Atlantic.It has a brand new opera house, comprising not one but two main houses, named after Jerome Hynes and Sir Tony O'Reilly, two of the most beneficial figures in the festival's recent history, constructed on the original (1832) site. It opened for opera in October 2008 with Rimsky-Korsakov's Snegurochka (The Snow Maiden), Richard Rodney Bennett's The Mines of Sulphur and Tutti in Maschera, by Verdi's lesser-known colleague Carlo Pedrotti (1817-93), in October 2008. Pedrotti studied with Domenico Foroni, father of one of this year's Wexford composers.
The festival's organisation is, quite simply, second to none. Officialdom is not officious, but warm and welcoming; all those from Front of House to younger volunteers do their allotted task with enviable charm and efficiency. The Artistic administration, under American David Agler, himself a conductor, is tip-top. To cram into less tan a fortnight seven operas (three fullscale orchestral stagings, plus a student La Traviata, in the main building; another, Richard Wargo's Losers – second in a trilogy – received its Irish premiere up the road); plus recitals, concerts (Wexford's international 2013-14 series will include Chanticleer, Joshua Bell, Thomas Hampson, Simon Rattle and Lang Lang – and it doesn't get much better than that); and a flood of high-level partying – then add in the Autumn conference of Nicholas Payne's  Opera Europa, the forum for opera houses Europe-wide – requires thought, determination and smooth planning. Wexford has all of that, in droves.
Among festivals one compares Wexford only with the best – Aix, Munich, Tanglewood, Savonlinna, and David Pountney's pacesetting Bregenz. However Wexford has its own all but unique calling-cards. Every year, it stages three operas in succession in the spacious O'Reilly Theatre, so that (unlike Drottningholm, though more like Savonlinna) visitors are able to stay for a few nights and catch that season's entire main programme. It consists of three evenings, and three big productions (or this year, two and two halves); plus a clutch of other, usually mainstream, operas performed with piano by students.These included this year, alongside the Verdi celebration, a distinctly lacklustre staging of The Sleeping Princess, an appealing Donizetti-era comic opera (1830) by Michael Balfe: something of an Irish hero – and composer of The Bohemian Girl (a favourite of amateur societies throughout the British Isles, the most celebrated aria from which was revisited by the able pianist/repetiteur) and The Rose of Castile, which opened the first Wexford Festival in 1951.
Was this year's Wexfest a feast? Most certainly. The outstanding opera of Wexford 2013 was by a younger Verdi contemporary who does not even feature in the Oxford Dictionary of Music or – shame – in Grove Opera. Jacopo Foroni (1825-58) is clearly a name to be conjured with; just as British – although not Irish – listeners have only just begun to respond to Mercadante (admirably featured at Wexford in the past quarter century, with different five operas staged in 1988, 1997, 2002, 2004 and 2010). Foroni, from a Veronese musical family, was dead (from cholera) by the age of 33 or 34: sources vary. The work staged by Wexford, Cristina, reina di Svezia, his second acknowledged opera, dates from 1849, when he was clearly at the height of his young powers as both bel canto conductor and composer. Hans Christian Andersen was in the opening night audience, and enthused.
Its subject is the very Queen Christina of Sweden so unforgettably depicted on celluloid (1933) by the Swedish-born Greta Garbo, and focuses on the 17th century queen's forlorn disappointments, palpable loneliness, resignation and retirement from the throne at the age of 27 (having ascended it at the age of five), in favour of her slightly older male cousin. The opera is superb. If it creaks in small ways – Giovanni Carlo Casanova, Foroni's librettist, is very capable, in a slightly dated way, even if not quite a da Ponte or Boito or Busenello. The structure is very firm, the dramatic contrasts good, the music always engaging, the scattered bel canto very serviceable. It did not strike some people as automatically meriting the word masterpiece. But I think it may.
The main reason it hit the jackpot was the strength of the main cast: above all, an Australian, a Russian, an American and a Briton. Helena Dix as the isolated queen, yearning like Elizabeth I to marry her young aristocrat favourite, Gabriel de la Gardie (US tenor John Bellemer), who has his own love-object (Lucia Cirillo), but realising it will split a nation already struggling on its feet since the death of her strongman father, Gustavus Adolphus (hero of the Thirty Years War), serves up as memorable a performance, and in several respects has as involving a presence, as Garbo herself. She is a large lady, not always well-fitted by Jamie Vartan's tweedier or ballooning off-duty costuming (director Stephen Medcalf updates to the 1930s; we start from black-and-white newsreel of Chamberlain waving his piece of paper. It's all rather apt, really, when one remembers the varying fortunes of each differently beleaguered Scandinavian country during the war), but looking superb in her sashed royal garb for the starting scene and the final handover. Such is her personality, I liked her in all of them.
Russian Igor Golovatenko was – easily – the best of a series of outstanding baritones or bass-baritones at this year's Wexford; David Stout excelled himself as the queen's stolid supporter – but unwitting underminer – her father's former chief minister, Axel Oxtenstierna; Brian Mulligan was strong, attractive, mellifluous in a very presentable (he really does look like Danton and the young Beethoven mixed) but directorially somewhat weaker Massenet double bill, encompassing with the same cast the French Revolution and the Spanish Civil War; and bass-baritone Filippo Fontana as the jealous husband, plus the wonderfully characterful buffo singer Salvatore Salvaggio, still in his mid-latter 20s, and an uplift every time he walked onto the stage, uplifted Nino Rota's Il Cappello di Paglia di Firenze (or: The Straw Hat from Florence that went on some miraculous tours and diversions  before arriving at the right place).
Nino Rota? The composer of film scores for Federico Fellini, and of The Godfather for Francis Ford Coppola? Well, yes. Rota was accomplished in most fields of Classical Music, and opera, he felt, was his forte. He composed around ten. And this rarity, rediscovered by Agler and his Wexford team in the wake of Florence's Rota centenary (1911-79)? Well yes, it is, quite simply, a masterpiece,. It's funny, achingly, side-splittingly funny (the libretto was a Rota family in-house production); the music is quite simply masterly, as varied in its treatment of different scenes as Puccini or Leoncavallo, and immensely steeped in European operatic repertoire, not just Italian. It is impossible to recapitulate the zany plot, or the clutter of characters who enter, each with their own witty contribution(s) to make. My number one memory is of a drunken young guardsman (Ronan  Busfield) whose bizarre reelings, snorings and cavartings doubtless contribute vastly to the plot; and of the quizzical Welsh tenor Aled Hall, who as the shambolic uncle (Lo Zio) is continual pure joy, and has a voice – when it's deployed – to die for. Il Cappello di Paglia di Firenze is as worthy of any opera house in Europe, South America or the United States as, say, Gianni Schicchi or Pagliacci. It's furnishing that kind of proof that makes Wexford unsurpassed. Old operas, brought back to the repertoire. As the new Wexford Chairman, Ger Lawlor, knows all too well, it's as good as having a new commission. Perhaps better.
 Roderic Dunnett
 In an earlier version of this review, the role of the "drunken young guardsman" was attributed  to Nicholas  Morris  (Caporale).  It has been corrected to Ronan Busfield. (ed.)