United Kingdom Philips, How the Whale Became (and other tales): Singers, Rafal Luc (accordion), George Barton (percussion), Dai Pritchard (tripling wind), Isla Mundell-Perkins (Cat/violin), Linbury Theatre, Royal Opera House, Covent Garden, 10.12.2013 (CC)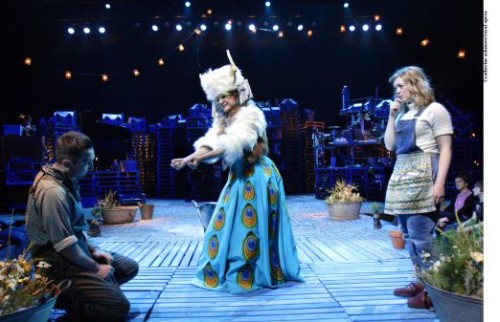 Cast:
Fflur Wyn (soprano): Girl, Polar Bear, Cow
Donna Lennard (soprano): Frog
Andrew Dickinson (tenor): Boy, Wild Bull
James McOran-Campbell (baritone): Poor Thing, Leftovers
Njabulo Madlala (baritone): Whale, Elephant
Julian Philips' beautifully produced new opera has so much to recommend it – not least a stunning production of a fairy-tale place where colours are magical and with the most wonderful flights of the imagination things can happen ……. where love between a boy and a girl (or here, between Boy and Girl) can blossom, perhaps predictably but nevertheless satisfyingly. Where God can be played by each main character in turn.
But where does the piece itself sit? This work is, after all, described the the Royal Opera as "family-friendly". Philips' achievement is to use an identifiably modern, pungent harmonic language and still make it enjoyable for everyone, including the young ones. Taking Ted Hughes'  stories of how the various animals gain their individuality (effectively, how they become what they are), and spreading it over an evening (Act 1 is an hour; Act 2, 40 minutes) is a laudable idea. The vocal writing is expert, and the economy of means most impressive: a minimum of instruments create a wide variety of soundscapes. But aside from the staging itself, nothing is actually that memorable. The consistency of Philips' harmonies works well, yet it is flexible enough to take in the Stravinskian Soldier's Tale violin, the atmospheric use of accordion; to include a Cageian prepared piano; and to create love as well as to create laughter. Moreover …… is this aimed at adults, or children? (Surely this is a long sit for young people, even with the characters interacting with the audience on a regular basis). Perhaps Philips succeeded in catering for both elements, as most children I could see (including the one sitting next to me) were rapt and blissfully quiet.
As far as the music is concerned, one prime question might be, how would the piece come out on a sound-only compact disc? (There are plenty of precendents for this, from the NMC label in the UK to Albany in the US.) I suspect not so well. Natalie Abrahams' staging, a feast for the eye and ever engaging, creates a beautiful sense of fairytale-suspended reality and is, perhaps, the real star of the evening. There are surprises a-plenty (I won't spoil it) as well as wit. The piece climaxes with a singing contest, "Nature's Got Talent". Nuremberg this ain't.
The singers, though, are remarkable. Out of a strong cast, probably Welsh soprano Fflur Wyn's star shone brightest. She is capable of real lyricism as well as negotiating the sometimes disjunct line with ease. Her voice, too, has a beautifully fresh quality that makes this critic at least want more. Her leading man (or Boy), tenor Andrew Dickinson, was perhaps not her equal in terms of beauty of sound but was a fine actor. South African baritone Njabulo Madlala, making his Royal Opera debut with the roles of Whale and Elephant, has a beautifully rounded voice and is almost as expressive of voice as he is of face. Soprano Donna Leonard, another ROH debutante, sings the role of the Frog very characterfully and possesses real stage presence. British baritone James McOran-Campbell was perhaps the member of the cast least comfortable with the pantomimic shenanigans.
One has to take one's hat off to director Natalie Abraham and designer Tom Scott for creating such an enchanted, and enchanting, world. For adults, these are stories of finding and owning individuality; they may even pose questions and doubts as to the nature of God himself: Creator but not really omnipotent? Merely the big guy who sets the whole Creation thing in motion and then kicks back and enjoys the show? (so that we can learn to be ourselves, of course). It is also about learning respect for the animals we cohabit with on this planet; plus how a child's eye view can recontextualise our so-called "adult wisdom". That there are subtleties aplenty is clear – the way the character of the individuals relates to the characteristics of the animals they morph into later on, for example.
As an evening's entertainment, it is far more than satisfactory. But would I want to see it again?. Ultimately, probably not.
Colin Clarke