United Kingdom Kenneth Grahame's The Wind in the Willows: Dancers, Actors, Singers and the Chroma Chamber Ensemble conducted by Tim Murray. Duchess Theatre, London. 17.12.2013. (JPr)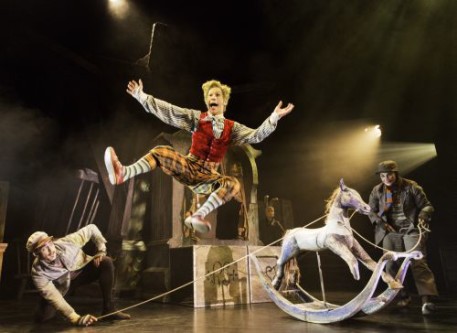 Performers:
Tony Robinson (Kenneth Grahame)
Will Kemp (Ratty)
Cris Penfold (Toad)
Clemmie Sveaas (Mole)
Christopher Akrill (Badger)
Ewan Wardrop (Otter, Chief Weasel and Gaoler's Daughter)
Paul James Rooney (Rabbit/Weasel)
Kayleigh Gore (Rabbit/Weasel)
Connor Dowling, Anna Martine & Kirsty Mather (Dancers/Singers/Puppeteers)
Jo Meredith & Aron Wild (Swing)
Production (for Royal Opera House):
Choreographer and Director: Will Tuckett
Composer: Martin Ward
Narration: Andrew Motion
Set designs: The Quay Brothers
Costume designs: Nicky Gillibrand
Lighting design: Warren Letton
Puppet designs: Toby Olié
The Wind in the Willows is not one of the stories I remember when I was growing up. I mostly remember reading the tie-in books from TV shows, and James Bond, Sherlock Holmes, The War of the Worlds and The Day of the Triffids, during my formative years. Kenneth Grahame's tale of mild-mannered Mole and a debonair Ratty who blissfully mess about on the river and picnic in summer meadows before their idyll is disturbed when they are called on – with the help of the gruff, solitary Badger – to assist their friend Mr Toad because his irresponsible lifestyle causes him to lose his home to some nasty stoats and weasels, had little appeal to me. A stage version 'Toad of Toad Hall' was an annual West End Christmas show for several decades after it was first staged in 1929 and late on I remember once seeing the famous Richard Goolden – who played Mole for nearly 50 years – appear in it during the 1970s, and in 1990 I saw Alan Bennett's adaptation at the National Theatre.
Originally, the book was just a collection of bedtime stories Grahame read to his son Alistair and it depicts a trouble-free, pastoral, pre-WWI England, where there is class privilege, camaraderie, adventure – and an innocent delight in the unspoilt natural world. It is chock-full of tweedy charm that is lovingly recreated in Will Tuckett's intermittently danced adaptation which was first seen in 2002 at the Royal Opera House's – then new – Linbury Theatre. The music by Martin Ward is pastiche George Butterworth (which in itself was probably pastiche Vaughan Williams) but is generally a tranquil reminiscence of the English countryside. Equally attractive and charming are all the performances that are showcased by a production full of lively early twentieth-century detail – I particularly loved the Post-Rabbit's mailbag with 'Hare Mail' on it!
I rarely fail to find something I cannot criticise and – here goes – why or why has something not been done over the last 10 years to Andrew Motion's twee, stilted – and mostly much too self-satisfied with itself – grandiloquent narration. I cannot comment too much on it because I could not be sure what was Motion or what is the original Grahame. All I know is there was too much talking and too little dancing. Sir Tony Robinson does not seem to be one of the world most gifted actors and most of Motion's intermittently rhyming lines tended to end with him  in an exclamation mark, such as 'They have been settled in their ways since time … BEGAN!' However, although a little of him usually goes a long way on TV, Robinson relished his Baldrick-like line from Blackadder days 'We have a plan to save the day' and during his concluding soliloquy about what we had just seen and what it had to say about friendship and time-passing, I became totally spellbound for having been in his genial, grandfatherly, presence. (Near the end he says 'Our lives have moved on but we are just the same' – and that is exactly how I always feel!) It is not his fault he is given so much to say … and even attempt to sing! Three genuine singers appear first as ducks (with them knitted onto their woolly caps), later joining in as carol singers, policemen, as well as being skilful puppeteers.
In an attic designed by the Quay Brothers and surrounded by the reminiscences of a bygone Victorian childhood, Robinson as Kenneth Grahame introduces us to the characters in the story and is ever-present to fill in the gaps of the narrative that we cannot otherwise appreciate from the movement we see. The Mole's burrow is a rolled-up carpet, Mr Toad emerges from a cupboard (that turns into a horse-drawn caravan with the help of a dilapidated rocking-horse), and later Mr Toad is shown ingeniously imprisoned behind the bars of an overturned, oversized wooden chair.
Nicky Gillibrand's costumes represents the necessary Edwardian tweediness wonderfully; there much corduroy and Fair Isle jumpers seen, with added fur and whiskers for the different characters. The Water Rat has a toy boat around his waist and Mr Toad a lovingly detailed motor car around his. The rabbits have long-eared balaclavas – those ears are used to cover one of the rabbit's eyes when Mr Toad's car crashes off stage!
Mr Toad is definitely an outsider in this conservative world, his garishly coloured clothes mirror his hyper-active, larger-than-life personality. (He is clearly a child who has not grown up and as the short evening went on I realised that Will Tuckett's inspiration for him was Frederick Ashton's dim-witted Alain from his famous Royal Ballet production of La Fille mal gardée.) The stoats are irresistible Muppet-like furry puppets and the weasels are teddy boys; near the end one preens himself during an Elvis impersonation and we are meant to appreciate everyone we see in on the cusp of a changing world that two world wars will bring about. Motion already has it in for the effect cars will have 'A way of filling lungs with smoke … (and) of forcing walkers in a ditch'.
Tuckett concentrates on the river (that unfolds from a cupboard drawer) and Mr Toad's adventures and the fight for Toad Hall. I repeat sometimes there is too much talking and singing but Tuckett delivers fine set pieces amongst the high-energy movement. I particularly loved the harassing of the Post-Rabbit by Mr Toad in his car. During the interval the police chase him through the auditorium. Just before that carol singers come through the audience to gather on stage under rows of fairy lights and falling snow. Snow also fell onto the first rows of the stalls – but I was towards the back so unlike the young children in the audience I couldn't catch any! When Mr Toad swaps clothes with the gaoler's daughter and escapes his imprisonment I am sure what they dance harks back to Widow Simone's clog dance also from La Fille mal gardée. So clearly Ashton was a strong influence on Tuckett!
I would have liked a little more room than the Duchess Theatre – and even the Linbury – allows for all the leaping, skipping and full-on movement – and a little more character development through the language of dance rather than speech but this short, child-friendly evening, is a great fun and has a suitable charming nostalgia for children of any age who can resist growing up!
Will Kemp, Tuckett's original Ratty, is back for this West End run of performances and very suave he is too, raising an eyebrow in Roger Moore-fashion after chasing away the weasels with his pistol. He establishes an affecting friendship with Clemmie Sveaas's cute, naïve Mole and the triumvirate who try to help Mr Toad is completed by Christopher Akrill's lugubrious Badger. Cris Penfold's Mr Toad is full of the requisite reckless abandon but gives just enough pathos to his performance so we really feel sad for him when he is sentenced to 20 years in prison by an alarmingly huge puppet judge and then cheer as his make a typically rampant escape that Grahame/Robinson relates in a series of newspaper banner headlines. Everyone involved on stage, as well as, the accomplished small Chroma ensemble in the pit under Tim Murray played their part in what was an evening full of much-appreciated Christmas spirit!
Jim Pritchard
For more about this production and future events at the Royal Opera House visit http://www.roh.org.uk/.