United Kingdom Mozart, Schumann, Beethoven: Leoš Čepický (violin) & Michael Dussek (piano), Sherwell Centre, Plymouth University, Plymouth. 7.12.2013 (PRB)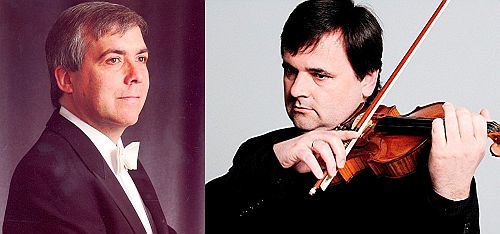 Mozart: Sonata in B flat major, K 454
Schumann: Sonata in D minor, Op 121
Beethoven: Sonata in A major, Op 47 'Kreutzer'
Not that many years ago, chamber-music players who were fortunate enough to be part of a long-term and well-established ensemble – perhaps a top quartet or piano trio – were virtually able to exist on this one association alone. Today, even those same players will often turn up as part of a different ensemble, usually with some change of, or additional instrumentation, to make ends meet in an ever-more-difficult financial climate.
Of course, while there will necessarily be some financial reasons for this – and where some orchestral playing or teaching can provide a further supplement – there are also distinct artistic advantages and cross-fertilizations  to be gained by performing with fellow-musicians, themselves part of other diverse ensembles.
On the two previous occasions when reviewing Leoš Čepický (violin) & Michael Dussek (piano), the former was leading the Czech-based Wihan String Quartet, and the latter appearing with members of the Dante String Quartet and horn-player, Stephen Stirling. Peninsula Arts operates from within the Faculty of Arts and serves as the arts and culture organisation for Plymouth University, the largest university in the South West of England. As part of its on-going cultural remit, it hosts a chamber-music series of regular recitals, the latest of which was given by the Čepický and Dussek duo.
If there was a rule stating that audience size was directly proportional to the quality of performer and performance, then there just couldn't have been a sufficiently large enough hall in the city to accommodate this quite superb ensemble. In the event, though, the rather diminutive number who had turned out, were still treated to a sumptuous feast of music for violin and piano.
Mozart's Sonata in B flat, K 454 is unique among the composer's violin sonatas, not simply because it is the only one to open with a slow introduction, but also because it owed its existence to the Viennese debut of touring virtuoso, Regina Strinasacchi, who was apparently not only an exceptionally flamboyant player, but also a trained opera singer at a time when women rarely performed on the violin in public.
The performance quickly settled to give a well-studied, if not, perhaps, totally idiomatic reading, and where, occasionally, the thorny issue of whether to open the piano fully in terms of balance, especially when the violin was in its lowest register, came into question. Not surprisingly, there are theatrical moments in the work, and these might have benefitted from just a little more projection from the violin, if the albeit not-full-size concert grand was allowed to compete without the lid restricted to the half-stick opening.
Schumann labelled his second Sonata in D minor a 'Grand Sonata', and it certainly lives up to its name from the very outset, with the violin's dramatic double-stopped chords. It is very much a bravura work for both players, where they are equal protagonists and here the dynamic balance was perfectly managed. Indeed, it would have been difficult to find two finer exponents than Čepický and Dussek to bring this highly-imaginative work to life. Such was their combined life-experience that they were able to point so finely the composer's ongoing mental turmoil which manifests itself in such abrupt stylistic juxtapositions and rhythmic eccentricities in the writing. In such a relatively long four-movement work, great stamina is called for, too, and here neither player disappointed for one moment, while still finding sufficient repose to luxuriate in the elegant simplicity of the variations in the third movement.
But nothing could have eclipsed the breath-taking performance of Beethoven's Kreutzer Sonata, a work which the composer described on the manuscript as 'Sonata for piano and violin obbligato, written in a very concertante style, brilliant (this latter he subsequently crossed out), quasi concerto-like'. From the predominantly furious first movement, the meditative theme and variations, to the joyous and exuberant Tarantella-like Finale – originally intended as the last movement of his earlier sonata of the same key, Op 30 No 1 – both players gave their absolute all in this the evening's undoubted highlight.
An effective touch after such a demanding performance was, by way of a generous encore, the Sicilienne by Maria Theresia von Paradis which, irrespective of its doubtful parentage, so ideally concluded a programme which had otherwise been all about display and virtuosity, and was surely one of the best duo-recitals enjoyed here for a very long time indeed.
Philip R Buttall