United Kingdom Bizet, Carmen: Soloists and Royal Opera Chorus, Orchestra of the Royal Opera House / Daniel Oren /(conductor), Royal Opera House, Covent Garden, London, 21.12.2013 (JPr)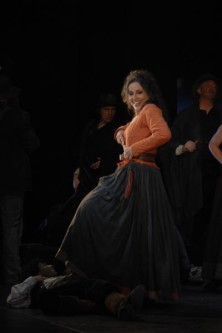 Cast:
Carmen: Christine Rice
Don José: Yonghoon Lee
Escamillo: Kostas Smoriginas
Micaëla: Sarah Fox
Frasquita: Anush Hovhannisyan
Mercédès: Rachel Kelly
Le Dancaïre: Adrian Clarke
Le Remendado: Stuart Patterson
Luniga: Nicolas Courjal
Moralès: Michel de Souza
Production:
Director: Francesca Zambello
Designs: Tanya McCallin
Lighting design: Paule Constable
Choreography: Arthur Pita – revived by Sirena Tocco
Fight director: Mike Loades – revived by Natalie Dakin
When I saw Francesca Zambello's production when it was first put on in 2006 I began my review 'A chicken, a donkey and a beautiful black stallion … what no bull? Well quite a lot actually. Raymond Gubbay's "in-the-round" crowd-pleasing extravaganzas at the Royal Albert Hall have had quite an effect on Covent Garden. Carmen [has] tried to bring some of that "spectacle" to the Royal Opera House stage with no expense spared:  never have one extra chorus member or actor when you can have two; allow the eye and ear (plus possibly baser instincts) to be engaged but never the brain, which might as well have been checked in at the cloakroom along with the bags of Christmas shopping.' Fast forward to 2013, it was that time of the year again with this Carmen getting another revival – its first since June 2010 by which time the opera has passed the 500 mark in its long history of performances at Covent Garden.
More intriguingly, a Spanish-themed opera by a French composer now has a second-cast led by a British mezzo-soprano (one of an number of Brits) and a Korean tenor, backed-up by singers from other nations such as, Lithuania, Armenia, Eire, Brazil, and one solitary Frenchman. This was also the sort of casting that Gubbay excels at and – but however good the evening was for the infrequent visitor to Covent Garden, I wondered whether it justified the premium ticket prices some were paying for their evening out.
Act I of Francesca Zambello's production unfolds against Tanya McCallin's stage deep dusty adobe walls that form a town square with an orange tree (it's Seville, remember?) in the centre, and a long, narrow, water trough stage right. It begins with a flashback as we see Don José in his cell (prior to being executed) against a tableau which made me immediately think about Goya, even though the costumes had a mid-nineteenth century look about them. More than ever, there seemed to be too many people milling around, too many children and Oliver!-like street urchins playing about; too many cigarette girls, a lot of smoke but little real sense that we were in a real Spanish location. It all was – and especially from a seat high up in the theatre – like watching an opera on the cinema screen but without the opportunity of the close-ups that allows. It was really difficult at times to pick out where the main singers were in the crowd, and they often jostled each other with little sense of moving for any purpose other than to distract the eye. Without the original director being involved it seems many were left to just loll idly by and occupy a space on the stage to no great purpose.
The inn, the mountains and outside the bull ring were all achieved by a rearrangement of the large ochre-coloured 'walls', whilst this overcrowding problem still often featured in all the remaining acts. Lillas Pastia's tavern seems to be the Iberian equivalent of the 'Queen Vic' (in the soap opera Eastenders) and must be the only hostelry in Seville as there were so many people there having a good time. Into this throng comes Escamillo on his tall black horse. Later the smugglers leave going round and round carrying crates all clearly marked 'Explosivos'!
The Act III encampment had real fires and atmospheric lighting (by Paule Constable) to depict a mountain pass and smugglers abseil down the 'cliff face' stage left. The fight between José and Escamillo was more like 'handbags at dawn' stuff but there were good moments – mainly when Carmen sang and in that confrontation between the two rivals for her affections, or between José and Micaëla – and these were against an empty stage (empty of supernumeraries at least) or when everyone stood completely still. This had been true also in Act II when Carmen wrapped her legs around José's head or lifted her skirt over it and the simplicity of it all involved you in their passion – as the comparable moment of them alone in Act IV drew you into what fate has in store for her.
So there is a fairly traditional last Act apart from the familiar – and still totally unnecessary – cute Billy Elliott wannabe cartwheeling and somersaulting across the front of the stage. Strangely here, the procession seemed devoid of necessary spectacle before Carmen enters on horseback, and a large Madonna figure is brought on stage to be venerated. Then everyone enters the bullring leaving Carmen and Don José to play out the last moments of their characters' doomed love.
Shutting my eyes and trying to forget it was Carmen, under conductor Daniel Oren, the Orchestra of the Royal Opera House jollied their way through the overture as if what we were about to see was a seasonal ballet or a genuine opéra comique rather than the precursor to the verismo Italian operas of later in the nineteenth-century. Oren was a most sensitive 'accompanist' to musical highlights such as José's 'La fleur que tu m'avais jetée' but that was all he was. He marshalled his forces reasonably and mostly kept a perfect balance and ensemble between stage and orchestra, particularly when the exceptional Royal Opera Chorus were at full throttle. Oren's conducting brought no major insights or revelations to Bizet's music and it was never viscerally exciting enough.
The best reason to see this particular cast is to experience Christine Rice's Carmen; she embodies the sultry, sexually confident, captivating and fickle gypsy girl of any heterosexual male operagoer's dreams – and it is an amazingly believable portrayal from a very talented British mezzo-soprano. Every swirl of her skirt, glance, and glimpse of cleavage or leg was calculated for maximum impact on the idiot male of the species. Rice's dark voice had all the smokiness and huskiness needed for the Habanera and her affecting 'Encore! Encore! Toujours le mort!' as she sees death in the cards in Act III. Her potent final exhortation 'Jamais Carmen ne cédera!  Libre elle est née et libre elle mourra!' ('No, no!  Carmen will not give way! Free she is born and free she dies!') was the perfect summation of all that had gone before.
In 2006 Jonas Kaufmann was Don José and over more years – than I wish to recall – I have watched some of the world's greatest tenors in this role, Yonghoon Lee does not rank very high amongst those. He lacked charisma and did not seem to totally engage with the awkward Corporal's shifting emotions whether it is the love of a son for his mother, or lust, jealousy, pity … and ultimately murderous rage. His voice lacked grace and had two volumes – loud or even louder: I am sure some will have appreciated his performance more than I did because they will have not been fortunate to see the other Don Josés that I have.
Overall, none of the cast seemed at ease with their French dialogue, apart from Nicolas Courjal's lustful Zuniga. Sarah Fox was an appealingly naïve Micaëla, her fragile soprano bringing much necessary emotional resonance to her contributions. Former Jette Parker Young Artist, Kostas Smoriginas, was a better-than-some Escamillo, his 'Toreador, en garde!' (and all he subsequently did) was full of swagger and braggadocio, and he sang with a rich, sturdy tone. The smaller roles were a bit of a mixed bunch and there was just a hint that they had been under-rehearsed – indeed the whole performance seemed a bit like that. Nevertheless, Anush Hovhannisyan and Rachel Kelly have the potential to be a lively, perky pairing as Frasquita and Mercédès, with Adrian Clarke and Stuart Patterson suitably revelled in the high-jinks of the conspiring smugglers, Le Dancaïre and Le Remendado.
Jim Pritchard
On 12 January there will be a Welcome performance of Carmen. These events are generously supported by Gregory and Regina Annenberg Weingarten through The Annenberg Foundation and aim to provide 'First opera and ballet experiences for families'. Royal Opera House Welcome Performances give families the chance to attend world class productions for a fraction of the usual cost. This opportunity enables them to:
                Attend an exclusive family-friendly matinee of opera or ballet
                Pick up tickets for £5 to £20
                Enjoy a morning of pre-performance activities from 10am
For more information please visit: