Argentina Verdi, Un ballo in maschera: Soloists, Chorus and Orchestra of Teatro Colón. Conductor: Ira Levin, Teatro Colón, Buenos Aires. 6.12.2013. (JSJ)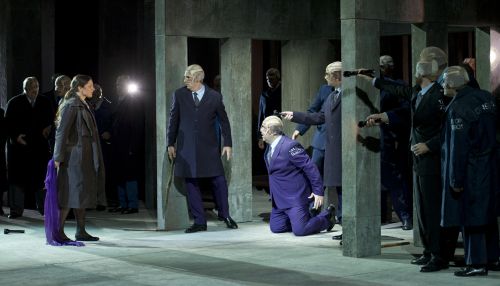 Cast:
Gustavo III: Giuseppe Gipali / Marcelo Puente
Count Ankarstrom: Fabián Veloz / Douglas Hahn
Amelia: Virginia Tola / Iano Tamar
Oscar: Sussana Andersson / Marisú Pavón
Ulrica: Elizabetta Fiorillo / Alejandra Malvino
Count Horn: Lucas Debevec Mayer / Emiliano Bulacios
Count Ribbing: Fernando Radó / Lucas Debevec Mayer
Christian: Leonardo Estévez / Fernando Grassi
Judge: Marcelo Monzani
Servant: Pablo Sánchez
Production:
Director: Àlex Ollé (La Fura dels Baus)
Sets: Alfons Flores
Lighting: Urs Schönebaum
Costumes: Lluc Castells
Video: Emmanuel Carlier
Chorus: Miguel Martínez
To bring its 2013 season to an end the Teatro Colón has put on its second Verdi offering in this bicentenary year, Un ballo in maschera.
Last seen at the Colón almost a decade ago, this is and isn't a new production, in that it was premiered as a co-production by Sidney Opera in Sidney and Melbourne earlier in the year, which will also go on to Oslo Opera and the Monnaie in Brussels in 2015.
The production is by Àlex Ollé of La Fura dels Baus, who conflates an Orwellian vision into what is essentially a story of love and betrayal (based on the real assassination of Gustavo III in 1792). The setting by Alfons Flores is in the near future in a non-specific location – albeit prison-like, given that the characters have numbers – and as Ollé puts it, society has collapsed due to the economic crisis and the powerful who have survived lived hidden from the world. Thus all the characters are masked all of the time – except for Gustavo and Amelia, who after their mutual declaration of love remove their masks to reveal themselves to each other.
Besides the political reference, this is also supposed to reference the conditions under which Verdi completed the work, with the censorship it underwent – but neither prepare one for the ending in which, Holocaust like, the participants in the ball are gassed into a shallow grave.
Ollé received the Best Opera Direction Helpmann Award in Australia for the production, but it seems to have been less well received in Buenos Aires, with booing reported on opening night. On the night under review, he didn't take a curtain call.
Whatever the merits of the production, there is less doubt about the performance itself, with orchestra, chorus and cast all memorable. Ira Levin drove the orchestra forward with good tempi and balance, never overshadowing the singers, and the extensive choral interventions were well delivered
Argentine baritone Fabián Veloz – who will be making his Met debut in the next season – was the undisputed star of the evening as Count Ankarstrom, singing impeccably with authority and style and with characterful insight. Albanian tenor Guiseppe Gipali making his Colón debut was vocally correct but less characterful as Gustavo. Virginia Tola brought drama and power to the role of Amelia, and Swedish soprano Sussana Andersson was a sparkling Oscar. Dramatic too was Verdian mezzo Elizabetta Fiorillo's Ulrica, and good performances from Lucas Debevec Mayer and Fernando Radó, respectively Counts Horn and Ribbing, and Leonardo Estévez as Christian.
Jonathan Spencer Jones