United States Bryce Dessner, Matmos, David Lang: So Percussion (Eric Beach, Josh Quillen, Adam Sliwinski, Jason Treuting), Bryce Dessner (guitar), Matmos (Drew Daniel and M.C. Schmidt), Zankel Hall, New York City. 23.11.2013 (DS)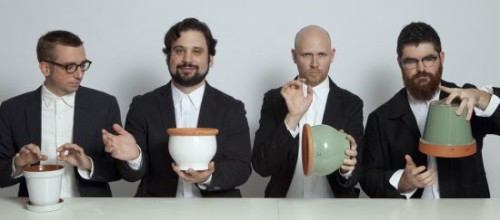 Bryce Dessner: Music for Wood and Strings (2013, World Premiere)
Matmos: so-called remix (2013 World Premiere)
So Percussion and Matmos: Carnegie Double Music (2013, World Premiere)
David Lang: the so-called laws of nature (2002)
The electrifying bang-a-licious group, So Percussion, recently gave a mighty and ritualistic performance at one of Zankel Hall's late-night Fast Forward concerts. The drumming quartet highlighted two challenging epic works by Bryce Dessner and David Lang—the latter is this year's composer-in-residence at Carnegie Hall.
The room was packed to the brim with New York's uproarious percussion fans, whose cheers nevertheless were outdone by the even more energetic activities on stage. So Percussion plays as if with one mind and a set of octopus-arms—and deeply rooted files of perfectly equated algorithms. They are in such perfect time that their shoulders bob at exactly the same rate and height; we could practically see the binary code of their rhythmic exchanges stream past us in the ether. Bangs, surges, whimpers, electronic reverbs, whatever the composers threw at them, they counted on and brought to life these 21st-century approaches to man's place in nature—or, at least, man's place in numbers.
Lang's three-part the so-called laws of nature, commissioned by So Percussion in 2002, is based on Ludwig Wittgenstein's idea that the "so-called laws of nature" are merely observations of what is mystical all around us. Lang applied this concept to the numbers that drive rhythmic and musical patterns—considering them as possible observations of something more mystical below, stating "I always wonder what these numbers actually mean." I don't think we found the ultimate answer, but the outcome was a mesmerizing trance of unfolding patterns played through a pilgrimage of instruments. Each section moved the quartet from one instrument station to the next, from walnut slabs to metal pipes, to drums and on to—yes—tuned flower pots and teacups.
Instrumentation was also central to the world premiere of Dessner's Music for Wood and Strings. Dessner invented dulcimer-like instruments that emitted futuristic zither sounds. The piece progressed with a sense of journey built in, moving from loud space to soft space with a physical sensation. Even in its quietest unraveling (which at times glistened in perfect droplets of sound) the work came across as a more gregarious form of minimalism, bold and expressive.
The evening was smoothly curated with no intermission and two short works in the middle. Matmos (a kind of Lang remix incorporating video footage of the composer's mouth explaining his composition) was followed by Carnegie Double Music (paralleling some of the instruments that would also appear in the Lang). These sound bites smoothly transported us from composer to composer, providing the evening not only a sense of continuity but also a feeling of sacred, uninterrupted ceremony.
Daniele Sahr