United Kingdom Schubert, Schumann, Purcell arr. Manze & Britten, Mozart: Ronald Brautigam (piano), Royal Liverpool Philharmonic Orchestra/Andrew Manze (conductor), Guild Hall, City of Preston, 8.12.2013 (MC)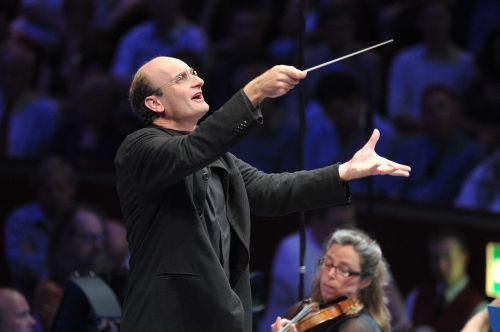 Schubert: Symphony No. 3
Schumann: Piano Concerto
Purcell arr. Manze: Funeral March
Purcell arr. Britten: Chacony
Mozart: Symphony No. 40
When I interviewed Andrew Manze in 2010 at Munich, where he had been conducting the Munich Philharmonic, he hadn't long exchanged his trusty baroque violin for the baton. Likewise for this Sunday afternoon concert international soloist Ronald Brautigam, a leading exponent of the fortepiano, had switched from that instrument to the Steinway Grand. So here we have Manze and Brautigam both early music experts performing with the Royal Liverpool Philharmonic Orchestra and not a gut string or fortepiano anywhere in sight.
Currently the Liverpool Phil's 'Artist in Residence' Manze has been making quite a name for himself in recent years, and has been particularly acclaimed for a number of stunning performances of Vaughan Williams symphonies. In a few days he is to make his debut with the New York Philharmonic conducting Handel's Messiah in a series of concerts at the Avery Fisher Hall. A master of providing a judicious balance of tempi, dynamics and orchestral colour, in this Preston concert Manze was clearly in his element demonstrating his undoubted prowess with the central Viennese classics.
Animated as usual on the podium Manze throughout drew glowing and alert performances from the Liverpool Phil with noticeably vivacious and crisply sprung rhythms. Although a number of the orchestra principals were absent the orchestra produced the high quality playing we have become accustomed to hearing. The opening work Schubert's Symphony No.3 was a sheer delight especially the rhythmic vitality of the Finale with the Liverpool Phil performing with all the excellence of a prestige marque vehicle.
Providing a charming contrast and thoroughly rewarding were two of Henry Purcell's baroque pieces the very brief Funeral March for Queen Mary and the short Chacony that Manze and Britten respectively had orchestrated for instrumental ensemble. As there was plenty of time I'm surprised that Manze didn't programme more of his orchestral arrangements as he had at the 2010 Munich concert, namely In nomine à 7 for strings, the Fantasia à 5 upon one note for woodwind and brass and also the Rondeau from the play Abdelazar in the original scoring for strings.
Brautigam's gratifying account of Schumann's perennially popular Piano Concerto injected sparklingly fresh playing into such well worn pages. His virtuosity felt effortless, shaping the music with fluidity and wonderful poetry. Brautigam enjoyed tremendous rapport with Manze and the Liverpool players who accompanied with sensitivity.
In Mozart's Symphony No. 40, the final work of the concert, one felt a strong sense of engagement from conductor, orchestra and audience too. Under the assured baton of the energetic Manze, the Liverpool Phil gave a delectable performance, cleanly articulated and highly expressive. The strikingly played opening movement Molto allegro with such lovely control of pace and dynamics was matched only by the Menuetto notable for its full rounded sound together with plenty of bite and ebullience.
This highly satisfying Sunday afternoon concert from the Liverpool Phil under the splendid Andrew Manze was a lovely winter warmer playing an appealing selection of beautiful music with integrity, enthusiasm and assurance.  It would be remiss not to mention the marvellous form of the expressive Liverpool strings adept at producing such a lovely timbre and the woodwind section excelled with a number of impressive collective and solo contributions.
Michael Cookson