United Kingdom Humperdinck,  Hansel and Gretel: Artists and Orchestra of Scottish Ballet, Ollivier-Philippe Cuneo (conductor), Edinburgh Festival Theatre, 8.1.2014 (SRT)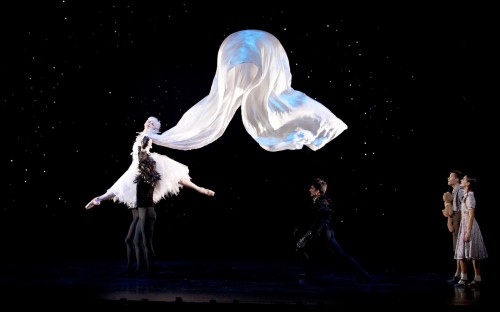 Production:
Christopher Hampson (creator and choreographer)
Gary Harris (designs)
George Thomson (lighting)
 Scottish Ballet's Christmas show is a gorgeous gift that keeps giving right into the New Year (it's on tour until mid-February).  It's an inspired idea to take the music for Humperdinck's opera as the basis for a retelling of the classic fairy tale, and it works very well indeed.  The score has been rearranged by the company's principal conductor, Richard Honner, who has edited it carefully and included some numbers from other Humperdinck scores, such as Sleeping Beauty and Königskinder.  It works beautifully, creating a score that retains the warmth and folksiness of the original, while retaining enough rhythmic elements to make it danceable and to tell the story clearly.
And tell the story is something they do exceptionally well.  The two children are characterised with charming naivety by Constant Vigier and Sophie Martin.  Each gesture is beautifully observed, be it Hansel's attachment to his teddy bear or Gretel's more grown-up nature (she is obviously the one in charge and is noticeably more cautious in approaching the witch or her house).  Eve Mutso makes a beautiful, seductive witch.  Christopher Hampson begins by depicting the witch as a friendly teacher and a benevolent fairy (her entrance riding on a crescent moon is lovely), but when she finally reveals her true nature she is both frightening and amusing at once.  The other roles are very well taken, and I particularly liked the angular, slightly sinister Sandman, whose gestures and movements trod a careful line between friendliness and danger.  There were also some lovely classical elements from the quintet of Dew Fairies, and some knockabout slapstick from a pair of rag dolls.
The evening was a visual feast as well.  The multiple receding proscenium arches of the first act created a sense of the forest swallowing up the children, while the use of the trees in the second act added to the magical sense of the forest revealing its mysteries.  I also loved the little touches like the glow-in-the-dark lollipops hanging from the trees and the slightly outsized furniture to increase the sense of the children's youth.  With a beautifully played score and a visual feast on stage, this is a treat that you should catch while you can.
Hansel and Gretel is at the Edinburgh Festival Theatre until Saturday 11th January and then on tour to Aberdeen, Inverness, Newcastle and Belfast.  For full details see www.scottishballet.co.uk.
Simon Thompson