United States Gregory Spears, Paul's Case: Soloists, American Modern Ensemble, Keith Chambers (piano), Kevin Newbury (director), Robert Wood (conductor). HERE, New York City. 13.1.2014 (DS)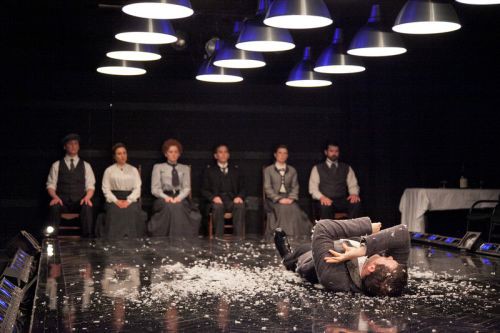 Singers:
Jonathan Blalock – Paul
Keith Phares – Father
Amanda Crider
Erin Sanzero
James Shaffran
Michael Slattery
Melissa Wimbish
Musicians:
American Modern Ensemble
Keith Chambers, Piano
Paul's Case is a story of a young man's struggle against middle-class values, as Willa Cather tackles it in her turn-of-the-century Americana short story. Composer Gregory Spears and librettist Kathryn Walat revived this tale and shaped it into a musical drama (premiered in New York as part of the Prototype Festival) and staged it using a sparse number of musicians and a handful of singers. Constructed using an appropriately bare quality that seemed to say "this will go straight to the point," the production echoed a characteristic which is often evoked in Cather's own writing style.
The small size also enhanced many of the details. The eight musicians from American Modern Ensemble moved the action from intimate solos to mock-orchestral fortitude as the drama required. Costumes, hipper than any Williamsburg hipster could hope, had simple yet eye-catching details in their pre-Great Depression jackets, trousers, and floor-length skirts. Several singers switched costumes to play different characters (a teacher would turn into an opera singer and later a Waldorf-Astoria maid). Economizing had an inherently intensifying quality.
In the small black box stage at HERE (in New York's Soho neighborhood), the action whirled on stage like a carousel. The music led the story more so than the words (especially using minimalist repetitive tactics), pushing the movement and heightening the emotions as singers carried themselves round and round.
Spears struck an unusual sweet spot between classical opera, the operetta, and Broadway musical. Much as the singers switched from part to part, the score would barely settle into one genre when another would take over. Even the audience must have felt the patterns, as Paul himself got dragged from struggle to dream and back to struggle again.
If there were anything to reconsider in the production, it may have been that in such a short work (90 minutes), there were too many climactic moments. The denouement—Paul's jumping in front of a train, cleverly symbolized with the lowering of stage lights onto his supine body—couldn't claim the power it deserved.
Paul's Case holds an intrigue that demands a second and even third viewing. However, next time, I hope it won't be staged in the unflattering acoustics of a black box. The singers' powerful voices did not get the resonant space they need and balance often turned into blaring noise, to no fault of the performers.
Daniele Sahr