Hungary  György Selmeczi, Spiritisti:  Soloists, Chorus and Orchestra of Hungarian State Opera/János Kovács (conductor), Hungarian State Opera House, Budapest, 19.1.2014. (RD)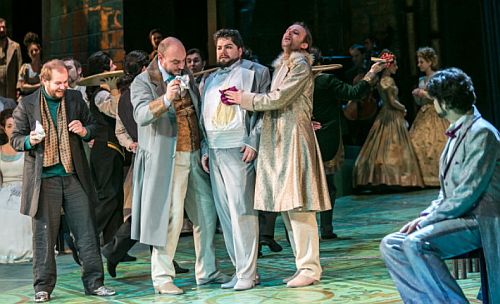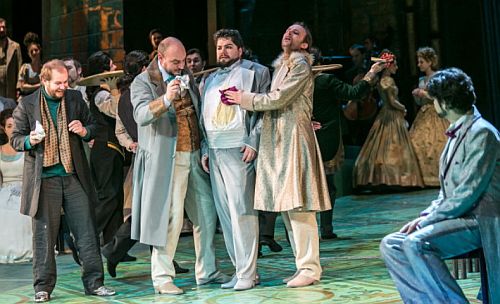 Spiritisti (Spiritiszták – seemingly 'Spiritualists') is a new Hungarian State Opera commission from composer György Selmeczi, a significant senior figure in the country's arts scene, who was born in Cluj-Napoca (Kolozsvár), in what was the north-east of Hungary and is now Cluj in Romania. An administrator and conductor of flair with skills ranging across the arts (including opera direction and film), he founded several fresh ensembles, including Budapest Chamber Opera.
Selmeczi is a cheerful, thoughtful, likeable live wire of a man, with a flair for comic satire as well as opera. The two meet in his two and a half hour long music theatre work based on Jaroslav Hašek's The Good Soldier Svejk, and it shows in his music. Conducted with insight by the ever-shrewd János Kovács, Budapest's regular house conductor and a practical musician of world stature, with a command of mainstream repertoire (Wagner, Verdi, Strauss) that might outstrip Lorin Maazel (plus a more invigorating, generous persona), the opera's music is lively, jazzy, pithy, and orchestrated with the feel for colour of a Chagall (who famously admired this story's Russian author).
The source, to whatever degree, is the Russian poet Aleksander Blok's lyric play Balaganchik (Puppet Show), part of a trilogy which the pioneering director Vsevolod Meyerhold staged in St. Petersburg in 1906-7. This partial Harlequinade reflects to some extent both the idealism (in the wild admiration for the idealised figure of Colombine) and the pessimism (in the elusiveness of that ideal) that permeate Blok's writings, which are sometimes as cryptic, elusive and surreal as, say, Mallarmé or Apollinaire.
It was in the classic (and amusingly reprised) Act II duel between Arlecchino – the cheerfully acrobatic, fine-voiced baritone István Kovács – and Pierrot (a wonderfully mellifluous young tenor, Adorján Pataki); and in the equally pure and alluring singing of Polina Pasztirczák as Colombine, mysteriously lit at the outset when summoned by a boisterous male séance presided over by the Duke (bass Krisztián Cser, the most satisfying and best characterised in a pretty marvellous cast overall), which communicated most directly and least elusively. From Don Giovanni via Pagliacci to Birtwistle's Punch and Judy, the Venetian Carnivale's centrepiece has been revisited and updated in opera time and again. What their three-way tantrums supplied was clarity, and visual appeal.
…….Which was more than could be said for the first half. With a spread of male leads to rival Billy Budd, this opera might have survived very well without a chorus at all. As the HSO's Turandot across town at the restored, reopened Erkel Theatre proved, chorus master Máté Szabó Sipos is one of the HSO's huge, quite demanding assets, who consistently draws concentrated, vocally strenuous and often mellifluous results from his charges. One Kurt Weill-like chorus early in Act II stood out from the rest.
But this plus for the singing all round was scarcely matched by the visual impact. The chorus moves seemed vapid, there were too many of them, the baroqueries of the ladies' hairstyles and lacklustre beige-brown costumes (Edit Zeker) though sometimes nicely lit, simply became a catalyst for irritation. The disillusioned poet Desiré (Sándor Arpád) sang pleasingly, but his shambling of-period bescarved meanderings (an image of the poet-playwright himself, seemingly) merely compounded the unsatisfying approximations of other moves. Baritones Géza Gábor and Szabolc Hámori, both vocally sturdy, supplied more interesting onlookers. Yet any urgency to the text went virtually ignored onstage.
All this added up, not to be too unkind, to a 'So what?' experience. Its aspirations to evoke and explore the Eternal Feminine, and sundry male responses to it with a Goethean intensity all got rather submerged by the less-than-electrifying impact of  director Eszter Novák's sometimes clumsily marshalled staging. This was curious from a massively experienced director whose  her credits include Shakespeare, Goldoni, Brecht, Lorca, Hungary's own Vörösmarty, and among opera highlights Schoenberg's Moses und Aron). Somewetly executed choreography from Tamás Topolánszky did not help.
Rather, it was the subtle little marches, and refined woodwind colouring (paired oboes and later solo oboe a joy), flutes too, patches of horns, what sounded like a contra-bassoon, lithe ballroom strings (onstage), wan near-waltzes, sub-Bartókian ripples, insistent urgings in Selmeczi's (aptly) toy box of musical ideas one wanted to listen to more closely. I thought with gratitude of Krenek, Weill, Malipiero, of slicker Stravinsky, or Nielsen's 6th Symphony –  a wealth of scores that keep the instrumentation fine and the ideas flowing, as they do under Kovács's marvellously experienced, intelligent leadership. The orchestral scherzo passages sparkled – though Kovács might wisely have chosen to coax even more.
Puccini knew how to do all of that, of course. What a treat it was to slip across to the Erkel Színhas (named after the Hungarian opera's great founder-composer-conductor; why Erkel's Bánk Bán isn't heard in opera houses worldwide I can't think, for it's pure Verdi – and better), where Balázs Kovalik's now well-established production of Turandot, with a fresh cast, looks fresh as a daisy.
The calibre of this cast impressed – even the minor role of fatherly Timur is sung memorably by the seasoned baritone Péter Fried. Both main roles were indeed of oriental origin: Lee Jeong-Won an outstanding Calaf, fabulous in all registers, utterly secure; and Jee Hye Han, once unmasked and disarmed, a genuinely beautiful Turandot. Gabriella Létay Kiss made a strong-willed as well as touching Liú, and the three advisers – tenors Zoltán Megyesi with Péter Kiss and above all a resplendent Ping (baritone Zoltán Kelemen) – were as entertainingly directed as ever. The chorus postures and Kovalik's finely rehearsed slivers of invention all lent strength; above all, there seemed a profound overall intelligence regarding dimension and pacing, which Domonkos Héja's keen sense of dynamics and reliably firm hand in the pit only added to.
Roderic Dunnett