United Kingdom  Goves and Mahler: National Youth Orchestra of Great Britain, Paul Daniel (conductor). Barbican Hall, London, 5.1.2014. (JPr)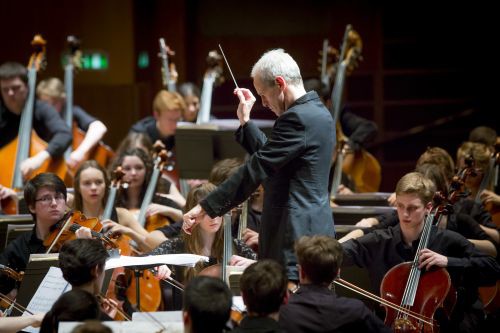 Larry Goves – The Rules Mahler – Symphony No 5
One of the highlights of my annual New Year's celebrations is to watch the concert on TV of Strauss family music performed by the Vienna Philharmonic Orchestra. As someone who is half-Viennese myself I feel a little ashamed when I do my usual count of how many women the VPO has in its ranks: this year it was nearly a record number but – even accounting for an additional woodwind player who came and went – it did not reach double figures. Why am I reflecting on this? Well, it was time to hear the winter concert by The National Youth Orchestra of Great Britain and, as with the Gustav Mahler Youth Orchestra I heard at last year's Proms (review), over half their number are female. Talking to a few of the young girls during the evening most aspire to a future professional career in music and I wish them well. I was reminded that, thankfully, these days many of the major orchestras do blind auditions for at least part of their audition process with the musicians behind a screen and this hopefully eliminates some gender bias. However, I was told that women still often also need to remove their high heels just to be sure!
After this inspiring concert I totally believed publicity on the National Youth Orchestra website that explains how 'Every year, 170 talented teenagers from all corners of the country join forces to achieve something extraordinary. They reawaken classical music, reinvigorating great repertoire with fresh energy and resonance. They generate tremendous team spirit and remind us all of the exhilarating rewards that come from hard work, dedication and following their dreams. Everyone who sees them in action agrees the NYO presents a luminous portrait of the youth of today.' The youngest is 13 and the oldest 19 and these students of secondary school age meet during their holiday time to rehearse their instruments and also study voice, movement, composing and improvisation from a roster of experienced professional tutors as well as some additional international artists who works with the orchestra every year.
With the audience for classical music ageing rapidly – and visibly getting more infirm – as the years pass, orchestras such as the NYO are a beacon of hope for the future: concert programming in the major venues needs regular injections of the palpable joy and youthful energy they displayed. (This is not the place to discuss that not all of the nation's schools have the ability to nurture young musical talent but another part of the NYO's activities involves working with the Music in Secondary Schools Trust. Directly following this concert for the first two days of this Spring school term they worked with 250 teenagers at HighburyGroveSchool in North London, sharing their skills, virtuosity and passion.)
As James Murphy retold in his informative programme note, Mahler wrote about his Fifth Symphony to his 'beloved Alma' and said 'What is the public going to make of this chaos in which new worlds are forever being created, only to crumble the next moment? What are they to say to this primeval music, this roaring, raging sea of sound, these dancing stars, these breathtaking breakers?' For me this was more appropriate to Larry Goves's new commission The Rules, which the orchestra had premièred in Leeds the previous evening. Goves is one of the coaches of the NYO's young composers and he aimed 'to write something respectful of today's players, feeding their voracious appetite for challenge and virtuosity, giving them almost an adventure playground in which to explore the conventions, rites and rules of orchestral music-making.' I understand the importance of new works for organisations such as the NYO as it is important to help attract disparate sources of funding. Larry Goves's The Rules was very similar to many new short works written over recent decades: it got a performance of great commitment from the orchestra and had its moments, especially during the more melodic second movement, and gave most sections of the orchestra a chance to shine during its san of over 20 minutes. However, I would like to hear some new music written for an orchestra that eschews an array of percussion – especially a xylophone (or similar), tambourine and bass drum.
How would these 165 young musicians crammed onto the Barbican Hall platform fare with the 'love until death' Fifth Symphony of Mahler? Well, it was loud at times – how could it be otherwise – but allowing for the schizophrenic nature of the symphony, under Paul Daniel's brilliantly nuanced conducting with a total over-arching control, it was lucid, totally engrossing and I, for once, was convinced by the emotional journey Mahler wants his listeners to experience from his music. Once gripped by this interpretation there was little release – poignant Adagietto notwithstanding – and I was shaken by the sheer brutal force of the outbursts at times, yet emotionally stirred nonetheless.
Only in one of his last letters written in February 1911 did Mahler concede that 'The Fifth is finished. I have been forced to re-orchestrate it completely. I fail to comprehend how at that time [1902] I could have blundered so like a greenhorn.' The Mahlers considered this 'their' symphony despite Alma never being too happy with the brass chorale at the end. It was composed during their first summer together, yet Bruno Walter has written 'Nothing in any of my conversations with Mahler and not a single note point to the influence of extra-musical thoughts or emotions upon the composition of the Fifth. It is music – passionate, wild, pathetic, buoyant, solemn, tender, full of all the sentiments of which the human heart is capable – but still "only" music, and no metaphysical questioning, not even from very far off, interferes with its purely musical course.' Mahler exclaimed once at a dinner-party 'Pereant die Programme!' ('Perish all programmes!') and never wrote a description of this symphony, as he had for others written earlier. The only indication along these lines is the title of the first movement – Trauermarsch ('funeral march') – but even this is only indicates a relevant mood and may not be describing events. However, if we remember 'To live for you! To die for you! Almschi!' which Mahler wrote on the manuscript of the unfinished Tenth Symphony, we can get the idea that there is probably more to the Fifth Symphony than just music and that Alma is present far more than only in the famous Adagietto.
Mahler's Fifth is often the hardest of his symphonies to bring off in performance as it can easily sound like a 70-minute piece with four turbulent, mercurial movements around a sublime Adagietto. Mahler acknowledged as much in that letter to his wife from which I quoted above. For me, a great performances like this – and this was indeed one of the best I have ever heard – brings clarity to that chaos. This was the hallmark of Paul Daniel's achievement with the wonderful NYO performers in front of him. Of course, to bring this about he did control the climaxes and restrain some of the tempi, but this was to emphasise the textural transparency and the structural layout of the music, as well as the ingenuity of the (Alma-denigrated) chorale's counterpoint during the Rondo-Finale, that had plenty of rollicking energy from the NYO's energetic but extraordinarily talented youngsters.
The Trauermarsch, had a calm, controlled intensity, the turbulent second movement seemed to be imbued with Klezmer sounds and at times I felt as if I was at a Jewish wedding. The Scherzo, played with restrained zest and a beguiling grace in the gentler middle section, has rarely sounded so vibrant. This was in no small part to Paul Daniel's placement of the solo horn at the front on the left side of the orchestra – this was the first time I had seen this, though I understand Simon Rattle has done the same. This generates a tremendous amount of colour, and brought transparency to the contribution of the obbligato player (Joel Ashford) against the mass of horns at the rear of the hall. The tempo for the Adagietto was, for me, perfect. Would that all conductors could take it at this kind of speed as with this kind of simplicity the nobility and beauty of the movement is enhanced. Finally Daniel whipped up his orchestra – particularly the horns – to a resounding and affirmative conclusion and everyone got a tremendous ovation from the well-filled concert hall, many evidently hearing this piece for the first time.
In conclusion, I should highlight the contribution of one of the instrumentalists, principal trumpet Mathilda Lloyd, an 18-year-old from Sevenoaks. From her first difficult and cruelly exposed fanfare to her final notes she played impeccably, with great assurance, a secure technique and a beauty of sound that some professional colleagues I have heard would wish they had. Of course an innocence of youth has a lot to do with this (and with the overall excellence of her colleagues) but as Goethe wrote 'Only scoundrels are modest' and the smiling players of the exceptional National Youth Orchestra have absolutely nothing to be modest about.
Jim Pritchard
For more news about the NYO and how to play a part in their activities visit http://www.nyo.org.uk/.
The concert was recorded and will be broadcast on BBC Radio 3 on 13 January at 7.30pm.