Germany Verdi: Falstaff, Frankfurter Opern und Museumorchester, Chor der Oper Frankfurt, Bertrand De Billy (conductor), Opernhaus Frankfurt, 15.2.2014 (JMI)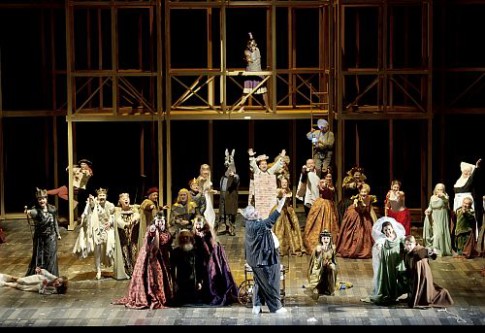 Cast:
Falstaff: Zeljko Lucic
Alice Ford: Leah Crocetto
Ford: Artur Rucinski
Mrs. Quickly: Meredith Arwady
Nannetta: Grazia Doronzio
Fenton: Martin Mitterrutzner
Meg Page: Claudia Mahnke
Doctor Cajus: Hans-Jürgen Lazar
Bardolfo: Peter Marsh
Pistola: Alfred Reiter
New Production
Direction: Keith Warner
Sets: Boris Kudlicka
Costumes: Kaspar Glarner
Lighting: Davy Cunningham
One of the highlights of the present opera season in Frankfurt has been this new production of Falstaff, with the debut of Zeljko Lucic in the role of Sir John. He might be thought of as the baritone of this company: he spent several years here before making the leap to his well-known international career and returns to Frankfurt almost every year. However, the performance did not meet my expectations, with a stage production looking for laughs at any cost, an overly loud musical reading and a not too compelling cast.
Keith Warner's stage production was particularly disappointing. There are many ways to approach Falstaff, and he chose to follow the path of a childish opera buffa, seeking to provoke laughter at all costs. Last year I had the opportunity to see Robert Carsen's staging of Falstaff at La Scala and, when contrasted with Mr. Warner's, it reminds me of the difference in sense of humor that exists between Groucho Marx and Jerry Lewis. If Groucho's humor was smart and surprising, Lewis seemed to only want to make faces and provoke easy laughter. If you compare these two productions, that's exactly what you find. Mr. Carsen's staging is elegant and full of good taste and imagination, provoking smiles in the audience, while Mr. Warner seeks laughter based on displaying ridiculous characters on stage, and the more ridiculous, the better. Bad taste dominates this stage direction from the first moment to the end of the opera. I admit that the audience seemed to have fun, but I got really bored.
The sets provided an ample space enclosed with wooden walls, with two staircases in the first two acts. A few mobile modules were added for the different  scenes and were moved by extras whose continous stage presence was somewhat annoying. Windsor Park was formed by a series of wooden structures joined in the center of the stage to represent, perhaps, an oak, but it could have been anything. The costumes were somewhat confusing, with the merry wives wearing long dresses from the 19th century while Ford, Falstaff and the young lovers seemed to have moved to the '50s.
The musical direction was entrusted to Bertrand De Billy, whose reading I found  too noisy: voices reached the audience with difficulty. It should have been easy for a conductor with his experience to notice that he was dealing with a completely open-top stage, which always makes the projection of voices problematic. In short, it was a monotonous and loud reading, far from what this extraordinary score deserves. The orchestra followed Mr. De Billy's baton with discipline.
Zeljko Lucic is a real institution in Frankfurt, and it is clear that the public loves him. His Falstaff was too exaggerated, supposedly following the indication of the stage director, although he appeared to enjoy his somewhat childlike interpretation. His voice, especially in the first act, had difficulty reaching the audience. I do not think Falstaff is one of his best characters, but I would like to see him sing the part in a different production.
Alice Ford was played by soprano Leah Crocetto, who confirmed the very positive impression she left on me with her Desdemona in Bordeaux a couple of months ago. Her voice is beautiful and wide enough. I hope she manages her career with care; the great Verdi roles will come, but she should stay where she is for now.
Artur Rucinski was a very exaggerated Ford, no doubt due to the demands of the stage direction. Vocally, he had trouble crossing the orchestral wall, and I was surprised that his top notes were poorly projected, which was not the case just about one year ago.
Meredith Arwady gave life to Mrs. Quickly, but she also followed the path of exaggeration. In vocal terms, things work well on both ends of her range but the center is very poor, bordering on the inaudible.
Soprano Grazia Doronzio offered a beautiful voice and good singing technique in the character of Nannetta. Martin Mitterrutzner as Fenton had a pleasant voice although too small in size and poorly projected. Claudia Mahnke was good as Meg Page
Penalized by the production and the volume of the orchestra were Hans-Jürgen Lazar (Doctor Cajus), Peter Marsh (Bardolfo) and Alfred Reiter (Pistola).
The theater was sold out, and the audience seemed delighted with the performance, laughing frequently. The final reception was very warm, particularly for Zeljko Lucic.
José Mª. Irurzun