Switzerland Verdi: Don Carlos   Soloists, Chorus of the Zurich Opera, Philharmonia Zurich, conductor: Fabio Luisi, Zurich Opera, Zurich. 21.2.14 (JR)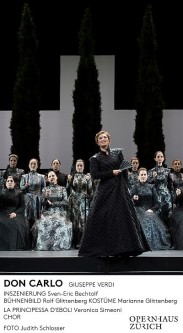 Cast:
Elisabeth: Lianna Haroutounian
King Philip: René Pape
Rodrigo, Marquis of Posa: Michael Volle
Don Carlos : Fabio Sartori
The Grand Inquisitor : Rafal Siwek
A monk: Scott Conner
Princess Eboli: Veronica Simeoni
Tebaldo: Julia Riley
Voice from heaven: Sen Guo
Royal Herald: Kristofer Lundin
Flemish deputies: Alexei Botnarciuc, Christoph Filler, Alex Lawrence, Roberto Lorenzi, Oleg Loza and Christoph Seidl
Production:
Director: Sven-Eric Bechtolf
Dramaturgy: Nina Russi
Sets: Rolf Glittenberg
Costumes: Marianne Glittenberg
Lighting: Jürgen Hoffmann
Chorus: Ernst Raffelsberger
Zurich Opera have rightly revived this popular 2011 Sven-Eric Bechtolf production of Don Carlos. The curtain rises to reveal a darkened and black room (in the cloisters of the monastery San Giusto), a row of hooded black monks with their backs to the audience, a giant black skull lying next to a lying golden skeleton of Carlos V, father to King Philip, grandfather to Don Carlos. It is a chilling sight. After the monks have intoned their hymn to the deceased and the head Monk has added his personal elegy (American bass Scott Conner not quite reaching that awesome bottom note), we meet Don Carlos, in this production sung by Italian tenor Fabio Sartori. His fine tenor voice was a bit tight at first but soon opened up and started to impress. Acting and movement are, however, not Sartori's strengths and the Director (or his revival deputy) did him no favours. At one stage he had to lie on the top of four steps. Having got down with some visible difficulty, he threatened to roll down the steps into the pit.
Michael Volle as Rodrigo was in full, warm voice, not entirely ideal with his Italian diction and a shade too old for the part. He came over as a slightly arthritic but kindly uncle to Don Carlos, not his young friend. Volle's flapping movements and quirky grimaces were out of place and brought his (admittedly fine) Beckmesser to mind.
René Pape as King Philip was aptly imperious and still a marvel vocally. His grand aria "Ella giammai m'amo" was impeccably delivered. Veronica Simeoni sang (and acted) a first-rate Princess Eboli and her two show-stoppers, the veil song and "O don fatale" were faultless.
Lianna Haroutounian has sung Elisabeth for Pappano at Covent Garden recently; her soprano is pure and she utilises her sweet tone to full advantage. She was dignified in appearance, aided by some dazzling costumes. Originally Marina Poplavskaya was to have sung the role, but Zurich Opera found a wonderful replacement.
Rafal Siwek was a fine Grand Inquisitor though I have seen more chilling entrances in other production; he scares the King himself and should frighten the audience too.
Julia Riley continues to impress in Zurich, this time as Tebaldo, as did Sen Guo from the heavens – though I thought the accompanying harp from the back of the Amphitheatre too loud.
The Flemish deputies, all taken from Zurich Opera's International Opera Studio, a school for up-and-coming opera singers, were a fine young ensemble.
Wiry Music Director Fabio Luisi in the pit is a wonder to behold and the orchestra play at their very best for him (one unfortunate horn player in the opening bars apart). Luisi's reading of this dramatic grand opera surely cannot be bettered.
Producer Sven-Eric Bechtolf created some wonderful tableaux, particularly the rows of the Queen's ladies-in-waiting fanning themselves in Iberian heat, briefly stopping their waving fans at appropriate moments in Eboli's veil aria. Costumes by Marianne Glittenberg were a successful mix of the old and the new, mainly in varying shades of black, but with spectacular added gold and glitter for the Queen. The King did not look particularly regal in comparison. Don Carlos' costume never made him look remotely appealing and, were I the Queen, I would stick with the more imposing René Pape and happily give Don Carlos to Princess Eboli.
The Auto-da-fé, the ritual of public penance of condemned heretics, was rather tame, with not a flagellated heathen in sight. A tank of fire was borne across the stage, only to disappear on the other side. A mass of giant twisted white crucifixes at the back did rise and glow at the end and a gaggle of monks descended front-stage on the Flemish contingent but no violence was hinted at despite the male chorus' vocal description of apocalyptic terror. At least the usual Ku Klux Klan members were mercifully absent.
The chorus was its usual impressive self, only once did a lack of ensemble hint at a shortage of rehearsal time with the orchestra.
Don Carlos almost always makes a very grand night at the opera: in this sensible production, with fine voices and conducting, this was no exception.
John Rhodes