United Kingdom Bach Plus (Bach meets Kennedy): Nigel Kennedy and musicians. Basildon Towngate, Basildon, Essex, 26.2.2014. (JPr)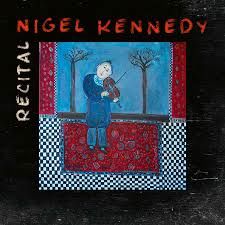 It was the great Bob Monkhouse who said 'Growing old is compulsory, growing up is optional' and this is something the virtuoso violinist Nigel Kennedy accepts is part of his nature: he is quoted as saying about his recent CD release Recital on Sony Classical – which mixes Bach with Fats Waller, Dave Brubeck, his own compositions and more – how 'All of this repertoire is music which I have either grown up with or feel as if I have grown up with, bearing in mind that growing up is something I haven't been overly interested in so far …' (my italics).
 The evening was pure Kennedy, from the printed programme to the set as there was lots of claret and blue that screamed out his well-known allegiance to Aston Villa football club – and indeed in the second half of the gig (concert is not the appropriate word) he wore a Villa team shirt. On the stage a semi-circular wall of Perspex cradled the violinist, his German guitarist, Rolf Bussalb, who played mainly on a 12-string instrument; British (in fact Essex born!) acoustic guitarist Doug Boyle; and two Polish players, double bass player Tomasz Kupiec, and percussionist Adam Czerwinski. There was some discreet amplification from two thin state-of-the-art speakers that brought Kennedy's playing to the fore, even if it was occasionally at the expense of his talented colleagues.
I had last seen Kennedy perform to 40,000 at the 2013 Hyde Park Proms in the Park and was intrigued to find him coming to the very much more intimate Towngate Theatre, Basildon as part of his 2014 tour. In fact I think he must be one of the 'biggest stars' from whatever field of entertainment to have appeared in this Basildon venue. I wondered what the audience was for 'classical music' in this part of Essex and the theatre was nicely full – despite the London ticket price of £38 – but it was still an older audience, with only a few very enthusiastic younger ones seen occasionally filming Kennedy with their smartphones.
In the printed programme, the concert had been set in two parts, of which the first was to be mostly Bach and the second part, Nigel Kennedy's own compositions and some Fats Waller – so far, so straightforward, musically. However despite all his other asides to the audience, Kennedy didn't introduce the classical pieces he played. They were advertised as being the Partita No. 3 in E major (Praeludium), the No.2 in D minor (Chaconne) and the Sonata No. 2 in A minor (Allegro) and without the CD or an intimate knowledge of Bach I cannot say if this is what he gave us. Anyway he had arranged all the pieces and his approach to everything he played was clearly inspired by the 'two great mentors in my life: Yehudi Menuhin and Stephane Grappelli'. I was lucky enough to have seen Grappelli perform late in his life and remember revelling in his classical-jazz fusion and Kennedy pays an affectionate tribute to that (other) legendary violinist with his own approach to classical music.
Despite – and definitely not because of – his Day-Glo yellow trainers, oversized jacket, thumbs-up, fist-pumping, 'effing and blinding' geezer exterior Nigel Kennedy is – at heart – a genuine showman and a consummate musical artist and I warmed to him as never before as the evening progressed. With his talented – often smiling – small band there was a real joy of performing even when he had them scrabbling on their music stands through genuine surprise at what Kennedy had decided to launch into! So nothing we heard had any direct relation to what was in the programme. Some Bach was immediately followed by something Celtic, then it was back to Bach; we also heard Kennedy's own elegiac Fallen Forest and for Stephane Grappelli he played his arrangement of Swing 39. Neither Grappelli nor Menuhin ('It was a big privilege to go to his school … and a big privilege to get out of it!') had Kennedy's muscular sound or fearsome bowing but there was a palpable devotion to these two giants in his playing. His speedy effortless fingering and double-stopping had his Basildon audience enthralled, bringing them to their feet already at the end of the first half when in typical fashion he told us he knew what we were thinking and that we all wanted him to 'p**s off' so we could get to the interval bar … at that point Essex truly embraced Kennedy!
He deserves much credit for trying to reach as wide and audience as possible with his eclectic programming. The hour-long second half was a joy; he began with his own upbeat Blah Blah Blah (Talk Talk Talk), and amongst other things we heard Dia Jarka (in tribute to the guitarist/composer Jarek Śmietana and 'influenced by the Beatles and slightly Indian music-ish') and Śmietana's own very mellow Sometime in Winter. Brahms's Hungarian Dance No. 5 came next and was an absolute delight and transported me to a Viennese café with its shameless schmaltz even though it segued at one point into – what the Basildon audience would have recognised as – 'the Theme from the Lone Ranger'!
The highlight of the entire evening for me was the first encore of the Londonderry Air (better known as Danny Boy) this was simple, basically unadorned, extremely poignant – and Nigel Kennedy at his very best. With a final flourish, when much fun was had by all during another arrangement of a Fats Waller piece, this wonderful concert ended and by now most of the audience gave Kennedy and his four musicians a well-deserved standing ovation.
There had been some great banter between 'Nige' and the audience and every woman's name was proclaimed his favourite and he dealt well with one over-enthusiastic elderly female admirer who just about controlled her interruptions. It seemed entirely heartfelt and genuine when Kennedy told us 'Live music brings us together in a way nothing else does' and ended by thanking us all for 'listening so attentively' and remarking how there had been 'a proper warm, good, vibe in the house'.
Thanks Nigel for a great evening and something that was so close to home for once!
Jim Pritchard