United Kingdom Don Black and Andrew Lloyd Webber, Tell Me on a Sunday: Marti Webb and musicians. Duchess Theatre, London. 18.2.2014. (JPr)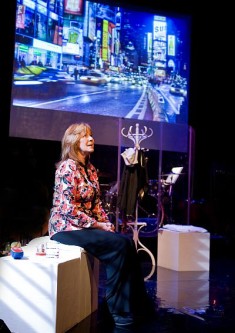 The background to Tell Me on a Sunday is musical theatre history. In 1979 Marti Webb had successfully auditioned as Evita but Andrew Lloyd Webber apparently was keen to write something specifically for her. Later, with lyricist Don Black they discussed the idea of a song cycle inspired by the story of one of Lloyd Webber's friends who had moved from London to the United States for a new life. At that point only two songs, the title piece 'Tell Me on a Sunday' and 'It's Not the End of the World' were finished and so the rest were created based on Marti Webb's voice and character. Black, later to be her manager for a while, said of Webb's performance: 'She was the girl, and that was it.' Apparently it was her tendency to 'talk for hours about the most boring everyday things, like the gas or insurance' that also inspired him to create punctuating narrative pieces in Tell Me on a Sunday which are letters home (in the years before email, texting or tweeting!) to the character's mum. There was a one-off performance in January 1980 that was recorded for TV with Webb backed by a full orchestra and her career took off with this broadcast and the release of the album of Tell Me on a Sunday.
It soon became Act I as part of a double bill with Song And Dance then substantially revised – and later updated – for other singers such as Bernadette Peters (in an American version), Denise Van Outen and Claire Sweeney. How did this reprise come about is spelt out in the printed programme when Webb says: 'I was doing a concert at the Royal Festival Hall for Don Black earlier this year. Where I sang Take That Look Off Your Face and Tell Me on a Sunday. Andrew was there and told me it sounded exactly the same as all those years ago. Lewis Carne from Radio 2 was also there and he said "do you think you could do the whole piece?" So feeling rather exuberant and excited I replied: "Oh yes, we could do it with a small band and you could record it." And he said: "That's exactly what I was thinking of doing! So that's how it all started …'.
BBC Radio 2 recorded a performance of the show during its recent short run at Piccadilly's St James Theatre and Tell Me on a Sunday has arrived at the Duchess Theatre for a further three weeks. The premise of this one woman ('the girl') show is that she is English and has arrived in New York City but does not want to become a hard-bitten career woman or a user of men. Soon she discovers her current boyfriend has been cheating on her with a number of other women and she walks out … a scenario that will recur time and again her life. Next she hooks up with Hollywood producer Sheldon Bloom, who takes her to Los Angeles. Sheldon is too busy for her and she becomes very much a trophy girlfriend, so returns to Manhattan. Back in Greenwich Village, 'the girl' meets a younger man and then a married man, stoically facing up to disappointment both times. After her married man she vows to becoming once again the idealist she was when she first came to the States. 'The girl' is the only person who appears on stage, despite having conversations with her friends and others, as well as, reading out loud the letters home to her mum.
In all probability writing this review will take longer than the entire show because – and beware! – it is very short as presented at the Duchess Theatre. Apparently audiences when it was on at St James were given a performance of songs from forthcoming shows there – but there is nothing like this now! Everything you might read about Tell Me on a Sunday suggests it lasts one hour but in fact it is not much more than 45 minutes and – even allowing for one encore (Unexpected Song – that has been in and out of the musical in the different versions) – you will be out of the theatre long before the hour is past … and you will have paid West End prices for the privilege. Whoever thought this was good enough should hang their head in shame. Couldn't there have been a first half of songs perhaps from the Don Black songbook with young singers … or – well – just something, to make a fuller evening of it?
With the rather stark arrangement of Lloyd Webber's music for piano (music supervisor Simon Lee), keyboard, woodwind, guitars, drums and percussion, and against a backdrop of postcard-like views of New York or Los Angeles, there was little Marti Webb could do to make her West End comeback the occasion that it should have been. The odd cough suggested she was not exactly 100% fit and while much of her refined conversational approach to Don Black's timeless lyrics was bittersweet or – like her signature song, Tell Me On a Sunday – had heartaching poignancy, she was not entirely at her ease. She certainly needed some investment in a string player or two (live or pre-recorded) and the support of a couple of backing singers, sorely missed during Take That Look Off Your Face.
Of course, it was wonderful to see Marti Webb, still a consummate artiste, on stage once again and I enjoyed her knowing smirk as 'the girl' recounts in her second letter that 'if he gets his skates on we can have some kids' but what will sound good on Radio 2 at Easter – or worked well at the even smaller St James venue – deserved a better showcase on its return to the proper West End.
Jim Pritchard