United Kingdom Kurt Weill, The Threepenny Opera: Graeae Theatre Co, Nottingham Playhouse, 25.2.2014 (RD)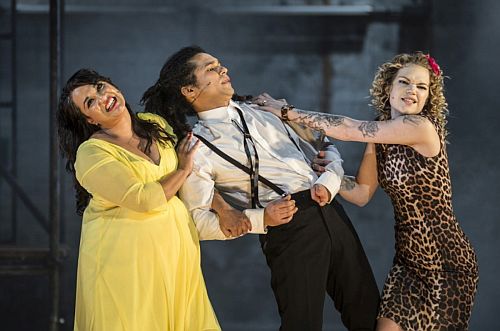 Cast:
Macheath: Milton Lopes
Polly: Cici Howells
JJ Peachum: Garry Robson
Mrs Peachum: Victoria Oruwari
Lucy Natasha: Lewis
Jenny: Amelia Cavallo
Tiger: Brown Will Kenning
Dolly: Sophie Byrne
Betty: Barbara Hockaday
Bob: Joe Vetch
Jake: Ben Goffee
Nellie: Stacey Ghent
Ned: Stephen Collins
Maisie: Sonia Allori
Filch: Max Runham
Smith: TJ Holmes
Narrator: John Kelly
Rev Kimball: Joey Hickman
Lucy: Natasha Lewis
Tiger Brown: Will Kenning
Production:
Directors: Jenny Sealey and Peter Rowe
Designer: Neil Murray
Musical Director and Arranger: Robert Hyman
Movement Director: Mark Smith
Projections Designer: Mark Haig
Lighting Designer: Malcom Rippeth
Sound Designer: Drew Baumohl
Performance MD: Joey Hickman
In a life of just 49 years Kurt Weill's music was wide-ranging. We sometimes overlook how fine his symphonic and string quartets are, or his passionate choral Berliner Requiem and Lindbergh Flight. Yet the stage was his major calling, via Street Scene and Lost in the Stars (both 1940s USA) all the way up to – remarkably – Huckleberry Finn (1950).
The Threepenny Opera (Die Dreigroschenoper, 1928) was one of his earliest successful German offerings, coming between the two incarnations of Mahagonny. Both saw him collaborate with Bertolt Brecht. Each seethes with Brecht's ardent left-wing preoccupations in vulnerable Weimar Germany, and the heroes of The Threepenny Opera are not so much any individual – even the curiously amiable robber-brigand Macheath (Mack the Knife) – as the masses of urban poor and destitute.
It's this that the four-way new production, staged first at the Nottingham Playhouse and moving on to Ipswich, Birmingham and Leeds, captures so especially well. To hammer home the sense of deprivation, and the idea of crime as a way of escaping the breadline, the Graeae Theatre Company's Casting Director Debbie O'Brien has come up with a glorious cast of have-nots: have-not eyes, comfortable speech, limbs, digits, the very adjuncts to ease of daily life – by putting to the fore a feisty team of handicapped or disabled performers who by their utter defiance of their limitations furnish the best imaginable illustration of what it means to triumph over social and economic adversity, every kind of deprivation.
Four or more players perform from wheelchairs, and – terrific characters by any standards – they are the heart and soul of the party. John Kelly's Narrator is earthy, flamboyant, streetwise: he brilliantly typifies the cheeky, resilient low life joint directors Peter Rowe (New Wolsey, Ipswich) and Jenny Sealey (Graeae) are striving to evoke. But the music is launched with aplomb by the father of the unintended bride and scheming 'beggar king' Peachum (Garry Robson) whose cheerful, gravelly cockney projection along with his vibrantly sung spouse (Victoria Oruwari) lends buzz every time they rattle away.
The object of his resentment is Macheath (Milton Lopes), whom he aspires to prise away from his wayward daughter Polly (CiCi Howells) via the noose if necessary.  (Blissfully, he fails in a volte-face ending). Traditionally Macheath is a gallant adventurer, magnetisingly attractive and of almost military bearing ('The Captain'), but I'm afraid it was fairly impossible to believe in Lopes as any of this – he seemed like a rather slow learner who needed Fagin to coach him up. More charisma is needed, but above all, more personal depth.
It's not all Lopes' fault: he needs music too – arias, thumping choruses – to impact earlier, and that – perhaps Brecht-Weill's imbalance – feels initially thin on the ground. Once he gets to the moralising (almost Ron Moody-like 'If you consider poverty romantic') Lopes picks up and perks up no end. Here, he impacts. But elsewhere, there seems a hole in the heart of this production: bitty and sequential at best, Threepenny Opera must have a soul. Or if that is furnished by Polly, by Natasha Lewis's excitingly sung, mock-pregnant Lucy Lockit, or by the stunning late aria (following 'Oh the punters assume / I'm the girl with broom') of Jenny (Amelia Cavallo), then it needs a focus – a firmly evolving storyline. It rather flails on that front; Lopes however comes good in the second half, where a rush of arias and choruses enabled him to show he has panache, if not the melting tone quality one might have sought to underline the vicious/benign split character.
The musical input is a triumph: it comes almost if not entirely from members of the cast, who double on instruments with such verve and rhythmic urgency the production never once flags during a musical number – though it does just once or twice visually in the wordier first part (e.g. an Albert Herring dinner starts well, then dips). One a cappella ensemble like an updated Cries of London is as affecting as elsewhere touching whispers of the blues are. Two short interludes were especially rivetingly performed. Flute doubling a welter of saxophones, cello alternating trumpet, vibrant keyboard, the whole led by Onstage Musical Director Joey Hickman (the Vicar specialising in ministry to villains with hearts of gold), some terrific trombone playing – a welter of vital sounds of every hue, topped by some mesmerising accordion – lent this staging its extra fire. It overbore only once – in Macheath's later outburst; all else was grand.
Robert David Macdonald's text and Jeremy Sams' lyrics (possibly tweaked occasionally) pull few punches: 'beat the shit'; 'give a monkey's'; 'toe-rag'; 'grubby mitt'; 'life's a bummer': these are all of today, yet somehow of any era. They pass almost unnoticed. Purcell would have had his equivalents – and often does, in his catches.
Vignette after vignette, from a host of well-built characters – Ben Goffe's loyal, ever-watchful, then deliciously squashed Jake, T. J. Holmes's sinuous gibbet-preparing Sergeant Smith, Max Runham's deferential Filch, Will Kenning as the Bow Street Runners' bendable superintendant, who make it his business to court as bosom pal – and rather compellingly warble along with – Lopes' Mack, and the girls – though seemingly not tarts – of the ensemble: Howells' elegant Polly, more business manager than kitchen scullion ('When I was a virgin I used to believe') is indeed a peach, as citrus yellow Lucy ('Here she is, the belle of Camden town', ere she scratches Polly's eyes out) is a plum; but add a pretty lively quartet – Maisie, Dolly, Nellie from oop north, Betty); and certainly not least Jude Mahon, who pairs some of the evening's most glorious, entertaining, well-pitched acting (you'd swear she was singing along full-throated too) with the role of sign interpreter, evincing an almost wholly new art – reveal the talent and almost precocious diversity of this frankly amazing ensemble.
And it's the ensembles that score musically too. When this lot gets going, it lets rip with real spirit, and the roof lifts ('The British Army / Will make salami / From Basra to Goose Green' is a thunderous masterpiece; 'What keeps a man alive? He lives on others. He likes to taste them first, then eat them whole if he can…' sounds magnificent).
But if these raffish vocal hoodlums (modern dress doesn't make this any less 18th or mid-19th century in feeling) do everything to establish place, and period, and an acute sense of the grim reaper dangerously at hand, they have the best possible ally in Mark Haig, whose projections in black and white, brilliantly fusing and melding similar then conflicting on-the-nub images, give this the eerie feel of a Pabst or Fritz Lang film that Brecht and Weill might have known by heart. It's one of the best such filmic scores I have seen in ages. Even on its own it would lift this presentation into the A1 class.
Roderic Dunnett 
The production continues at Nottingham until Sat 8 March, then tours to New Wolsey Theatre, Ipswich (12-22 March), Birmingham Repertory Theatre (27 March-12 April) and West Yorkshire Playhouse, Leeds (24 April-10 May).