Italy Ravel, L'heure espagnole  and L' enfant et les sortilèges.  Chorus and orchestra of Teatro dell'Opera Rome.  Conductor, Charles Dutoit.  Staging and Costumes by Laurent Pelly in his Glyndebourne production.  Rehearsed in Rome by Paul Higgins.  Sets of L'heure espagnole by Caroline Ginet; sets of L'enfant et les sortilèges  by Barbara de Limburg.  Original Glyndebourne lighting by Joël Adam, reset in Rome by Andrew May.  Teatro dell'Opera, Rome 01.02.2014 (JB)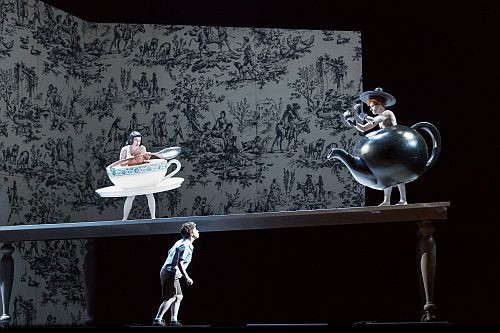 Casts:
L'heure espagnole
Cancepciòn, wife of Torquemada       Stéphanie d'Oustrac
Gonzalve, a poet                                          Benjamin Hulett
Torquemada, a clockmaker                   François Piolino
Ramiro, a mule tender                              Jean-Luc Ballestra
Don Inigo Gomez, a banker                    Andrea Concetti
L'enfant et les sortilèges
The child                                                                           Khatouna Gadelia
Mother / the china teacup/the dragonfly          Hanna Hipp
The cat / the squirrel                                                   Stéphanie d'Oustrac
The fire / the princess / the nightingale              Kathleen Kim
The grandfather clock / the cat                              Jean-Luc Ballestra
The Wedgwood teapot / the arithmetic / the frog   François Piolino
[These doublings are requested by Ravel.]
Which witty tongue said that one minute of Ravel is worth ten of anyone else?  It's true that his music is structured with remarkable pinpointed intensity.  Yet these bars have an impressive improvisational quality as though the music composed itself.  The detail glitters by its perfection.  Change a single note or an instrument and you lose the whole thing. Yet that whole thing hangs together in its certain wholesomeness like no other music.
It distresses me to report that Charles Dutoit is not mindful of these observations.  He appeared to think that he was conducting a brass band at a village fete, a plodding four-square trudge through dense traffic.  And no fault can be laid against the Rome orchestra.  Their detail glowed through in the dark like jewels in the night.  The wind in particular were perfectly balanced of tone (and when Maestro Dutoit allowed it) of rhythm.  Special contributions from Martina Lando (bassoon), Carmine Pinto (horn) and Matteo Evangelisti (flute).  The percussion team too, led by Ignacio Martin Ceballos (timpanist) were engaged and engaging in their accuracy.
This music unravels itself by its own weight, proving the conductor's baton can indicate that path.  Dutoit too often sounded as though he was trampling out the vintage where the grapes of wrath are stored.  And John Brown's body, which you will remember lies  a mouldering in the grave  can have no truck with Ravel.  It even sounded as though the jewels which the orchestral players offered him were in danger of obliteration.
Glyndebourne's Laurent Pelly production transferred well from that small stage to Rome's vast one, though there were minor mishaps with the lighting timing in L'enfant et les sortilèges.  I'm reporting on an opening night. But those slips should be easy enough to put right, for  they are key to the special effects, which are, indeed a perfect fit for Ravel's enchantments.   Most of the scenes of the child's punishments are seconds rather than minutes.  But given the intensity of the orchestration and vocal writing, they often feel longer than seconds, exactly as in a dream.  There is a real sense in which Ravel's collaboration with Colette is  a dream: it pulls us forward (something it would do more  easily if Maestro Dutoit were not conducting) while at the same time freezing us in its clutches.
Sidonie-Gabrielle Colette had a wry sense of humour and a good line in irony; both qualities shared by Ravel.  This, in fact, is one of opera's perfect partnerships.  The libretto is a morality tale but both composer and librettist have their tongues in their cheeks on the morality stakes.  When it comes to sending himself up, Ravel can stand alongside Rossini.  One hears and admires Ravel's quietly applauding Colette.  And vice versa.
Barbara de Limburg's sets for L'enfant  were magnificent and perfectly complimented by Laurent Pelly's staging and costumes.  Furniture, smaller domestic objects and animals were all studiedly gigantic, emphasising the smallness and vulnerability of the child.  Pelly wants us to take all this "seriously".  And there is a very real sense in which we do in order to arrive at the bizarre humour and sense of the adventure.
Khatouna Gadella is small of voice and person, both fine attributes as the child.  And she is unfailingly expressive in all the angst which Ravel hands her.
Hanna Hipp made a marvellously staged effect as the mother, the dragonfly and the china teacup. The mother is the least colourful of the three but Pelly had her on rolling stilts, which amusingly conveyed the inflexibility of Edwardian motherhood.   The dragonfly was beautifully aided by Hipp's vocal agility.  The china teacup is sheer charm and Hanna Hipp let us hear that she has plenty of that in her vocal makeup.  Some appropriately daft choreography helped here too.
Kathleen Kim also stood out as the fire, the princess and the nightingale.  As the fire, she also gets Pelly's most inventive costume which burst out of its place with threatening long flames, Ms Kim "riding" its highest peak.  Her menacing vocal tones were thrilling.  Equally, her sad, expressive tones as the dying princess were moving.  To make the fantasy work you have to take it seriously.  And Kim and Pelly do.
Stéphanie d'Oustrac and Jean-Luc Ballestra were excellent in the duet for two cats.  How often has this charming number been ruined by singers parodying it?  The set piece is already a parody.  To give it more is to go in for overkill which many singers cannot resist.  As often on a stage, less is more.  Let the joke tell itself straight-faced.  D'Oustrac and Ballestra did just that.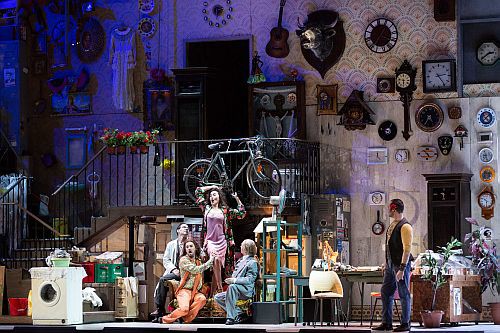 Stéphanie d'Oustrac was also the leading singer in L'heure espagnole  in which Ravel tries his hand at outdoing Rossini in nineteenth century farce.  And he very nearly succeeds.  The foxtrot was the one moment in the evening when Dutoit's pacing was perfection.  Conchita Supervia used to sing the role of Concepciòn.  And who wouldn't have given their right arm to hear her?  That lady was unsurpassed when it came to vocal charm.  Ms d'Oustrac has little of that quality and so misses the main sense of the role.  She is nevertheless, a convincing actress.  And that matters.  She is the wife of the clockmaker on whom she is cheating, with the rest of the cast as her lovers.  Of those gentlemen, Benjamin Hulett stood out as the poet.  Lots of parody here from Ravel, both of Gonzalve being a poet and a tenor.  But Mr Hulett who, by the way, is slight of build and can therefore easily be stuffed into a grandfather clock, had the good taste to stand back and deliver the role  just as written and not play to the gallery.
Jack Buckley