Sweden. Mozart Don Giovanni. Soloists, The Royal Opera Chorus and Orchestra. Lawrence Renes (conductor). The Royal Opera, Stockholm, 15.3.2014. Premiere (GF)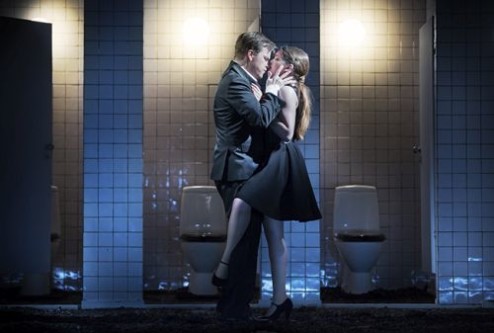 Cast:
Don Giovanni – Ola Eliasson
Donna Anna – Yana Kleyn
Donna Elvira – Elin Rombo
Don Ottavio – Michele Angelini
Leporello – Luhtando Qave
Zerlina – Sara Widén
Masetto – Linus Börjesson
Commendatore – Anders Lorentzson
Production:
Direction and Sets: Ole Anders Tandberg
Costumes and Masks: Maria Gerber
Lighting: SUTODA
Choreography: Anna Koch
Ole Anders Tandberg has been involved for close to a decade in his Mozart project for the Stockholm Royal Opera. Starting with Così fan tutte in 2007 he at once set his seal as an unpredictable, often bravely inventive and always provocative in one direction or other. I loved that Così, though I commented on some vulgarity – but that seems to be part of the concept. Le nozze di Figaro  three years later was along the same lines but cruder, more absurd and 'over-sexualized'. Two years ago he interrupted his traversal of the da Ponte operas with a very personal reading of Die Zauberflöte –filled with surprises, and now it is time for arguably the greatest of the Mozart operas, Don Giovanni, to get the Tandberg treatment – and it is … different. A friend with inside information warned me that the production wasn't what one probably expected, and that was exactly what I had expected.
The first thing I noticed when approaching the opera house at Gustavus Adolphus Square was the façade illuminated in red. 'Aha, we are in for a blood-bath' I said to myself – and right I was. Il Commendatore was killed, not by a rapier thrust but by a pistol shot and his blood was smeared all over the walls of the tiled walls of the public toilet – yes, that's right: large parts of the first act were played in a public toilet. And it works, once one has accepted the setting.  We are in present time and the characters are people of flesh and blood living their lives in the 21st century, crueller perhaps than their 18th century counterparts in Da Ponte's libretto. Overt eroticism permeates the whole production, in line with the more licentious preferences today. Zerlina is not the pure virgin Masetto has thought, in spite of her white bridal trousseau, she is not foreign to a more than friendly tête-a-tête with the Don and she tears off her red panties and waves them teasingly before the seducer. No, she is a cunning and wily adventuress. Even the prudish Donna Elvira strips off her black schoolmistress attire in the last scene in a desperate attempt to save Don Giovanni from his unavoidable fate.
Much of the proceedings are video-filmed by Leporello and projected behind the action – often in grotesque close-ups. The paparazzo reveals everything with state-of-the-art technique. In the midst of all this modernism Masetto and his fellows were torches when they search for Don – no wonder they don't recognize him. Such freewheeling between conventions from various times is one of Tandberg's hallmarks. The scout-patrol in Die Zauberflöte last season was a similar gimmick that tied together now and then. Times change, society changes, living conditions too but the human beings behave as they always have. Gossip monger then, paparazzo today!
Now, don't expect more gossiping from me concerning the production. Go and see it! It's more than worth the money – and even though you dislike the concept you will adore the singing – and the acting! Anders Lorentzson, statuesque and thunderous Commendatore. Luhtando Qave's browbeaten but cocksure Leporello – fleet-footed dancer as well! Linus Börjesson's dark, hot-tempered and cowardly Masetto. Michele Angelini's namby-pamby Don Ottavio (quite in line with the character) but singing with the utmost refinement, elegance and – in Il mio Tesoro – passion: the ultimate explanation why the noble Donna Anna after all loved him. And the women? Sara Widén, pert and self-confident, could surely have seduced all the gentlemen on stage. Elin Rombo pricelessly moving in her pathetic muddle-headedness, determined but utterly vulnerable. Donna Anna as a character is like her father, the Commendatore, rather statuesque, but she has some of the most marvellous dramatic arias to sing and Yana Kleyn was absolutely superb: strong, steady, brilliant! I have followed her development since she first appeared outside Russia in 2010 and here she is now, on the threshold of stardom.
Did I forget someone? Yes, of course: Ola Eliasson in the title role. A ravishing Silvio, a splendid Almaviva, an intriguing Malatesta and last August a slimy Alberich at Dalhalla are some really high-level role-assumption during the last 7-8 years but this Don Giovanni surpasses them all, if only with a small margin. Every gesture, every little facial expression was spot on and his singing encompassed all the various feelings and moods in the complicated character. Arguably the high-spot of the evening was his serenade, sitting with crossed legs and playing the mandolin, singing with the utmost simplicity, more to himself than to Donna Elvira's maid. This was one of those magic moments when time literally stood still. A ray of light and calm and harmony suddenly condensed all the contradictory feelings of the drama. Go and see it!
Göran Forsling