United Kingdom Handel:  Gail Hennessy (oboe), Devon Baroque / Jonathan Watts (director), Great Hall, Dartington. UK 16.3. 2014 (PRB)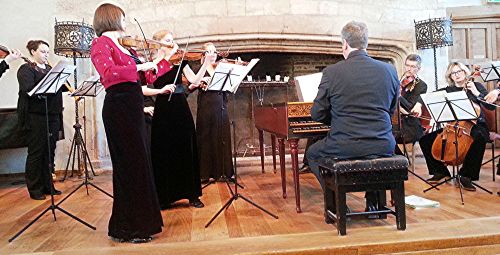 Overture from 'Almira'
Oboe Concerto in G minor, HWV 287
Sinfonia and Suite from 'Rodrigo'
Overture from 'Agrippina'
Concerto Grosso Op 3 No 2 in B flat major, HWV 313
Sinfonia from 'Solomon'
Overture from 'Judas Maccabaeus'
Concerto Grosso Op 6 No 4 in A minor, HWV 322
Overture from 'Giulio Cesare'
 Just over a year ago I reviewed Devon Baroque playing in the Great Hall, Dartington, one of the first concerts under its new Director, Jonathan Watts, with lead-violinist, Persephone Gibbs. So it was of particular interest to be able to hear them again in another afternoon concert, with a number of the same personnel in place, but a year on.
The orchestra has a most sensible policy of presenting any current programme in at least two different venues usually within the county. Prior rehearsal is, of course, rightly geared for the first performance, but the following one, normally a day later, can clearly benefit, too, and especially when the players return to their spiritual home once more, as here.
Themed concerts have been a feature of Devon Baroque concerts in the past, so there was no prize for guessing that 'Handel on the Move' would be based around the composer's travels and various residencies in his native Germany, Italy, and finally England. Geography lessons were never as much fun as this, though, nor delivered to the accompaniment of such delightful music so superbly played.
On paper, however, this all-Handel confection might have appeared rather samey – four overtures, two concerti grossi, two sinfonias, with a suite and oboe concerto thrown in for good measure.  But the reality couldn't have been further from the truth. For not only was there tremendous variety in each work and individual movement, but also such an assortment of different textures and instrumentations along the way.
Directing from the harpsichord, Watts maintained a perfectly-balanced and taut ensemble, where dynamic contrasts were particularly well-pointed, but all achieved with such an enviable economy of gesture. This was mirrored perfectly by the outstanding performance of lead-violinist Gibbs, whose relaxed communication with the rest of the orchestra also played such a vital part in the proceedings, and the sine qua non in coordinating string and woodwind phrasing, while also despatching some often intricate passage-work with great panache and gusto herself.
The four overtures emerged as particular highlights, where Handel's quite distinct musical characterisations were vividly portrayed in the performance – the pregnant silences, for example, in the overture to Agrippina, proving especially telling, yet effected so naturally.  Equally delightful were the four dance movements selected from Rodrigo – the Gigue, Sarabande, Matelot and Passacaglia – all given with great exuberance and jollity where the writing demanded, or modest expression and uncluttered ornamentation when this was called for.   Baroque-oboist, Gail Hennessy's gave an assured performance of the G minor Concerto, with almost flawless articulation in the fast movements, and a well-rounded and most expressive tone in the slower, sustained moments.
A welcome inclusion was the Sinfonia that occurs at the start of Act 3 of Solomon – perhaps better known as the Arrival of the Queen of Sheba. Not only did this afford the opportunity to present a work well-known to music-lovers, whether Baroque aficionados or not, but more importantly it emphasised just how different such a familiar piece can sound when given historically-authentic treatment and played on period instruments – in fact the raison d'être of Devon Baroque and other similar ensembles.
But if the music and playing had been truly delightful, perhaps one of the best things to have emerged was how the ensemble has clearly moved on seamlessly in a year, and that any subtle changes have been to the greater good of championing music of the period, and to making it more accessible to those who still have yet to appreciate what this can offer in performance. And, with the glorious countryside-setting bathed in warm spring sunshine, it surely doesn't get much better than this.
Philip R Buttall