Sweden Mozart,  Don Giovanni, Soloists, Royal Opera Chorus and Royal Court Orchestra, Orchestra / Lawrence Renes (conductor), Royal Opera, Stockholm, 15.3.2014. (RD)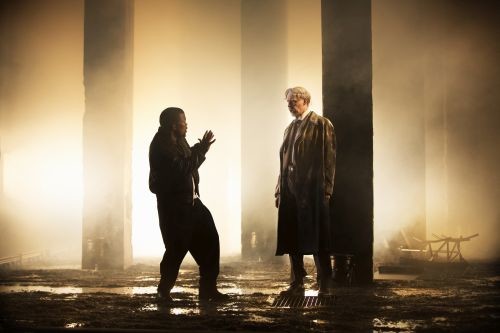 Cast:
Don Giovanni: Ola Eliasson
Leporello: Lutando Qave
Commendatore: Anders Lorentzson
Donna Anna: Yana Kleyn
Donna Elvira; Elin Rombo
Don Ottavio: Michele Angelini
Zerlina: Sara Widén
Masetto: Linus Börjesson

Production:
Director and Designer: Ole Anders Tandberg
Costumes: Maria Geber
Choreography: Anna Koch
Lighting: Sutoda
Over the past two seasons Sweden's Kungliga Operan, the Royal Opera in Stockholm – which has one of the most attractive splendid and building interiors in Europe – has rolled out productions of some two dozen operas. Their Magic Flute alone, directed by Ole Anders Tandberg, has enjoyed some 39 performances.
 They range from staples of the repertoire – Carmen (with Katarina Dalayman in the title role), Trovatore, Turandot, Andrea Chenier (with José Cura) – to bicentennial Wagner celebrations (Parsifal, directed by Christof Loy, sandwiched between Lohengrin and – this April – Tannhäuser; miraculous Richard Strauss (Elektra, Capriccio); and modern treasures like Bluebeard's Castle and Dialogues of the Carmelites; plus operas with Baltic associations (A Masked Ball, its tragic assassination set in Stockholm; The Queen of Spades – St. Petersburg, 1890; and Thomas Lindahl's Karlsson on the Roof, based on the great Swedish children's novelist Astrid Lindgren).
 There has also been an intriguing British emphasis (Britten's Peter Grimes, starring tenor John Daszak, and The Golden Vanity, dusted down for 16 performances to celebrate the Britten centenary in 2013; plus – coming this May – a new Swedish production of Purcell's Dido and Aeneas.
 To top it all, there is Mozart. To go with The Magic Flute (2012-14, still in the repertoire till 5 April), the Royal Opera has staged a complete Da Ponte trilogy, all of them directed by Ole Anders Tandberg, who is also, perhaps primarily, a stage designer. Figaro ran from 2010-12; and Cosi during 2011. Now comes his eagerly awaited new Don Giovanni.
 Beset by a vast archipelago, Stockholm, is actually almost four hours' sailing time from the Baltic Sea. I fear Tandberg's Don Giovanni was itself somewhat at sea, playing with ideas rather than exploring them, proffering some that were in essence cheap and lightweight, and while occasionally hitting the jackpot – thanks to some very fine voices on show – seemed to flail in a muddy trough of ropy visual 'ideas' rather than coming up with a salient concept that actually helped and enhanced Mozart's theme.
 The Overture – it was nice, almost unusual, to have one free of distracting stage business – revealed a drawback in the theatre's acoustic, which tends to hug orchestral sounds close to the proscenium rather than distribute them around the auditorium. How far that impacted on the singing was hard to say: possibly less than on the orchestra. But perhaps the depth of the pit, or some aspect of the décor above, needs the friendly attentions of a first rate acoustician.
 The orchestral playing under Lawrence Renes (currently also conducting Tandberg's Magic Flute), while utterly reliable, was sometimes sound and serviceable rather than electrifying; yet Renes drew some exciting playing for the dramatic bits, especially where the Commendatore's music and Giovanni's fate motif was involved; the trumpets were the best of a mixed bunch of brass. There was some nice woodwind. But the person I would really pick out was the harpsichord accompanist, Inese Klotina: endlessly hardworking, she really applied herself, and the recitatives were always guaranteed to have bunch thanks partly to her.
 The costumes (Maria Geber) were agreeable and serviceable, the set (by Tandberg, who will direct Shostakovich's Lady Macbeth of Mtsensk at the Deutsche Opera Berlin in 2015, and has shows himself something of a Monteverdi specialist at Den Norske Opera in Oslo), frankly not.
 The singing was pleasing all round. Ola Eliasson has range – in October last year he was their Amfortas in Parsifal: I found his vital, almost feisty tone in ways more satisfying than his long suffering bagcarrier-cum-mentor, Luthando Qave's Leporello, although the latter delivered a vital list-aria at the start and shone again vocally later on.
 The real problem – and Tandberg's staging is not alone in hitting this problem – is that Giovanni and Leporello really must be closely and tightly directed. They cannot just be left to fool around. The main way this was dealt with – not original, but not a bad one – is that Leporello is forever filming Giovanni's antics, as if saving up evidence to preserve his own skin at some future court hearing.
 Eliasson is amazingly photogenic. Hence the black and white images had both a power and a pathos: they played up the staring-eyed madness of this unruly, ungovernable man – a maniac, effectively. The last image, a potent one, was of Eliasson's dead face; as so often with Don Giovannis, you feel rather sad that it's all over.
 Donna Elvira, the one who is really in love with him, perhaps would have missed him more than anyone. Elin Rombo is given some rather silly antics to perform, but she sings every one of Elvira's arias, and much of the arioso and recitative, with unerring beauty. 'Ah, chi mi dice mai' and 'Mi tradi quell'alma ingrata' were just entrancing.
 Likewise Yana Kleyn's Donna Anna, a sprightly actress, excelled at every turn, her high notes beautifully secure. Don Ottavio (an impressive tenor, Michele Angelini: Act II's 'Il mio tesoro' was one of his several beautifully modulated contributions) and Masetto (attractive bass Linus Börjesson) were a pleasure at every turn. Hampered by an omnipresent wedding dress that made her look like a doll or a fairy, Sara Widén looked a more pastiched than characterful Zerlina. The humour was a bit stiff or a bit contrived, and the pillared wilderness in which latterly they seemed to be imprisoned did nothing to clarify their roles or personalities.
 The programme included one really invaluable overview: a complete list which showed, blow by blow, how Don Juan has impacted on European culture since Tirso de Molina's Spanish Golden Age play El Burlador de Sevilla y Convidado of 1634 (incidentally the Convidado, or Commendatore, here, Anders Lorentzson, a gaunt figure not unlike Craig Smith's Simon Boccenegra for English Touring Opera, was one of this cast's finest, most elegant singers, as well as believably threatening).
 From Thomas Shadwell's The Libertine Destroyed via Gazzaniga, Cimarosa, Dargomizhky, Franco Alfano (1942) to Malipiero (1964), or in Literature E. T. A Hoffmann, Byron, Pushkin, Lenau, Ödön von Horvath to Max Frisch, in ballet Werner Egk (1940), or in German film Alexander Korda (1934), it draws one's attention to the massive tradition in which this great commedia dell'arte-rooted work stood, and which it helped to invigorate.
Roderic Dunnett
This production runs till Sunday 27 April. www.operan.se/