United Kingdom  Mahler, Richard Strauss: Hillevi Martinpelto (soprano), BBC Philharmonic Orchestra/John Storgårds (conductor), Bridgewater Hall, Manchester, 8.3.2014 (MC)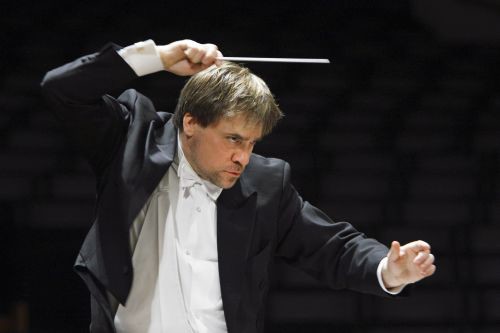 Mahler: Totenfeier
Richard Strauss: Orchestral lieder I
Liebeshymnus
Die heiligen drei Könige aus Morgenland
Frühlingsfeier
Orchestral lieder II
Winterliebe
Gesang der Apollopriesterin
Zueignung
Symphonic poem: Ein Heldenleben
Principal guest conductor John Storgårds took this BBC Philharmonic concert, the last of the collaborative Strauss's Voice serie, to celebrate the 150th anniversary of Richard Strauss's birth. Biographer Michael Kennedy knows a thing or two about Richard Strauss and when he said that Strauss's orchestral lieder are difficult to sing he certainly wasn't exaggerating. Amid this wealth of glorious music in this series we have learnt that few singers have displayed the necessary vocal strength for these difficult works. But assigned with the considerable challenge of performing six of Strauss's orchestral lieder, three either side of the interval, experienced Swedish soprano Hillevi Martinpelto demonstrated she was up to the task. With gleaming tones the secure Martinpelto not only had the power and projection to cut through the hall but was able to colour her tone and give definition to her diction.
My highlight of the lieder sequence was Gesang der Apollopriesterin a beautiful but solemn song with a deliberate tread that deserves to be better known. Totally involved with the music Martinpelto affirmed her ease in her high register giving a moving rendition. Testament I'm sure to effective use of rehearsal time conductor Storgårds deftly balanced the orchestral forces with the weight of Martinpelto's voice.
The main work of the evening Ein Heldenleben (A Hero's Life), a masterwork like several other Strauss scores, can be understood as musical autobiography. The work is unusual in that Strauss employs a narrative of his own imagination – even including a slap at the music critics. When asked the exact meaning of Ein Heldenleben Strauss replied "There is no need of a programme. It is enough to know that there is a hero, fighting his enemies."
Under Storgårds' baton Ein Heldenleben was given a dazzling performance of the quality of twenty four carat gold. The massive orchestra, including nine horns, five trumpets and four trombones, that Strauss requires for his imaginary hero, was held together with steadfast assurance. This is a colourful score packed with incident, and astonishing was the amount of rarely perceptible orchestral detail that Storgårds astutely revealed. Sticking in the memory is the mighty expression of the gloriously unified strings, the effect of the off-stage trumpets sounding like distant hunting horns, and the highly testing dialogue between the solo violin and horn which was quite blissfully played.
Rather less satisfying was the opening work Mahler's Totenfeier a preliminary version of the first movement of his massive Symphony No. 2 'Resurrection'. I had no problem at all with the performance but when heard next to the elevated quality of Strauss's Ein Heldenleben this early tone-poem fails as a stand-alone work. Despite all of Storgårds's guile and physicality and his BBC players trying as hard as they might I remain unconvinced by Totenfeier.
The concert was recorded by BBC Radio for future broadcast.
 Michael Cookson