United Kingdom Harry Hill and Steve Brown, I Can't Sing!:I Can't Sing! Company, Phil Bateman (music director). London Palladium, London, 27.3.2014. (JPr)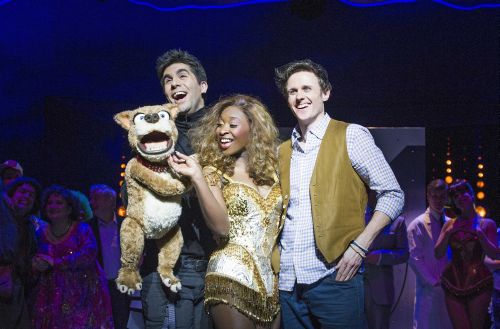 Cast:
Simon: Nigel Harman
Chenice: Cynthia Erivo
Max: Alan Morrissey
Liam O'Deary: Simon Bailey
Hunchback: Charlie Baker
Gerrard Smalls: Billy Carter
Jordy: Victoria Elliott
Louis: Ashley Knight
Barlow: Simon Lipkin
Brenda: Katy Secombe
Grandpa: Joe Speare
Security Guard: Delroy Atkinson
The Voice of Peter Dickson: Peter Dickson
Production:
Book and Additional Lyrics: Harry Hill
Music and Lyrics: Steve Brown
Set Designer: Es Devlin
Costume Designer: Leah Archer
Light Designer: Jon Clark
Sound Designer: Gareth Owen
Choreographer: Kate Prince
Directed by Sean Foley
My biggest concern is how much better this musical might have been – and don't get me wrong I laughed almost continuously throughout – had it not been produced by Simon Cowell, the very person who is being made fun of. His vainglory is almost affectionately parodied – as is his quest for an ever-increasing bank balance – while a West End audience is being asked to pay up to £65 for the privilege – and he presumably hopes to profit from this! That will, I suppose, depend on whether this new musical is a success and survive longer than some most recent failures such as, From Here To Eternity and Stephen Ward. It could … mainly because the coach parties that are so vital for bringing audiences to the West End's shows are more likely to be able to attract people to a fun evening about something they know rather than fairly depressing evenings about Pearl Harbour and the Profumo Affair.
 I gave up on talent shows like Pop Idol, The X Factor and Britain's Got Talent a long time ago – I never really started to be honest – but know enough about them for this not to have mattered. I certainly know Harry Hill's idea of comedy from his long-running TV Burp series and his irreverent, surreal, anarchic, often visual and politically incorrect approach to humour that pervades this whole evening. Actually Simon Lipkin is onstage almost throughout as a talking puppet dog, Barlow, who provides a sardonic Harry Hill-type commentary throughout. I enjoyed this but my companion found him irritating. To tell the truth we saw too much of Mr Lipkin and not enough of the dog which could have been larger or  played by someone in a costume. Nevertheless, many of Mr Lipkin's asides hit their target and one example has him say about himself: 'This isn't exactly War Horse but I'm trying my best here!'
 I know The X Factor franchise has crossed international boundaries but most of the funny business will only really appeal to a British audience and I cannot really see foreign visitors making much of it. They would probably need someone who knows what is going on to explain who is who and what is what. Throughout the evening I was thinking of the Monty Pythons and how this was a 2014 version of  Spamalot. When it eventually closes at the London Palladium (I do not wish this to happen too soon on a very charismatic, talented and hard-working cast) it will do very well on a regional tour. Of course something then will have to be done with Es Devlin's revolving set in the second half. This appears to be where most of the rumoured £6 million pounds has been spent and it still meant that there was – on this second official night – an extended interval making a long evening … even longer.
 Fun is poked throughout at all the hapless wannabees striving for their few weeks of fame. It would be invidious to name them but only a couple of the winners have ever had any long lasting success since it all began in 2004 and they soon find the £1 million recording contract with Cowell's Syco label depends on sales and downloads that for some never happened. We are expected to care for them because of their backstories: overcoming illness or deformity or having sick parents or siblings is always especially good television it seems.
 Here we follow the story of Chenice (the remarkable Cynthia Erivo) who lives in a caravan under a flyover and longs to become an astrobiologist and study extra-terrestrial life at Golders Green 'Centre for UFO Studies'. She has lost both her parents and looks after her Grandpa (Joe Speare) who is dependent on an iron lung. She has never seen The X Factor (the telly has to be unplugged to keep the iron lung working!) and believes she cannot sing. But Max – a plumber and ukulele player – who so far is in unrequited love with Chenice wants her to better herself and suggests to her Grandpa that The X Factor is the way to do it. Unfortunately, the hapless Max messes with caravan's electrics and kills him before he can give his granddaughter the entry form. How much fun you get from this depends on your view of the sort of humour that veers from black here to the later very non-PC tale of a Hunchback, Trevor Modo (Charlie Baker) who at one point is dismissed from the audition with the suggestion that the Embarrassing Bodies show might be more his sort of thing. We also meet a trio called 'Soul Star' – have fun rearranging the 'Soul – St – Ar' they individually displayed on their costumes and you get the idea of what sort of show this is?
 Simon (a brilliant preening performance of grandiose self-regard from Nigel Harman) get a lavish chorus line number 'Uncomplicated Love' and then makes blind people see and the lame walk again during 'Fabulous' because it is believed he can cure them like Jesus! We first see Simon as a precocious child with high-waisted shorts in 1971 dreaming of money and future fame and then he grows up and we are warned that due to his 'high virility if you look at him directly you may become pregnant'. Later he expresses his first rule of life; how self-love is 'the only true love that can exist in show business'.
 There are probably a number of others you might also recognise; Brenda (Katy Secombe) is Mary Byrne (now Welsh, not Irish, and working at the checkouts in 'Tesda'), Vladimir (Steven Serlin) is Wagner, and the Altarboyz (Rowen Hawkins and Shaun Smith) are Jedward who are so very 'Oirish' but are thrown off the show because they are revealed not to be. The number 'Here Come The Judges' (I am old enough to remember Rowan Martin's Laugh In which had a similar anthem) brings us a doddery, demented, Louis (Ashley Knight) and there is no need to ponder who he is supposed to be, and the blowsy man-eater Jordy who has all Cheryl Cole's mannerisms – almost every utterance ends in 'pet' and each girl is 'like a little sister to me' – but she sings far too well. One of her best lines is 'We're the judges of The X Factor; we don't know nothin' about music!' Even better was the motormouth host Liam O'Deary (Dermot O'Leary) who sings 'The Hugging Song' about how his life is so empty that he only gets solace (perhaps too much?) from hugging strangers: O'Deary embodies all of O'Leary's stage mannerisms almost too perfectly.
 Throw into the mix a dead pig, a talking urn of ashes, a camp producer (the splendid Billy Carter) who Tasers those who go OTT, a giant fly, leprechauns, Grandpa descending on a cloud bringing a message from God about how he loves The X Factor, a spacecraft descending over the stalls – and you should be convinced now you will not be bored. A spacecraft I hear you ask? Well it turns out that Chenice was right to believe in UFOs because apparently Simon is an alien from Planet X and having made enough money it is time to go back home! That's enough of that – except to say it is the rapping Hunchback who wins The X Factor 2035 recording contract but Chenice does find true love with Max. If this is your sort of thing then I urge you to go as you will really have a great night.
 I Can't Sing! is not perfect and is too long, especially the first half with its unnecessary scene with an undertaker, and we should meet all the judges a lot sooner. The stage is often a little too cluttered but Sean Foley's direction is so relentless and upbeat that my smile rarely faded. Overall, the songs were much better than From Here To Eternity though of course the subject is a less serious one here but – pastiche as of course they must be – they were surprisingly less derivative and certainly much less sloppily rhymy. The small band under the direction of Phil Bateman at the keyboard gave them an exuberant accompaniment, although it was all a bit too loud at times. The evening is a triumph for (forgive the cliché but it is a true description) the pocket-rocket Ms Erivo as Chenice who is totally engaging throughout, belting out all her songs such as 'I Can't Sing' and the closing 'Journey To A Dream' and out-singing everyone on stage. There is great chemistry between her and Alan Morrissey's engaging Max which is showcased with their affectionate duet 'Missing You Already'. Let's hope Cynthia Erivo gets the opportunities in the future to become the true West End star she deserves to be.
Jim Pritchard
For more about the London Palladium performances of I Can't Sing! visit http://www.icantsingthemusical.com/.