Denmark George and Ira Gershwin: Porgy and Bess Soloists, choral ensemble, Royal Danish Orchestra, Michael Boder (conductor), Operaen, Copenhagen, 22.03.2014 (NS)
Cast:
Porgy: Derrick Lawrence
Bess: Elizabeth Llewellyn
Sportin' Life: Robert Anthony Mack
Crown: Rodney Earl Clarke
Jake: John Fulton
Clara: Jeanine de Bique
Robbins: Michael Austin
Serena: Sabrina Elayne Carten
Peter the Honeyman: Rodney V. Vaughn
Maria: Judith Skinner
Jim: Samuel McDonald
Mingo: Calvin Lee
Nelson: Richard Youman
Lily: Pamela Jones
Annie: Sequina DuBose
Strawberry woman: Nicole Jordan
Crab man: Jermaine Brown, Jr.
An undertaker: Matthew L. Gamble
A coroner: Anders Jakobsson
A detective: Magnus Gislason
The other woman: La'Shelle Allen
The pianist Jasbo Brown: Gary Mitchell, Jr.
Production:
The Royal Danish Opera
Direction: John Doyle
Set and costume design: Liz Ascroft
Choreography: Nikki Woollaston
Lighting: Johanna Town
Porgy and Bess has an extraordinary history in Denmark, being first performed (with a Danish cast) on 23 March 1943 under Nazi occupation. Amazingly, this was the first time Gershwin's opera was performed outside the United States. The production was eventually banned by Hitler's administrator in Denmark, but not before it had gripped sell-out audiences at the Royal Danish Theatre. The production was revived after the war, and a new production ran in 1970-1971; before this year Porgy and Bess was performed a total of 103 times in Copenhagen.
 
This background may go some way to explaining why the 30 performances of this new production are already nearly sold out. After this triumphant premiere I would say buy your tickets before they sell out! This production really shows what a great opera Porgy and Bess is.
For me Porgy's first entrance is symbolic of the production. Derrick Lawrence gave his character dignity, humanity and a generous heart. His richly-coloured baritone was always wonderfully expressive, and projected through the ensembles with ease without ever having to rely on decibels to carry through. Director John Doyle had a very convincing solution to showing Porgy's disability without diminishing his stature.
Elizabeth Llewellyn's Bess was equally captivating. Her golden-toned voice had many colours and convincingly expressed everything from hope to despair, love to loneliness. Her acting was also many-faceted, showing Bess' vulnerability and most of all why Bess loves Porgy: because he loves her despite knowing her flaws, when the rest of the community only accepts her when she conforms to their norms of behaviour. The chemistry between Mr Lawrence and Ms Llewellyn was intense. All of their arias and duets were simply superb, it is impossible to pick out a highlight.
The third outstanding performance was Sabrina Elayne Carten's Serena, whose robust and dramatic soprano electrified in the searing grief of "My Man's gone now". Her acting matched Serena's status as a pillar of the community and a person of strong faith.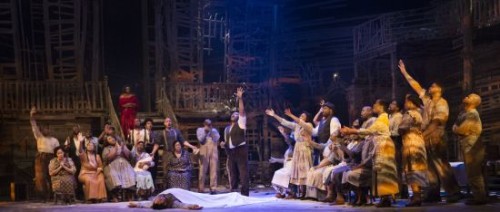 The villains were also colourful and complex. Rodney Earl Clarke was a convincingly handsome and dangerous alpha male as Crown. The complex relationships between him and his community, and between him and Bess, were astutely portrayed in the production and in particular by Crown and Bess when they were together. Vocally however he was somewhat underpowered.
Robert Anthony Mack's Sportin' Life was dapper, slippery and nifty on his feet. He convincingly portrayed the character's amorality and intelligence while singing oh-so-sweetly with a delightful tenor ("It ain't necessarily so" stole the show during the church picknick).
The supporting cast was also of superb quality. John Fulton (Jake) and Jeanine de Bique (Clara) were an devoted onstage couple; Jake's "A woman is a sometime thing" was more gently pulling Clara's leg than winding her up. Clara's "Summertime" was particularly touching in the hurricane scene. Michael Austin was a larger-than-life Robbins with a rich voice and Judith Skinner's colourful Maria was the only person who could really disconcert Sportin' Life.
Johanna Town's lighting was also colourful and was incredibly effective in setting the atmosphere in a set that was otherwise virtually static. She really brought home the scorching sun and the steely sky just before the hurricane broke. Liz Ascroft's costumes were perfectly well-judged, carefully amplifying aspects of the singers' characters. Nikki Woollaston's choreography and John Doyle's direction melded seamlessly to show the emotions of the whole community as well as creating striking stage pictures. Michael Boder and the Royal Danish Orchestra were both well-rehearsed and thoroughly enjoying themselves.
The choral ensemble had lots of fantastic music and enjoyed every bar of it. Many of the ensemble singers were clearly soloists in their own right, as shown by their uniformly excellent cameos in the minor parts. Some of the choral ensemble music is fiendishly complex but all of it was sung with aplomb and most of all lots of heart, passion and pride in a wonderfully rich musical tradition.
Niklas Smith