United Kingdom Tchaikovsky,The Sleeping Beauty: Soloists, Students of The Royal Ballet School, Corps de Ballet and Royal Opera House Orchestra / Valery Ovsyanikov (conductor). Live cinema relay (introduced by Darcey Bussell) broadcast to the Vue Cinema, Piccadilly, London. 19.3.2014. (JPr)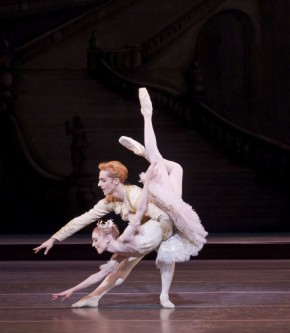 Cast:
Princess Aurora: Sarah Lamb
Prince Florimund: Steven McRae
Carabosse: Kristen McNally
Lilac Fairy: Laura McCulloch
Princess Florine: Yuhui Choe
The Bluebird: Valentino Zucchetti
Production:
Choreography: Marius Petipa
Additional choreography: Anthony Dowell, Frederick Ashton and Christopher Wheeldon
Production: Monica Mason and Christopher Newton
Music: Pyotr Il'yich Tchaikovsky
Original designs: Oliver Messel
Additional designs: Peter Farmer
Lighting design: Mark Jonathan
Staging: Christopher Carr
During one of two informative backstage films Francesca Franchi, Head of ROH Collections, reminded everyone how the 2006 staging by Monica Mason, the former director of Royal Ballet, 'is a recreation of the production that reopened the opera house after the end of the Second World War … The aim of this is to recreate that atmosphere of that production of 1946.' Monica Mason herself added how it has been 'closed as a theatre and became a dance hall (and) was leased by Mecca Cafés Ltd … After the war the (Sadler's Wells) company was invited to be resident here in the Royal Opera House and that is what came to the 1946 opening and the first performance of The Sleeping Beauty.' Ms Franchi added this had been deemed very appropriate as the ballet involves 'a reawakening of the Princess after her 100 year sleep and it was the reawakening of the opera house.'
Oliver Messel's production has become the stuff of legend and I heard much about it from my own mother who was there on the second night. The Sleeping Beauty ballet has had something of a chequered-history over subsequent years at Covent Garden and I became most familiar with Anthony Dowell's version in 1994 when he was director of the Royal Ballet. Fast forward to 2006 and it was Monica Mason's intention to bring back that semi-mythical production as close as possible to Messel's original intentions. The basis – as it should be – are Petipa's near-sacrosanct steps that were given to the company by Nicholas Sergeyev, régisseur of Russia's Imperial Mariinsky Theatre. These have accreted some additional choreography over the years including Frederick Ashton's Act II variations for Aurora and the Prince, Anthony Dowell's interpretation of Carabosse and her rats, as well as, a new – fairly irrelevant it must be added – Act I Garland Dance from Christopher Wheeldon.
There was obviously some painstaking effort taken by Peter Farmer to recreate Oliver Messel's original sets and costumes: the latter were generally in muted pastel shades for the Prince, Princess, fairies and most of those actually dancing but were vividly coloured and elaborate for the various courtiers who just did more standing around. As a cinema experience the sets were quaintly two-dimensional and redolent of a toy theatre with their overall chocolate-box – and very appealing – baroque prettiness. But although this still continues to provide a handsome background to the dancing and does not overpower it, I wonder how long it will take for ballet designs for the 'classics' to become more up-to-date and use video more frequently to create realistic changes of scenery – as is currently happening with many new opera productions?
Reviewing the Royal Ballet on an infrequent basis does not allow me to really comment on their current general health but the corps de ballet and students of The Royal Ballet School seemed totally engaged with what was going on and never appeared to 'switch off' – and this is very important considering Ross MacGibbon's close-up direction for the cinema. Occasionally the ensemble dancing lacked the synchronicity of the truly exceptional companies and when a number of heads, arms and legs do not move in unison it becomes obvious on a huge screen. The Royal Ballet has been performing The Sleeping Beauty every few days in repertory since 22nd February with several performances still to come and perhaps their stamina is beginning to suffer.
I loved the clarity of the mime the Royal Ballet used but wished more was said about it by Darcey Bussell or in the background films for the benefit of ballet novices who might wonder what all the hand gestures were all about. Four performances stood out for me; firstly Elizabeth McGorian and Alastair Marriott (I believe?) as the Queen and Cattalabutte. She is the very caring and compassionate mother of Princess Aurora, the heroine of the familiar fairy-tale whose finger prick casts the court into that century-long sleep and Cattalabutte is the prissy, over-officious master of ceremonies, whose failure to invite the fairy Carabosse to Aurora's christening 'spells' disaster for the King Florestan and his Queen. Kristin McNally seemed far too beautiful in this production to be evil-incarnate and appears to do what she does here mostly out of piqué and little else. Ms NcNally – although lacking any real mystery – suitably 'chewed the scenery' whenever she appeared and I could not take my eyes off her. Nevertheless, I still preferred the role as it was played by Anthony Dowell and others en travesti. As the Lilac Fairy, whose consolation lifts Carabosse's curse, Laura McCulloch convincingly radiated the beneficence her character needs if we are to truly believe she is the power of good that can overcome all the evil of the Wicked Fairy.
My biggest concern was with the two leading dancers, Sarah Lamb and Steven McRae, as Princess Aurora and Prince Florimund. Perhaps my expectations were too high after seeing Carlos Acosta and Natalia Osipova's enervating Royal Ballet live transmissions recently, but it does highlight that today there are still ballet superstars … and the rest. Sarah Lamb and Steven McRae are fine technicians but – for me – lacked the charisma to make me care for their characters' plight. This would matter little in the theatre but in close-up on the cinema screen there was a lack of true drama in their performances and little chemistry between them it seemed. Far more credible was the partnership of the enchanting Yuhui Choe and more ethereal Valentino Zucchetti bringing a genuine joie de vivre to their showcase in Act III as Princess Florine and The Bluebird.
This was a little surprising because in another backstage film Ms Lamb said how her role is not only a technical challenge but also an artistic one and that 'in rehearsal you can work and work and work; then on stage you have to remember what happens … happens' and how it should not just be only technique but 'someone conveying a story through movement (which) is really all that matters ultimately'. Unfortunately, even though she knew what was needed Sarah Lamb's performance lacked naturalness, warmth, and more crucially, a 'journey'. She was evidently well-schooled and there were a lot of wonderfully precise, swift, nimble steps and also, she has the suitably gamine look of someone who could actually be 16. However, her Act I Rose Adagio – that should be a genuine pas d'action – was just a ballerina balancing on her toes and successfully striving not to overbalance. Valery Ovsyanikov, conducting an energetic well-played account without a score, especially hurried the music along here. Sadly one problem with Steven McCrae was that he was too short and too slim and often disappeared behind Ms Lamb when carefully partnering her. Again he was another technically very proficient dancer and there were many effective moments from him without the Prince being brought to life. His Act II Adagio solo was performed elegantly and cleanly but his 'coach' Alexander Agadzhanov had suggested the Prince has 'to create with his steps his mood and his loneliness, how he feels', I never felt anything and it just looked like some abstract contemporary dance. In this regard it would have helped if Steven McRae had more than just one facial expression. However, he whipped through his Act III solo and this created quite a frisson for me that quickly dissipated as the transmission to the Vue Cinema, Piccadilly, temporarily lost the picture – thankfully – only directly after the conclusion of the grand pas de deux.
One final observation – that I hope that those involved in these cinema broadcasts will not mind me making – is that we see the dancing most often from below as if we are in the first few rows of the Stalls, I would much prefer the camera work to pull back from time-to-time and show more of the 'bigger picture' and also have the dancers filmed from waist height or higher whenever possible and not just unflatteringly upwards from the level of their knees as mostly happens now.
Jim Pritchard
To view the full list of productions for the 2013/14 Season and find a cinema near you visit http://www.roh.org.uk/cinemas.