United States Mayuzumi, Koyama, Stravinsky: 100th Anniversary World Tour, Tokyo Philharmonic Orchestra, Eiji Oue (conductor), Alice Tully Hall, Lincoln Center, 11.3.2014 (DS)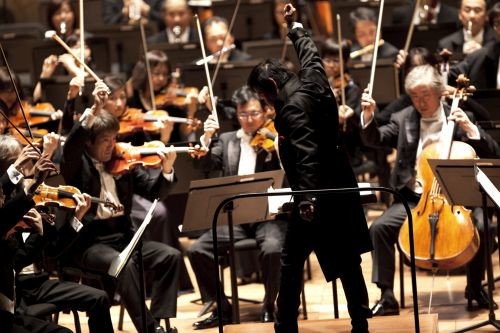 Toshiro Mayuzumi: Bugaku Ballet in Two Parts
Kiyoshige Koyama: Kobiki – Uta for Orchestra
Igor Stravinsky: The Rite of Spring
Three years ago, the Tokyo Philharmonic Orchestra was due to make its United States debut at Lincoln Center. The ensuing tsunami, the catastrophic effects of which reverberated to friends and relatives around the world, stopped this musical event from happening. But this year, in the same week of the tsunami's remembrance, the Tokyo Philharmonic under the baton of Eiji Oue arrived in the United States as part of their 100th-anniversary world tour— making this a particularly moving event.
The gala performance (complete with gorgeous red gladiolas at the Alice Tully Hall entrance) featured three works—two by 20th-century Japanese composers Toshiro Mayuzumi and Kiyoshige Koyama, and Stravinsky's Rite of Spring. While the Rite of Spring needs no introduction to New York audiences, the two Japanese works are less familiar, though Mayuzumi's Bugaku was commissioned by New York City Ballet in 1963. Bugaku, along with Koyama's Kobiki-Uta for orchestra, combined traditional Japanese court and folk music with grand swaths of Western symphonic material. The reminiscences of Stravinsky, Copland, Respighi, and Bernstein floated through a world of orchestral instruments imitating the sounds of traditional Japanese ones thus creating a fascinating layered commentary that bounced back and forth between imitation and originality.
The orchestra played with fantastic attention to balance, and with succinct clarity. And the techniques mimicking Japanese sounds and moods, in combination with Western structures, were well-proportioned and exceptionally captivating. At times they slightly overstretched the concept of "big orchestra" with more forte and less piano than called for (especially in The Rite of Spring, which demands more nuance than some realize), but this was nevertheless a testament to their power and technical strength.
Fortunately, my seat was in the balcony which afforded a view of the entire orchestra. I immediately noticed a distinct difference from most American orchestras – the percussion and bass sections had a substantial number of female musicians. This small but significant detail gave a special insight to the fresh character and wide scope of this impassioned group. And Oue was wonderful to watch—a smooth leader as well as a discerning, creative interpreter.
Daniele Sahr