United Kingdom Liszt, Stravinsky, Cowton, Pook, Lest We Forget: Artists of English National Ballet, Orchestra of English National Ballet / Gavin Sutherland (conductor), Barbican Theatre, London, 2.4.2014. (JPr)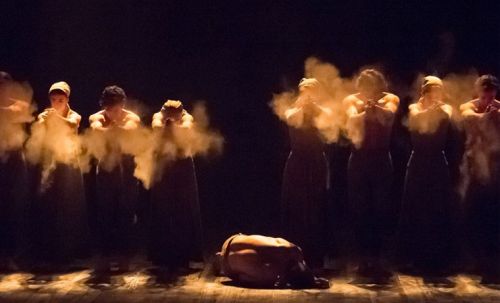 No Man's Land
Choreographed by Liam Scarlett
Music: Franz Liszt (excerpts from Harmonies poétiques et religieuses)
Tamara Rojo, Esteban Berlanga
Erina Takahashi, James Forbat
Fernanda Oliveira, Max Westwell
 
The Firebird
Choreographed by George Williamson
Music: Igor Stravinsky
Ksenia Ovsyanick: Firebird
Zdenek Konvalina: Peacock
Begoña Cao: Purity
Nancy Osbaldeston: Celebrity
Junor Souza: Captain
Second Breath
Choreographed by Russell Maliphant
Music: Andy Cowton
Alina Cojocaru & Junor Souza
Dust
Choreographed by Akram Khan
Music: Jocelyn Pook
Tamara Rojo & Akram Khan
In her introduction in the programme English National Ballet's Artistic Director, Tamara Rojo, explains the inspiration for this though-provoking Triple Bill Lest We Forget: 'The Great War has left an indelible impression on the culture of this country, inspiring some of the finest literature and music. As we approached the centenary, I wanted to see how dance too could explore that memory and add to our understanding of it so I invited three of Britain's finest choreographers, Akram Khan, Russell Maliphant and Liam Scarlett to create pieces to mark the anniversary. I was absolutely thrilled when they all agreed. I am honoured that for Akram and Russell, both masters of contemporary dance, these are the first works for a classical ballet company. Liam is one of the brightest young talents of the classical ballet scene whose work I have followed from the beginnings of his career and it is a delight to be working with him again.'
This evening is a triumph for the entire company of English National Ballet because without their talent and commitment to embrace the different styles of dance we saw and Tamara Rojo's vision and drive as their Artistic Director. This could deservedly be a turning point in the company's history. In a recent BBC HARDtalk interview she explained how 40 Nutcrackers at Christmas was the price that had to be paid to finance innovative programming such as this. I look forward to more ENB Nutcrackers if it results in more ambitious, compelling – and occasionally deeply-affecting – evenings such as this. The Barbican proved to be an excellent venue for this Triple Bill even if the pit might be a bit too small and  the music needed to be amplified. At times it sounded pre-recorded, though it was actually being performed live.
I personally do not agree with the premise for Lest We Forget but I will not let that reflect in my experience of what I saw. I believe commemorating over four years something that nobody living today will remember living through is typically British because we can never seems to forget anything. Of course I want the sacrifice for those who lost their lives in such horrendous circumstances – and huge numbers – to be acknowledged.  But that is what Remembrance Day – and the observance of the ending of WWI hostilities ended 'at the 11th hour of the 11th day of the 11th month' – is for.
Liam Scarlett's No Man's Land, is the first new work we see and there are women working at their benches at the back of Jon Bausor's munitions factory as their men go off to war. It is danced to music by Liszt arranged and orchestrated by the conductor Gavin Sutherland with some virtuoso playing from Julia Richter because they were originally piano pieces. Seven couples begin by exploring the emotions behind pain of separation and the longing for reunion. After a very strong opening there is an arresting image as the women's white arms, clutching their loved ones from behind, become the straps of the soldiers' knapsacks as they begin to trudge off to war. There is much other poignant lyrical choreography that the ENB's dancers uniformly excel in, led by Tamara Rojo and Esteban Berlanga, but it does outstay its welcome and all the acrobatic movement becomes a little repetitive.
The Firebird was originally created in 1910 and was based on a traditional Russian fairy tale. George Williamson who has 'changed about 90 percent of it' since it was first danced by the ENB two years ago suggests that it taps into the idea of men leaving their homes behind and going on a quest' and the 'destruction of nature' that war causes. It remains an eco-tale with no particularly strong narrative, whilst hinting very strongly at having been influenced by the film Avatar. First Dancer Ksenia Ovsyanick is one of the ENB's most promising ballerinas and her otherworldly Firebird – whose emergence pays homage to Nijinsky's Faune – is once again limber, lithe, tireless and alluring. She is costumed in David Bamber's eye-catching, body-hugging, unitard with its bold colours, much foiling and feathered headdress. Humanity seems to take her to the brink of extinction by wanting bits of her: some of her plumage is removed and danced with, later to be returned as if humanity comes to regret its treatment of her, and it all ends with the Firebird being held aloft in triumph. It gives Zdenek Konvalina as Peacock, Junor Souza (like Ovsyanick one of the company's most promising young dancers) as Captain and the always reliable Nancy Osbaldeston, a radiant Celebrity, moments to shine.
There was a short elegiac music interlude of Cortège from Cecil Coles's Behind the Lines – that regrettably allowed most of the first night audience a chance to talk – and then came Russell Maliphant's Second Breath. Here it was the precise movements of the 20 dancers that impressed in a piece that focusses on the experience of men at the front. Andy Cowton's tense soundscape juxtaposes jagged orchestra music against recordings from the Imperial War Museum (numbers of dead and utterances of 'continual bombardment'). In Michael Hulls' sombre subdued lighting (similar to Paul Keogan's for No Man's Land) the curtain rises on men and women eerily swaying and the first half has them all clinging together, rising or falling as if shot or blown up. The second half brings an anguished pas de deux for an intense Alina Cojocaru and eloquent Junor Souza as a parted couple trying to reconnect though this didn't quite seem to match the rest we had seen.
The very best came last with Akram Khan's Dust, something that I certainly want to see – and hear – again because it was so haunting, dramatic and, yes, actually quite agonising to watch. It revelled in the power of dance to display raw emotion and make a genuine audience connection with a powerful theme. Khan's opening writhing solo when he genuinely seems to uncoil perhaps gets Dust off to a slower start than necessary. The most searing image is when Khan is shown in the centre of two lines of roughly-clothed people with linked slinky arm movements in repeating waves of motion. But we have also seen Khan stand on his head at one point and everyone put their hands together and generate a cloud of dust. The men leave moving up the no-man's-land slope of Sander Loonen's evocative set to leave the women behind on the production line and to keep the home fires burning. The heart-wrenching collective tragedy of war can never have been better expressed without the use of dialogue. There are words in Jocelyn Pook's soul-stirring new score that I could listen to on its own. Khan accents with his imitable contemporary choreographic style all that music's sorrow and heartache and the ENB's ensemble fully embraces all Khan asks of them with consummate ease and wonderfully expressive technique. Dust concludes with a touching gymnastic duet for Khan and Tamara Rojo when they are constantly coming together and pulling apart, Rojo frequently embraces him with her legs round his waist and if she has done anything better in this idiom I wish I had been there. Eventually she is centre-stage and spinning alone, arms out, perhaps hoping he will be back … but perhaps she is alone now forever.
Lest We Forget – it will be a long time before the memory of this fascinating evening fades and I urge you to go and see it if you can.
Jim Pritchard
For more about the English National Ballet's forthcoming performances www.ballet.org.uk.
.