Argentina Glanert, Caligula: Soloists, Chorus and Orchestra of Teatro Colón. Conductor: Ira Levin, Teatro Colón, Buenos Aires. 1.4.2014. (JSJ)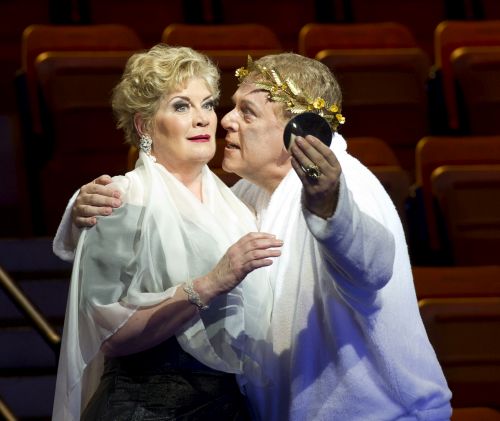 Cast:
Caligula: Peter Coleman-Wright
Caesonia: Yvonne Howard
Helicon: Martin Wölfel
Cherea: Héctor Guedes
Scipio: Jurgita Adamonyte
Mucius: Fernando Chalabe
Mereia / Lepidus: Víctor Torres
Livia: Marisú Pavón
Drusila: Lara Tressens
Four Poets: Nazareth Aufe, Marcelo Monzani, Cristian Maldonado, Cristian De Marco
Production:
Director: Benedict Andrews
Sets: Ralph Myers
Costumes: Alice Babidge
Lighting: Jon Clark
Chorus: Miguel Martínez
The death of Caligula at the hands of a mass of people strikes particularly close to home, given the spate in recent days of mob attacks on criminals (real or alleged) across Argentina. As such, it made for a particularly powerful ending to an absorbing and largely shocking statement (the momentum of the first part never quite building to the same extent in the second) on power and excess.
Glanert's Caligula, based on Camus' 1944 play of the same name, has attracted extensive and mixed commentary, both for its content and musically. The version presented here is the 2012 English National Opera (ENO) production by Benedict Andrews, but sung in its original German (with excellent diction, the German colleague in the neighbouring seat commented) – and with the same two principals, Peter Coleman-Wright in the title role and Yvonne Howard as his wife Caesonia. Alongside these both Martin Wölfel (Helicon) and Jurgita Adamonyte (Scipio) were part of the original 2006 Frankfurt cast, with the remainder local artists.
The production makes little attempt to re-create 1stcentury Rome and instead it is suggested in the setting, which is dominated by a stadium-like tiered bank of plastic chairs, on which different groups of spectators move and sit and the nude Drusila (Caligula's now dead sister and lover) wanders – a concept that works well, in making these spectators part of the action while at the same time drawing in the audience. In such a context modern day dress is of course de rigueur, with Caligula's Act 3 drag outfit and Helicon's toga also entirely in keeping.
Ira Levin, who holds the position of invited principal director of the Colón orchestra, was in complete command, providing a fluent and well balanced playing from the augmented orchestra.
Peter Coleman-Wright gave a masterly – if obviously older than 30 years – performance as Caligula, effectively conveying the perversity and absurdity of the character. Yvonne Howard was similarly effective as Caesonia, particularly her distracted approach to Caligula's goings on in the first half. Martin Wölfel's voice was just right for Helicon and after Jurgita Adamonyte's Scipio, look forward to seeing her in the completely different role of Idamante later in the year.
Good work too from Héctor Guedes (Cherea), Fernando Chalabe (Mucius), Victor Torres (Mereia and Lepidus) and Marisú Pavón (Livia), and from the young actress Lara Tressens (Drusila), as apparition-like as she could be, who didnt take a curtain call.
From the audience in a not completely full theatre, only a moderately enthusiastic reception.
Jonathan Spencer Jones