Germany Donizetti, Don Pasquale: Soloists, Chor und Statisterie des Staatstheaters am Gärtnerplatz & Orchester des Staatstheaters am Gärtnerplatz, / Loeg Ptashnikov (conductor), Cuvilliéstheater, Residenz, Munich,  4.4.2014. (MC)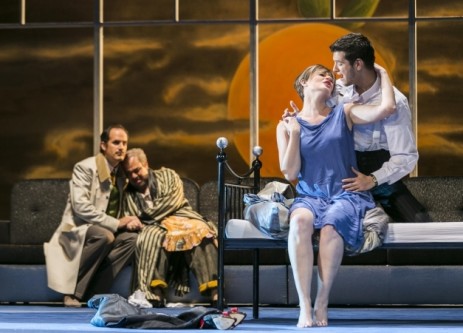 Cast:
Don Pasquale: Marco Filippo Romano (baritone)
Norina: Anja-Nina Bahrmann (soprano)
Dr. Malatesta: Mathias Hausmann (baritone)
Ernesto: Adrian Strooper
Notary: Ute Walther

Production:
Direction: Brigitte Fassbaender
Stage and Costume: Bettina Munzer
Dramaturgie: David Treffinger
Chorus Director: Jörn Hinnerk Andresen
It is natural for productions of the Bavarian State Opera at the National Theatre to get the lion's share of publicity. But if ever there was a case for recognising the excellent work of Munich's Gärtnerplatztheater company this was certainly it. This production of Donizetti's comic opera Don Pasquale held at the stunning rococo style Cuvilliés Theater in the Munich Residenz was hugely amusing and one of the most enjoyable evenings at the opera I have had for some time.
I expect the Gärtnerplatztheater company was working with a very limited budget; nevertheless everything seemed to work splendidly. Especially convincing was the expert direction of Brigitte Fassbaender whom I had the pleasure of interviewing the following day. This was a fast moving, zesty production with bucket loads of humour achieved by allowing the Italian libretto to do the work, a process that is not as easy to accomplish as it might seem. Bettina Munzer's cleverly designed set was reasonably sparse yet highly effective as were her brightly coloured contemporary costumes. There were numerous impressive touches and details to the staging. Imprinted on my memory is the impossibly long six seater silver settee with sparkly black cushions. Popping up regularly and representing desire and romance was a ceramic cherub mainly suspended by a string. There was also the adjustable dentist chair, and occasionally popping up was a suit of armour with person inside. Excruciatingly funny was Norina walking down a line of male angels giving each one a good old slap on the cheek, ouch!
Amongst the generally excellent cast Anja-Nina Bahrmann as Norina, the young widow, was completely on top of her role with a premier cru display of singing and acting that was as accomplished as it was memorable. Wearing a variety of costumes the photogenic German born soprano, who even looked good in her cream pyjamas with Stewart tartan trim, was made for this challenging comedy role with her highly energised performance and singing with a lovely colour and clear diction. Although maybe a little patchy early on ,Bahrmann soon warmed up seeming comfortable throughout her registers. In Act III dressed gangster-like in a black pin striped suit, trilby and bright red tie the talented soprano passed every test that the coloratura demands asked of her.
A highly experienced performer Marco Filippo Romano has sung a large number of Donizetti, Mozart and Rossini roles. The Italian baritone was well suited to the comedy role of Don Pasquale playing the part of the blundering, elderly bachelor with enthusiasm and unyielding spirit. Sure and agile Romano's vocal abilty was convincing with his flair for comedy acting evident for all to see. I can still picture his grey haired Don Pasquale with his oversized spectacles wearing a loud mustard coloured check suit and tan shoes blundering from one amusing mess to another.
Australian born tenor Adrian Strooper in the role of the young suitor Ernesto, the nephew of Don Pasquale, was rather disappointing. Compared to his outstanding companions he seemed nervous , and this came across more in his acting which felt wooden and made little impression on the proceedings. With a somewhat jerky delivery and requiring additional fluidity his singing was adequate enough.
Looking extremely dapper as the dentist Dr. Malatesta was Mathias Hausmann. Epitomising elegance the Austrian baritone looked thoroughly at home with his ultra smart wardrobe, but it wasn't only his clothing that impressed. So did his smooth, rich and clear baritone voice that he was able to project strongly. Early in the opera I remember Dr. Malatesta wearing his white coat standing over a quivering Don Pasquale sat in the dentist chair, winking exaggeratedly at the audience as he gave a large painful injection into his patient's gums.
It was hard to fault the thirty or so players of the Orchester des Staatstheaters am Gärtnerplatz under the baton of their music director Oleg Ptashnikov. In the compact auditorium of the Cuvilliés Theater it would have been so easy to drown out the singers but the orchestral accompaniment was sensitive in both tempi and volume. In addition the actively involved Gärtnerplatz chorus did a really valuable job.
This marvellous Gärtnerplatz production of Don Pasquale under the direction of Brigitte Fassbaender made a real impact. It would have graced the large stage of the National Theatre, never mind the jewel that is the Cuvilliés Theater.
Michael Cookson