Argentina Wagner, Der fliegende Holländer: Soloists, Orchestra, Chorus of Teatro Argentino. Conductor:Federico Víctor Sardella, Teatro Argentino, La Plata. 13.4.2014. (JSJ)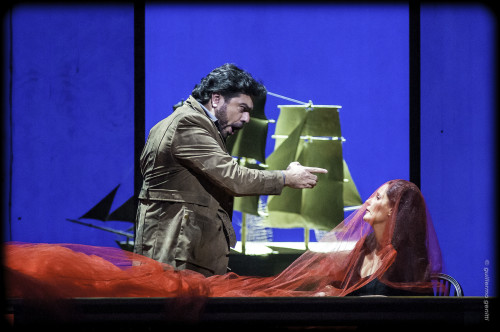 Cast:
The Dutchman: Héctor Guedes
Daland: Víctor Castells
Senta: Mónica Ferracani
Erik: Enrique Folger
Mary: Claudia Casasco / Roxana Deviggiano
Steersman: Patricio Oliveira
Production:
Director: Louis Désiré (reprised by Lucía Portela)
Sets: Diego Méndez Casariego (reprise María José Besozzi)
Costumes: Mónica Toschi (reprise Fabiana Yalet)
Lighting: Marcelo Cuervo
Chorus: Hernán Sánchez Arteaga
Unlike Wagner's legendary Flying Dutchman who can make a landfall only every 7 years as he searches for a wife who will be faithful, the Teatro Argentino has revived its last 2013 production of the work to open its 2014 season – and after a difficult year past it heralds the promise of a better time ahead.
The Argentino, Argentina's main provincial theatre in the Buenos Aires province capital, La Plata, 60 km southeast of Buenos Aires, seems to have been particularly hardly hit by the difficult financial conditions prevailing, with its opera program in 2013 reduced to just the one work (not to mention the staff changes that also occurred). In turn Der fliegende Holländer also replaced the previously programmed Ring cycle to mark Wagner's bicentenary year, after that had become a victim of the cutbacks in the second half of 2012, with just Das Rheingold having been performed. Now looking ahead, in addition to several concerts and a ballet, just one more operatic production has been announced for 2014 – L'Italiana in Algeri next month – but a full schedule has yet to be published.
But back to Der fliegende Holländer, which in 2013 had its first production in the Argentino (missed by this reviewer) to good reviews at the time – certainly for the singing, if not always for the production itself, which is little indicative of sailing ships of yore and rocky coastlines with stormy seas. Indeed the only ship that is seen is a model and apart from some imagery during the overture, the sea is suggested in a length of gossamer material, which is used primarily to link Senta to the unfolding events and characters, and also for example represents the fruits of the spinners (but no spinning wheels). Otherwise, and apart from a gangplank from the wing, there are simply some panels, which move to make up various spaces.
But what the production – which was presented in one act without intervals over just about 140 minutes – lacked in detail was more than made up for musically. The fine cast was headed by Héctor Guedes, who brought to life the dark but not unfeeling Dutchman with musicality and a solid vocal and stage presence.
Mónica Ferracani, who also played the role in the 2013 production, was also outstanding as Senta, bringing depth and colour and an even and flawless delivery. Victor Castells, who also was in the 2013 production, well portrayed the avaricious Daland, but was frequently lacking in volume.
Enrique Folger was a passionate and anguished Erik, Claudia Casasco a matronly Mary and Patricio Oliveira a youthful and boisterous steersman.
The orchestra was in the capable hands of the Argentino's (new) director of studies, Federico Víctor Sardella, marking one of his first major outings since his return to Argentina last year after studying and working in Brazil and Europe. Balance and tempi were good, neither too fast not too slow, and the attention to detail was clearly apparent.
The chorus under the direction of Hernán Sánchez Arteaga, was also to be commended.
But what a pity that the attendance wasn't better – it is always encouraging for the future of the art to see a good number of young people (La Plata is a university city), but fewer people than usual had travelled out from Buenos Aires and the theatre was far from full. Let's hope that this attendance dip, like that of the functioning of the theatre itself, is only temporary.
Jonathan Spencer Jones